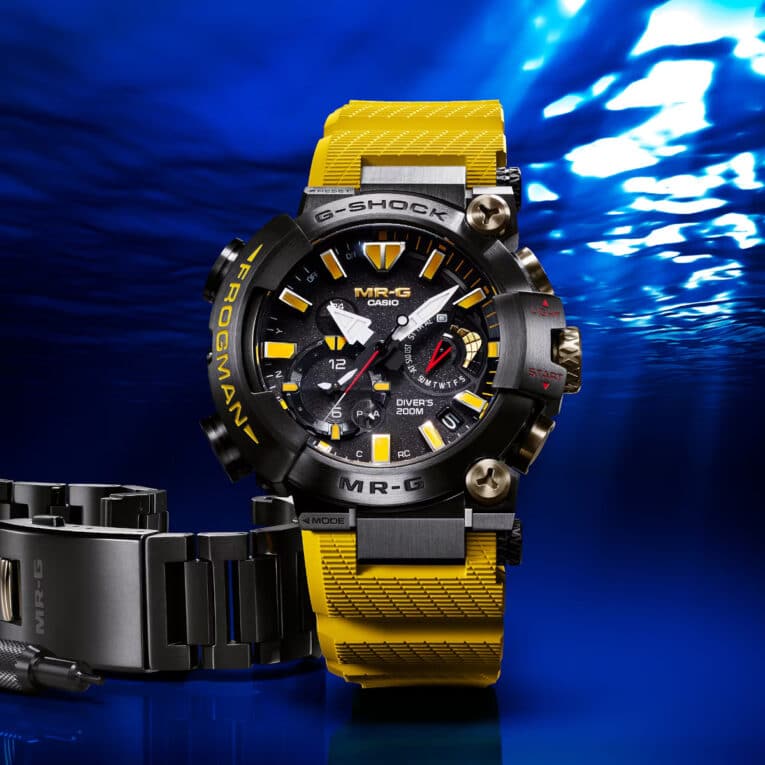 G-Shock is releasing the second MRG-BF1000 model and the fourth Frogman 30th Anniversary model with the MRG-BF1000E-1A9. This limited edition MR-G Frogman, which is also a G-Shock 40th Anniversary edition, is limited to 700 watches worldwide. It includes a yellow Dura Soft fluoro rubber band and a black titanium band, which can be easily removed and replaced by using the included mounting tool. The bold yellow color is inspired by the yellow bezel logo and labels of the first Frogman DW-6300-1A model, and the watch also has some red accents that match the red bezel labels of that model. The watch also has a sapphire crystal display and exterior parts treated with a gold ion plating. The watch includes an exclusive box made of wood with a dual anniversary badge.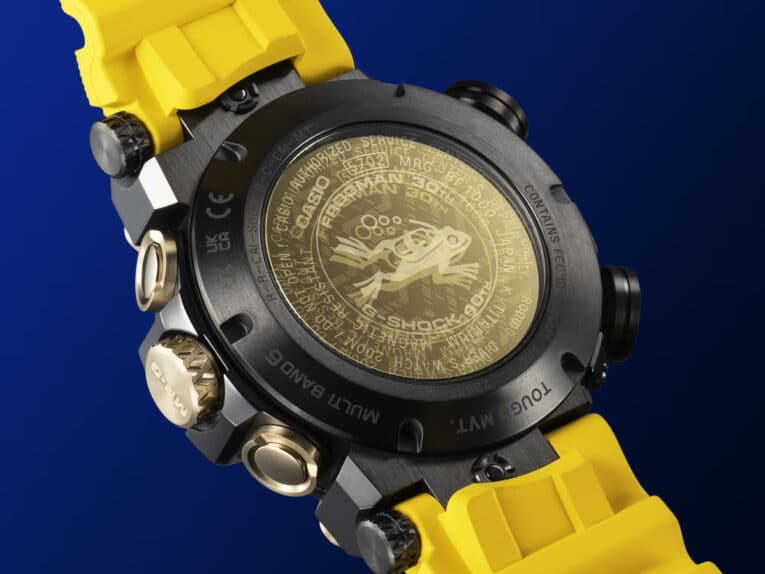 Like the original MRG-BF1000R-1A, the case back on the MRG-BF1000E-1A9 is fitted with a sapphire crystal, and this one has a gold vapor deposition with a special anniversary engraving. The large raised index markers are hand-painted with phosphorescent yellow paint for high visibility underwater and in the dark.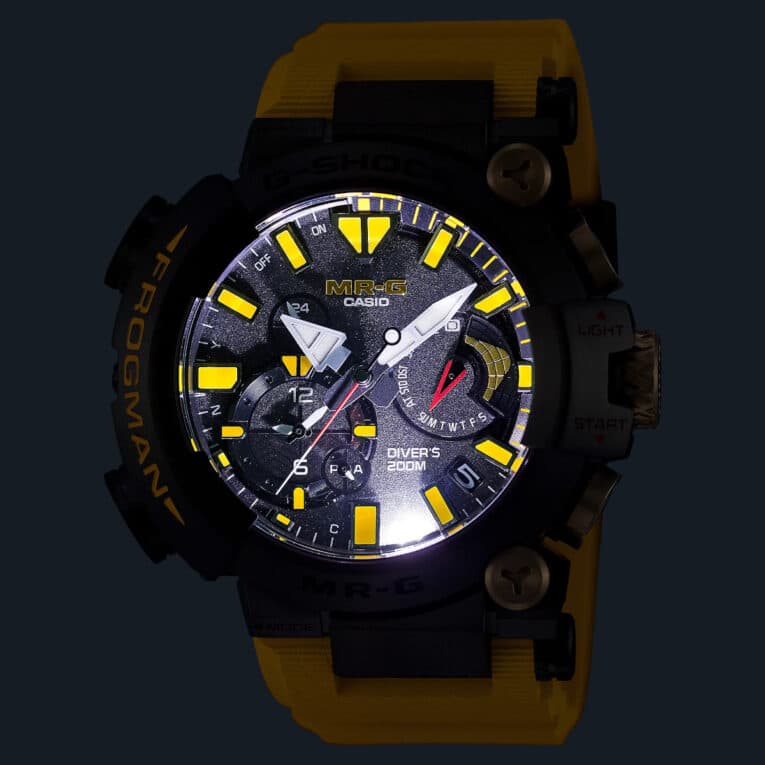 The bezel of the MRG-BF1000E-1A9 is made of titanium with a deep layer hardening and DLC coating. Unlike the other analog Frogman series (GWF-A1000) that has a carbon monocoque case, the watch has a titanium case with a screw-lock case back. The Frogman is G-Shock's diving line and all Frogman models have ISO Diver's 200M water resistance, in addition to shock resistance. Analog Frogman models are also magnetic resistant.
The MRG-BF1000E-1A9 is equipped with Tough Solar power, Multi-Band 6 automatic radio time adjustment, and Bluetooth smartphone link. Features include dive time and surface time measurement (with 30 log records), dual time (with 27 time zones and auto summer time switching), tide graph, 1-second stopwatch, 24-hour countdown timer, daily alarm, LED light with afterglow, and full auto-calendar. The Bluetooth connection and Casio Watches smartphone app provide functions such as auto time adjustment, easy watch settings, approximately 300 world time cities, diving log, tide graph setting with approximately 3,300 global points, watch status display, self check, and phone finder. As a Frogman model, the MRG-BF1000E-1A9 is made in Japan. As a peak MR-G model, it is assembled by Casio's most skilled workers at the Premium Production Line, and a special certificate is available on the Casio Watches app.
In Japan, the MRG-BF1000E-1A9JR will be released on July 7, 2023, with a tax-included price of 770,000 yen. Details for other countries are not yet available, and it is recommended to follow your country's official G-Shock site and top authorized dealers for updates, as this release is expected to be available in very limited quantities in other countries.
Update: G-Shock U.S. released the MRGBF1000E1A9 for $6,400.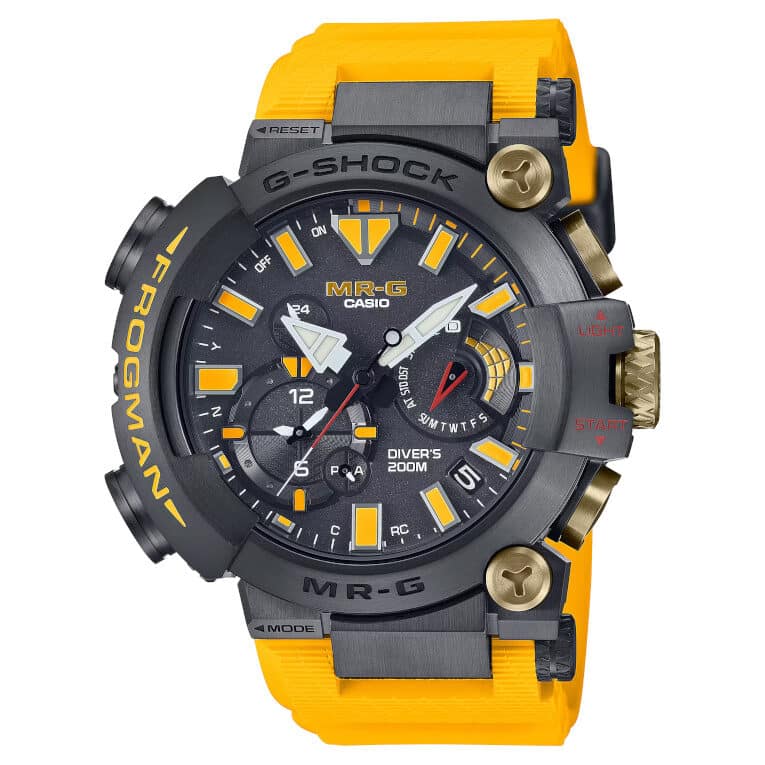 Dimensions: 56 x 49.7 x 18.6 mm
Weight: 132 grams (with Dura Soft fluoro rubber band)
Price: 770,000 yen (Japan: MRG-BF1000E-1A9JR)
Specifications: MRG-BF1000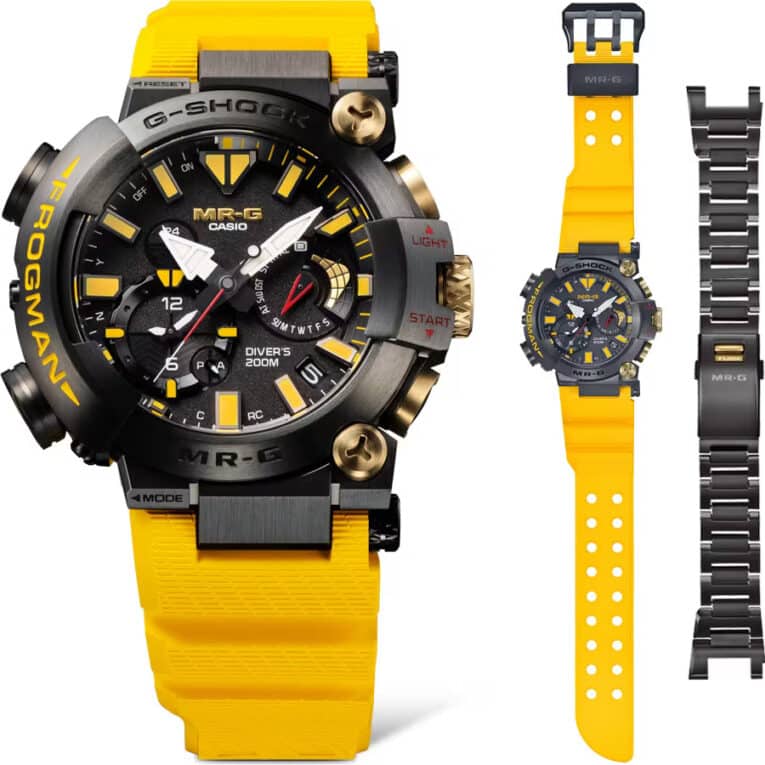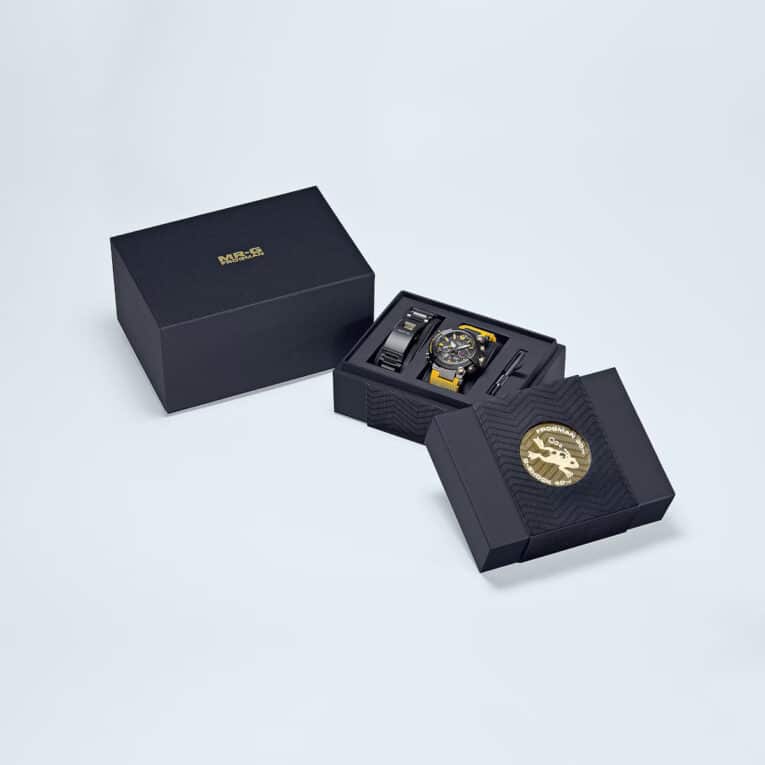 The color scheme of the MRG-BF1000E-1A9 in inspired by the first Frogman model from 1993: the DW-6300-1A. (Image via ShockBase)