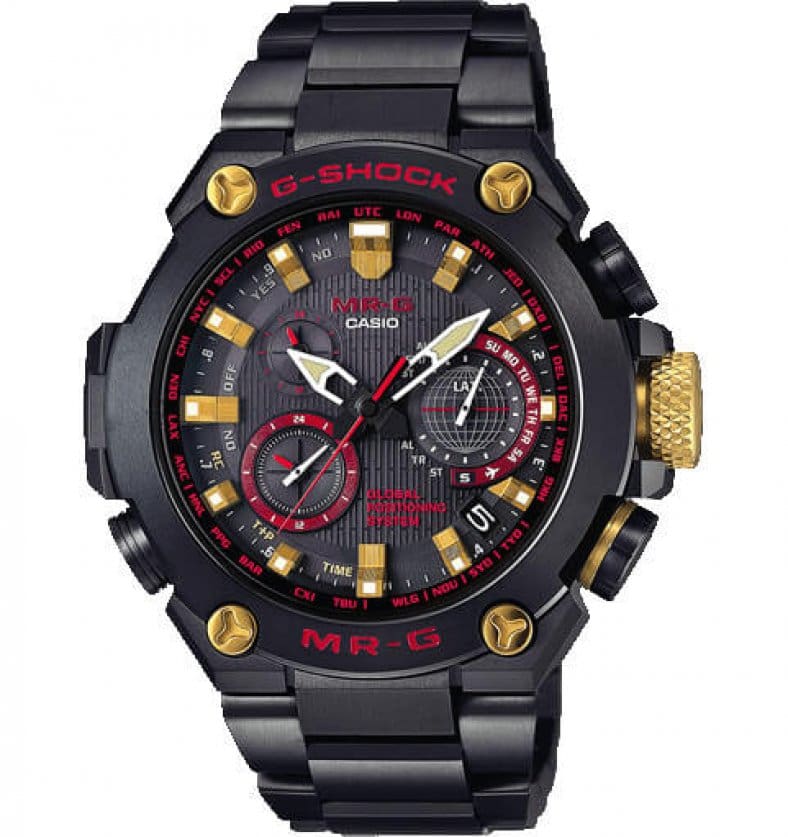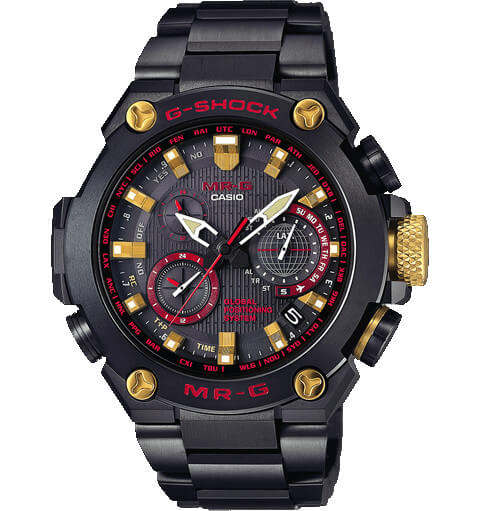 Casio is releasing the G-Shock MRG-G1000B-1A4, the latest top-of-the-line MR-G model featuring solid titanium construction and GPS Hybrid Wave Ceptor timekeeping. The MRG-G1000B-1A4 has crimson accents on the face. This red "Akazonae" coloring is inspired by the red lacquered armor of elite samurai from the Warring States period of old Japan which signifies power and strength. The electronic crown, front screws, and side button have a gold ion plating. The combination of gold and crimson accents with gold 3D markers gives the watch a bold and elegant look.
This black MR-G model has a deep-layer hardening and diamond-like carbon (DLC) coating on the bezel, case, band, and case back. Advanced Sallaz polishing provides a striking finish. The display is made of sapphire crystal with an anti-reflective coating.
The MRG-G1000 is known as the most expensive G-Shock as well as one of the few G-Shock watches with GPS Hybrid Wave Ceptor technology. The Tough Solar-powered watch can adjust the time automatically through the reception of radio waves (known as the Multi-Band 6 feature) or through GPS signals when out of range of the six radio transmitters. Other features include shock resistance, vibration resistance, 200-meter water resistance, Neobrite luminous hands and markers, world time (24 cities +UTC, 40 time zones, DST on/off), date and day display, 1/20 second stopwatch (24 minutes), 1/1 second countdown timer (24 hours), daily alarm, automatic hand adjustment, airplane mode, automatic calendar, and Super Illuminator LED light with afteglow. The MRG-G1000B-1A4 measures 54.7 x 49.8 x 16.9mm and weighs about 153 grams.
Update: Casio America announced the MRG-G1000B-1A4 for an April 2017 release with a list price of $3,000 USD.