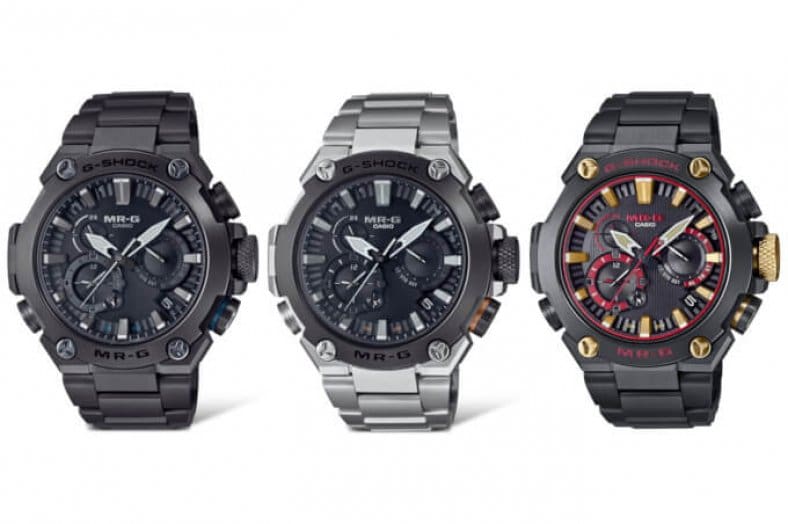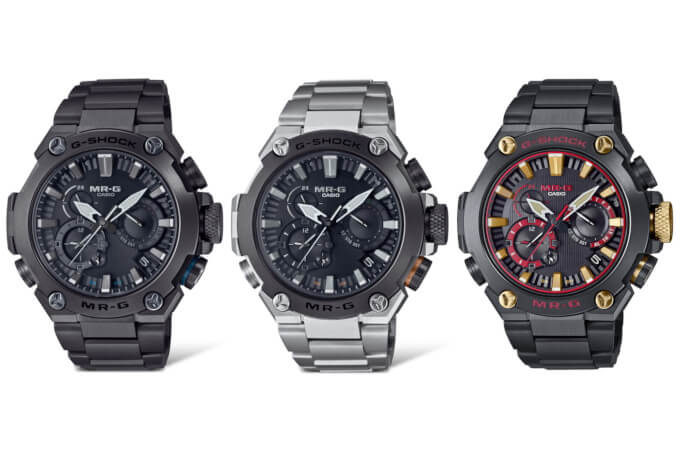 G-Shock is releasing three new luxury MRG-B2000 models for February in Japan, including the black-gold-red MRG-B2000B-1A4 (right), basic black MRG-B2000B-1A1 (left), and silver-black MRG-B2000D-1A (middle).
The MRG-B2000B-1A4 has a red "Akazonae" theme, which was first seen with the MRG-G1000B-1A4. The red color, signifying power and strength, is inspired by samurai armor during the Warring States period. The watch has a diamond-like carbon coating on the bezel, case, and band. A background pattern with elongated shapes adorns the dial (as seen on the MRG-G1000 but new for the MRG-B2000).
The MRG-B2000B-1A1 and MRG-B2000D-1A offer basic black and silver colorways. The MRG-B2000B-1A1 has a full DLC coating, and the MRG-B2000D-1A has a DLC coating on the bezel, contrasting with the silver case and band. Although the "JR" at the end of a Japan model name typically indicates a limited edition status, that is not necessarily the case with MR-G models, as there are several "JR" models that have been in production for a while and serve as the standard base models (such as the MRG-G1000D-1AJR, MRG-G1000B-1AJR, MRG-B1000B-1AJR, and MRG-B1000D-1AJR). It appears that the MRG-B2000B-1A1JR and MRG-B2000D-1AJR will serve that role for the MRG-B2000 series.
Manufactured on the Premium Production Line at the Yamagata Casio mother factory in Japan, the MRG-B2000 is made of titanium with a deep layer hardening treatment. Features include shock resistance, 200-meter water resistance, magnetic resistance, sapphire crystal with anti-glare coating, Tough Solar power, Multi-Band 6 radio wave auto time adjustment, Bluetooth smartphone link, dual time, stopwatch, 24-hour countdown timer, daily alarm, and LED light. The MRG-B2000 measures 54.7 x 49.8 x 16.9 millimeters and weighs 150 grams. (For a smaller mid-size MR-G model, see the MRG-B1000 series.)
Update: The MRG-B2000B-1A1DR, MRG-B2000B-1A4DR, and MRG-B2000D-1ADR are also listed at Casio Europe. G-Shock U.S. released the MRGB2000B1A1 ($3,000), MRGB2000B1A4 ($3,000), and MRGB2000D-1A ($2,600) in March.
G-Shock MRG-B2000B-1A1: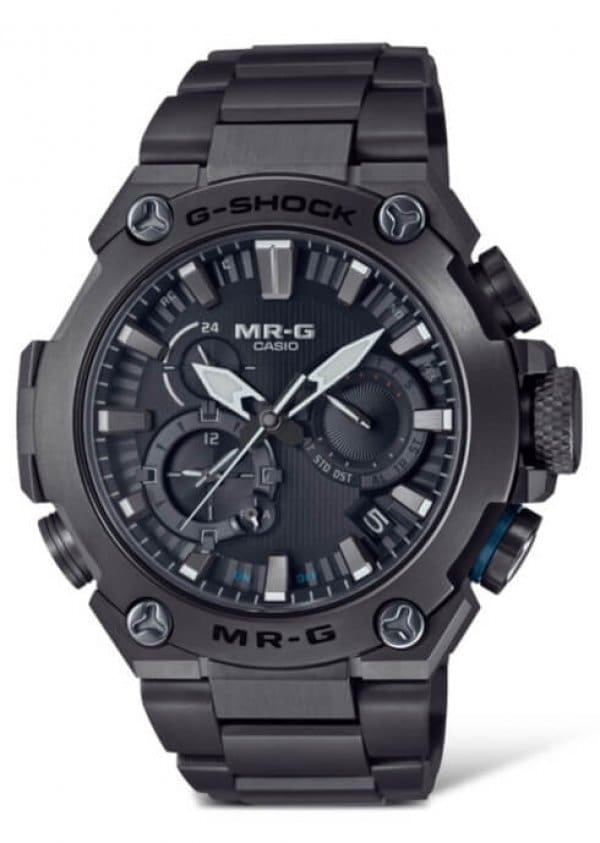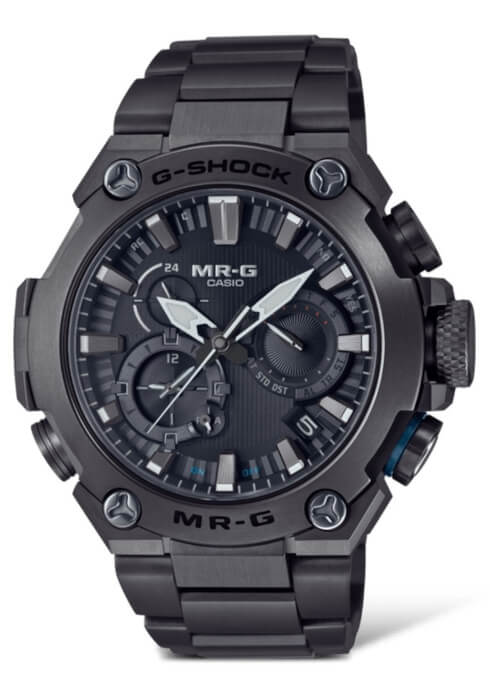 G-Shock MRG-B2000B-1A4: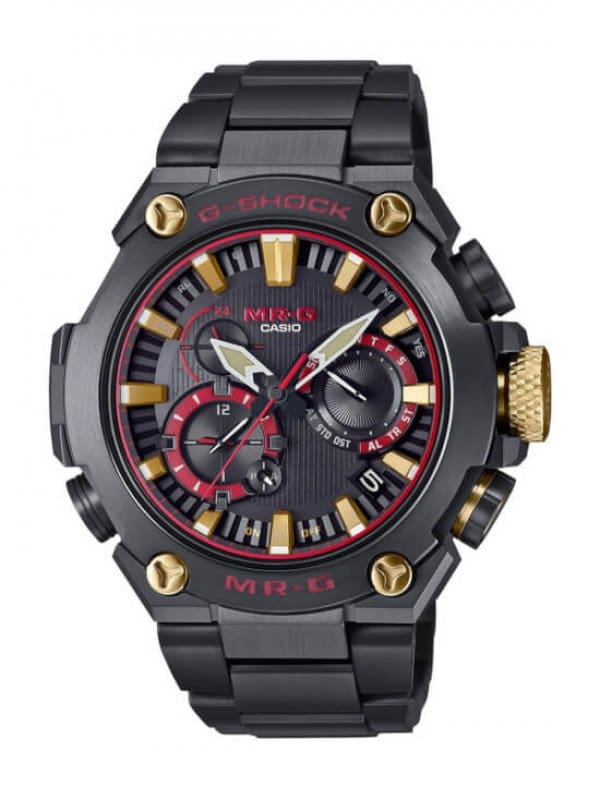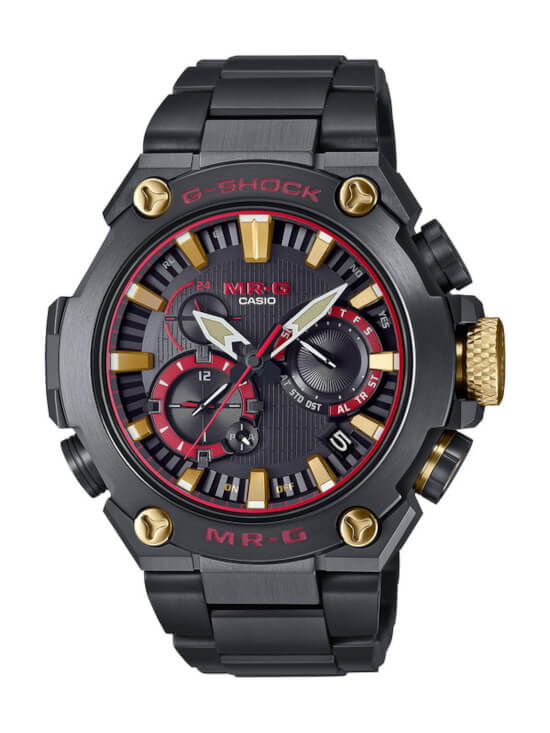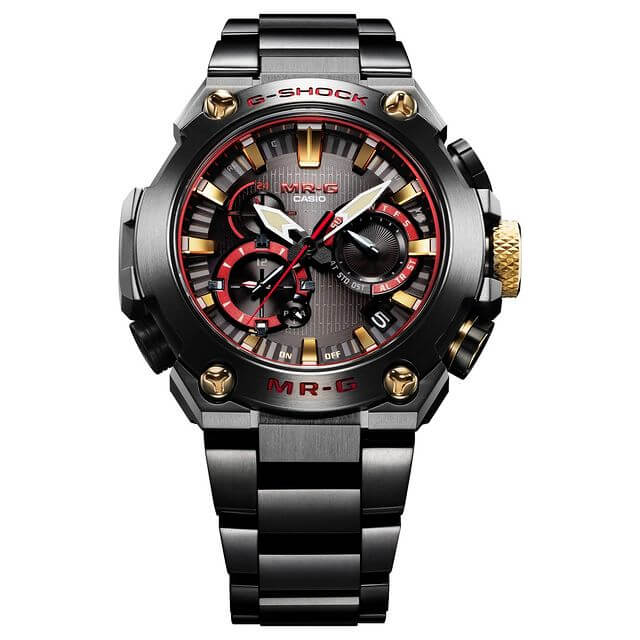 G-Shock MRG-B2000D-1A: