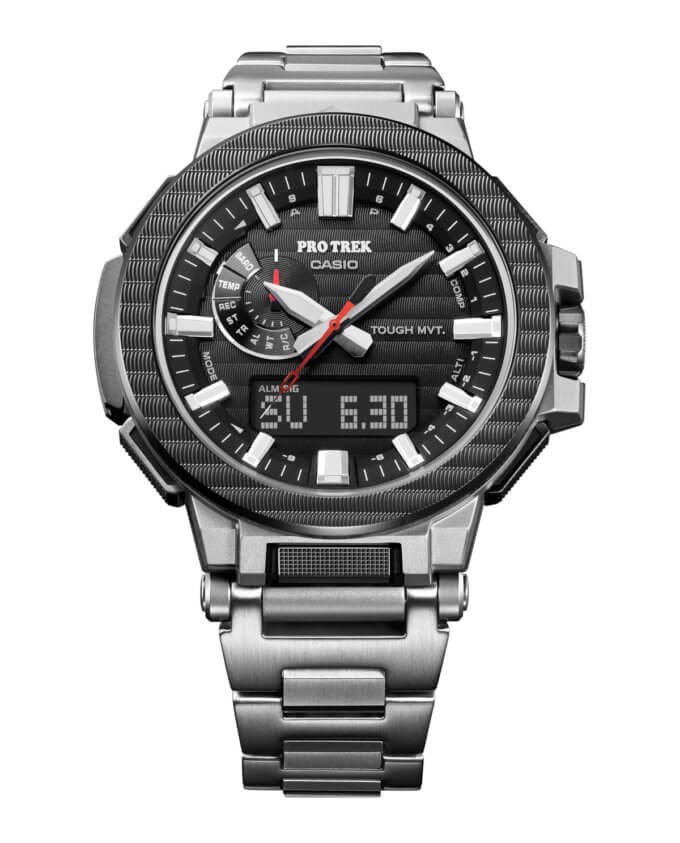 Pro Trek Japan has a new peak model for October 2021. The PRX-8001YT-7JF is part of the premium Manaslu line, named for the 8,163-meter mountain in the Himalayas, which was first climbed by a Japanese expedition in 1956. The watch has a bezel made of extra-hard and scratch-resistant Ti64 titanium. A unique snow-inspired pattern is mechanically engraved on the bezel and also appears on a semi-transparent print on the dial.
The Japan-made PRX-8001YT-7JF also has a solid titanium band and sapphire glass. Major features include Tough Solar, Multi-Band 6, Triple Sensor, and full auto double LED light (Super Illuminator). The watch is also listed as having a DLC surface processing (which may apply to part of the bezel). The watch measures 59.7 x 52.5 x 14.4 and weighs 136 grams.
The PRX-8001YT-7JF has a tax-included price of 198,000 yen and is currently available for pre-orders in Japan at www.casio.com/jp. Pro Trek Manaslu models are usually not released outside of Japan.