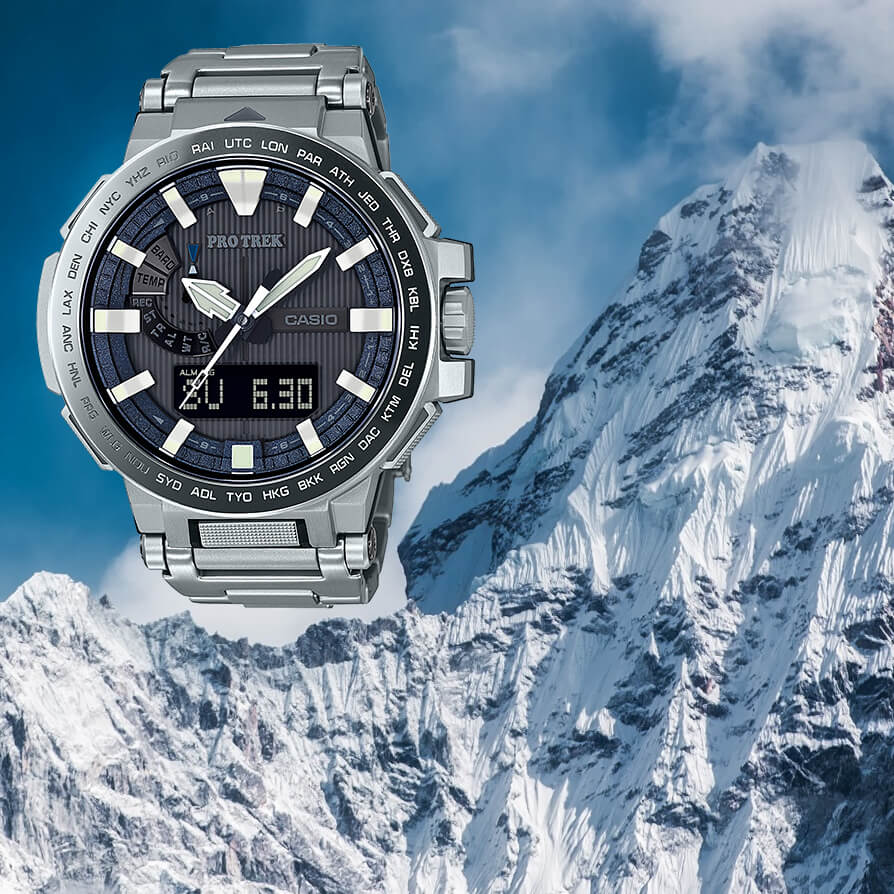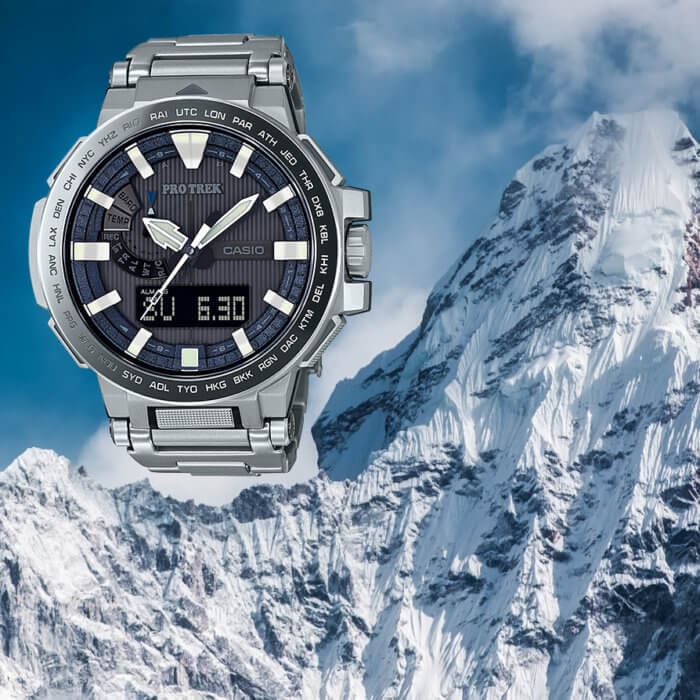 The PRX-8000GT-7JF is the latest addition to Casio's premier Pro Trek PRX-8000 Manaslu Prestige series and features a titanium bezel, a micro-adjustable titanium metal band, and the Neon Illuminator blacklight LED. Named for the 8,163 meter-high Manaslu mountain in the Himalayas that was first ascended by a Japanese team in 1956, the PRX-8000GT-7JF is designed for climbers and features Tough Solar, Multi-Band 6, and the Triple Sensor Version 3 (with altimeter-barometer, compass, and thermometer). The titanium bezel has a polished mirror finish inspired by the Manaslu's rock wall. The blue around the dial expresses the sky, and the white markers symbolize the ice and snow.
The PRX-8000GT-7JF is the first PRX-8000 model to include the Neon Illuminator which uses a UV-A LED to make the coated hands and markers glow vividly in the dark. It is part of the full auto dual LED system which also uses a standard LED light to illuminate the LCD display, and can be set to automatically activate in darkness with a turn of the wrist. The solid titanium band with a folding clasp double lock is micro-adjustable up to 6 millimeters. As with other premium Casio models, The PRX-8000GT-7JF is manufactured at the Premium Production Line at the Yamagata Casio factory in Japan.
Other features include 100-meter water resistance, low temperature resistance (-10 ° C), sapphire crystal with an inner non-reflective coating, world time, 1/100 second stopwatch (24 hours with split), countdown timer (60 minutes), 5 alarms, and battery level indicator. It measures 59.7 x 52.5 x 14.4 mm and weighs 136 grams.
The PRX-8000GT-7JF is a July 2018 release in Japan with a list price of ¥170,000 JPY.