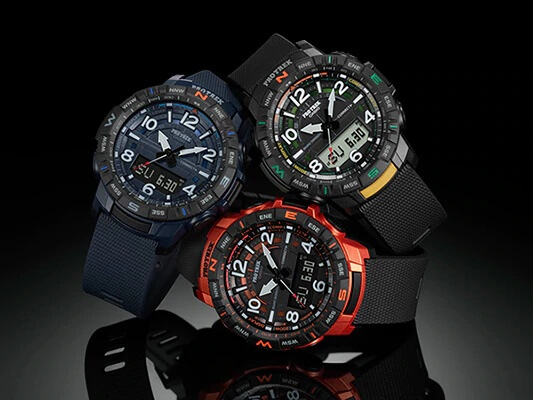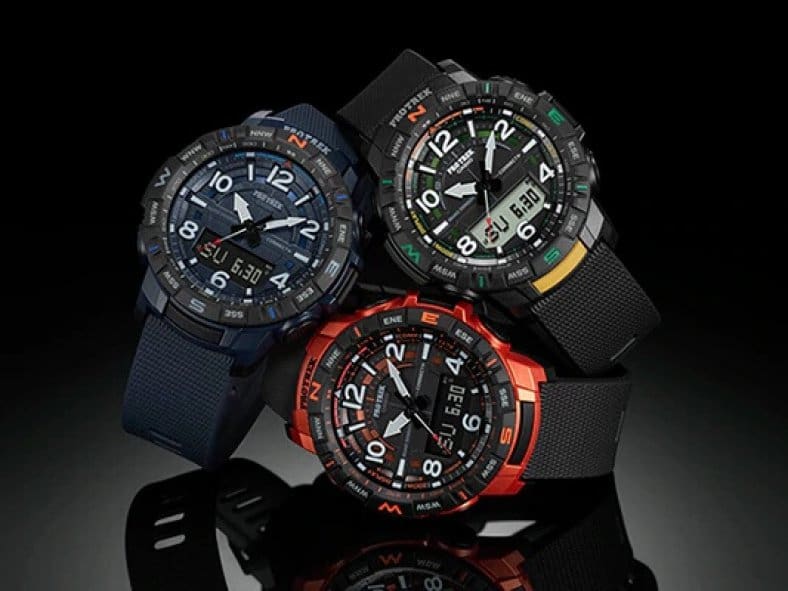 Coming in September 2019 to Japan and Asia is the all-new Pro Trek PRT-B50 outdoor analog-digital watch featuring a quad sensor and Bluetooth Smartphone Link.
The quad sensor includes a pressure sensor (altimeter-barometer), compass, thermometer, and an accelerometer for step counting. Combined with the Bluetooth mobile connection, the watch offers features such as a trekking log, calories burned, location indicator, customizable mode/display, automatic altitude adjustment, automatic time adjustment, world time mode, and mobile phone finder. Other features include a 1/100 second stopwatch, countdown timer (24 hours), 5 daily alarms, hourly time signal, sunrise/sunset time display, power saving mode, full auto-calendar, 12/24 hour format, button operation tone on/off, and auto double LED light (including the Neon Illuminator black light) with afterglow (1.5/3 seconds).
The internal features are largely the same as the new G-Shock GG-B100 Mudmaster, but this Pro Trek watch lacks the Carbon Core Guard structure (as well as extreme shock and mud resistance) and is water-resistant to 100 meters rather than 200. Other external differences include a rotary bezel, a smaller size (57.5 x 50.8 x 15.8 mm), and lighter weight (about 64 grams). Like the GG-B100, it is battery-powered and not solar, but it does have a battery level indicator.
The debut models include the black PRT-B50-1, blue PRT-B50-2, and orange PRT-B50-4. Each model has a urethane band and the PRT-B50-1 is the only model available with a standard (non-negative) LCD display. The limited khaki PRT-B50FE-3 includes a special box and replaceable resin and cloth bands. The Japanese releases will have a list price of 30,000 JPY each and 35,000 JPY for the PRT-B50FE-3. The debut of the PRT-B50 series may seem underwhelming to those already familiar with the G-Shock GG-B100, but this is the first Pro Trek watch to feature a quad sensor and the Smartphone Link function (excluding the Pro Trek Smart line of smartwatches).
Update: Casio America announced the PRT-B50 series for a fall 2019 release with a list price of $200.
Source: www.casio-intl.com