Casio revealed the all-new Pro Trek PRW-70 series at its latest exhibition. The PRW-70 is part of the Multi Field Line and is suitable for outdoor activities such as climbing and trekking, as well as water and ocean activities like fishing and kayaking.
The PRW-70 is like a smaller version of the high-end PRW-7000. Like that model, the PRW-70 has 200-meter water resistance, Tough Solar power, Multi-Band 6 auto radio time adjustment, Triple Sensor (pressure sensor with altimeter-barometer, compass, thermometer), low temperature resistance (-10C/14F), STN LCD display, and dual LED lights with Neon Illuminator black light LED. Other functions include a compass bearing memory, tide graph and moon age data, fishing time function, automatic hand correction, and barometric pressure trend alarm. Like the PRW-7000, the compass has automatic horizontal compensation. The PRW-70YT-7JF with titanium band is the only debut model to have a sapphire crystal, and the other two models have a mineral glass display. (All PRW-7000 models had a sapphire crystal display. Another difference is that the PRW-7000 models had carbon fiber insert bands or composite bands, while the debut PRW-70 models have Durosoft silicone bands or a titanium band.)
The PRW-70 measures 51.1 x 49.9 x 14.5 millimeters (versus 58.7 × 52.3 × 14.5 mm for the PRW-7000), with a weight of 79 grams for the Durosoft silicone band models and 107 grams for the titanium band model. It has a metal layer structured case, with a resin case sandwiched between the metal bezel and lug-integrated case back. The PRW-70 also has bands with a quick-release slide lever.
The PRW-70 series is an April 2020 release in Japan with the three debut models below.
Pro Trek PRW-70Y-1JF (list price 64,000 JPY): Durosoft silicone band, IP (ion-plated) processing on dial and stainless steel parts, mineral glass display.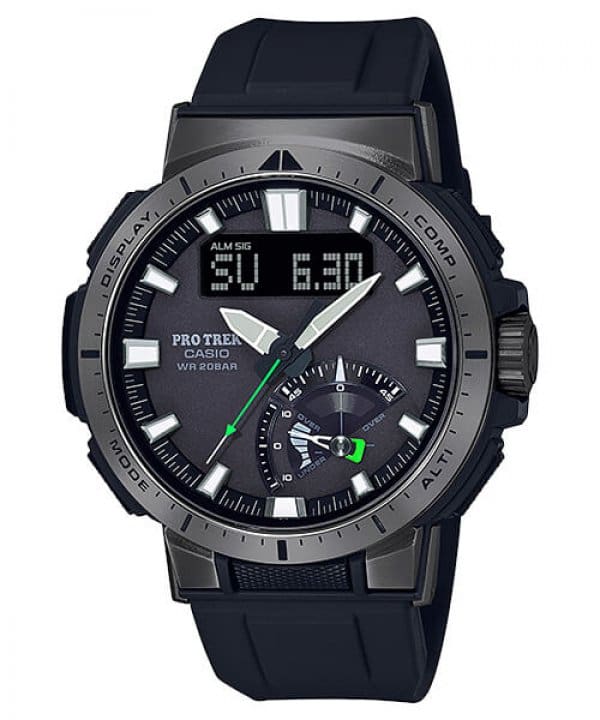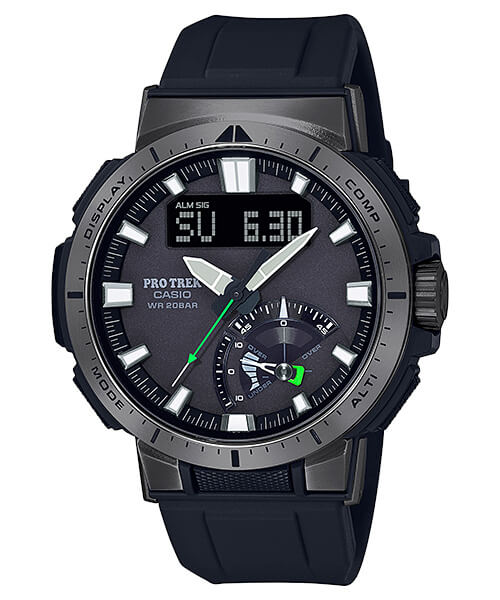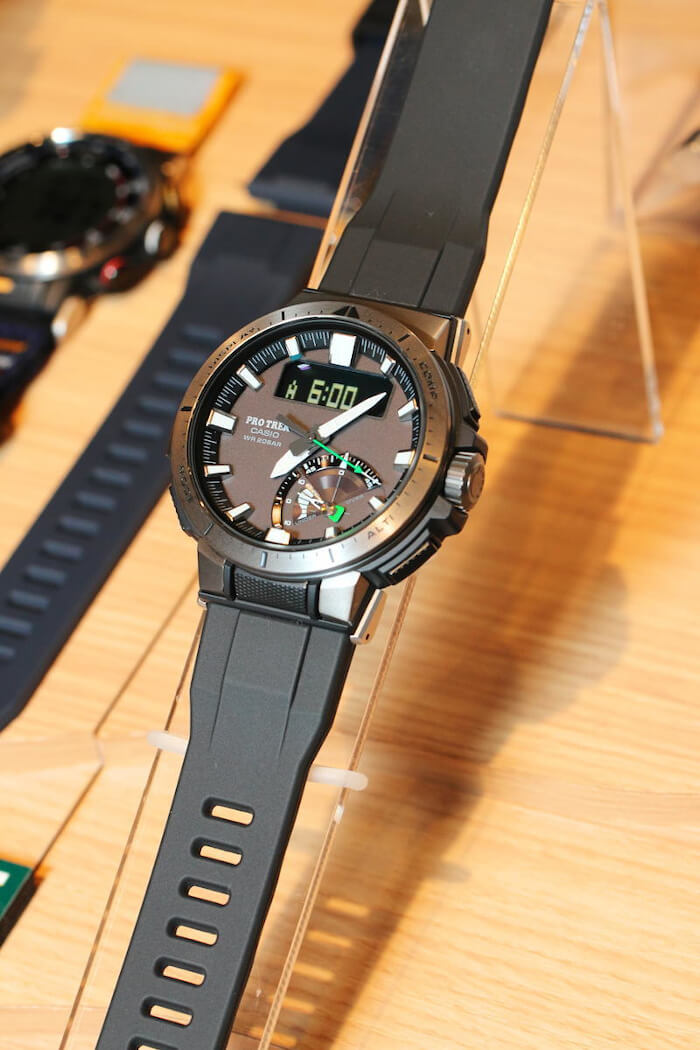 Pro Trek PRW-70-7JF (list price 62,000 JPY): Durosoft silicone band, white dial, mineral glass display.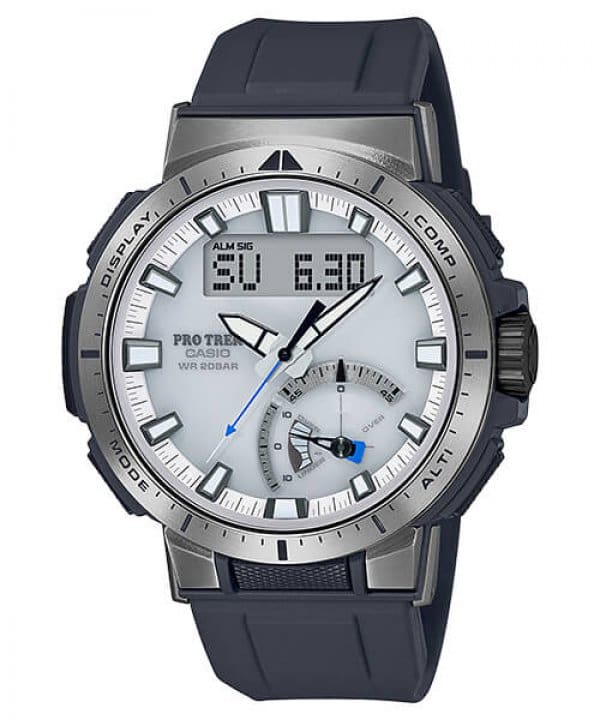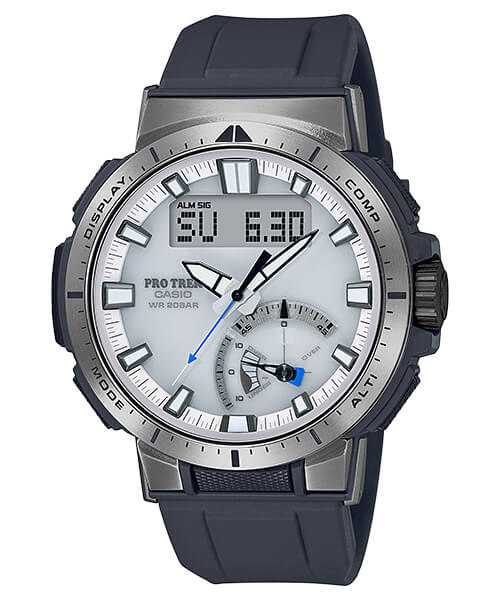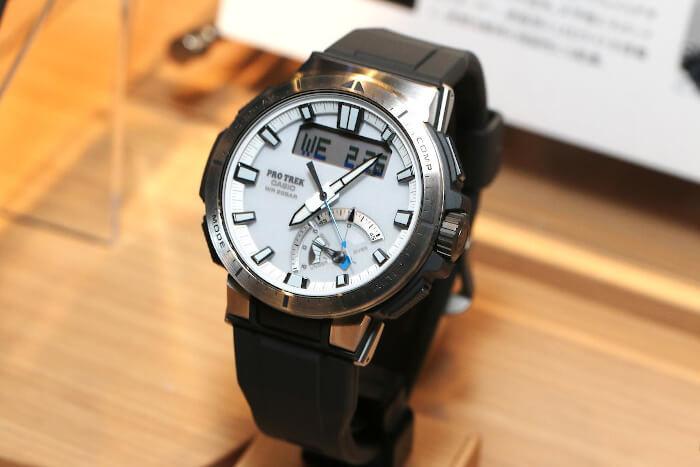 Pro Trek PRW-70YT-7JF (list price 95,000 JPY): Black dial, carbide-treated titanium band, IP on stainless steel case parts, sapphire crystal with interior anti-reflective coating.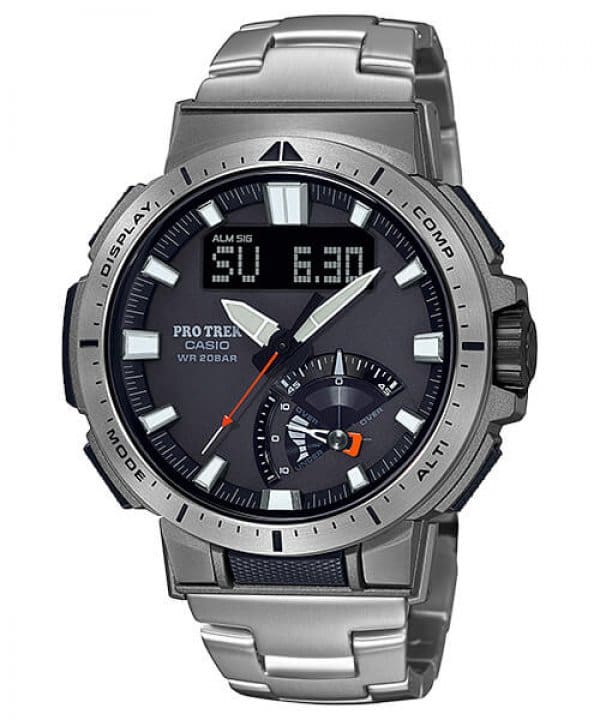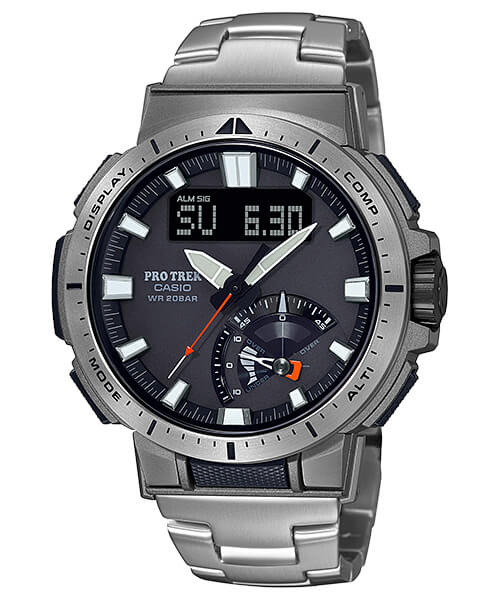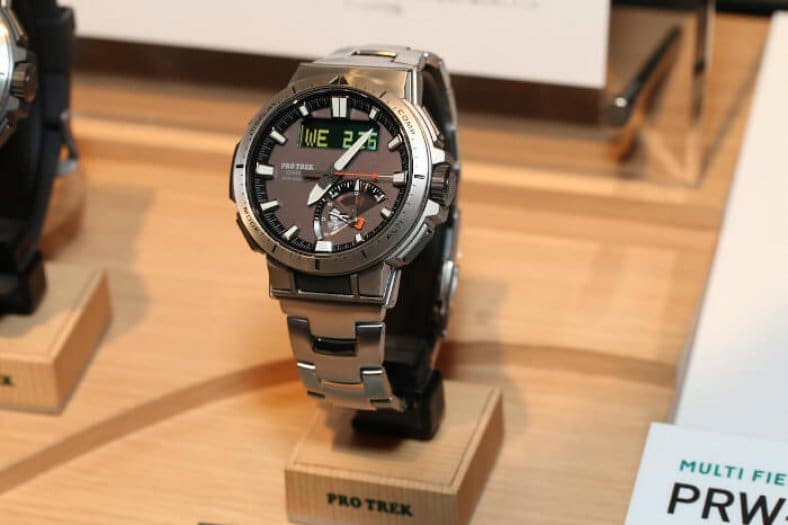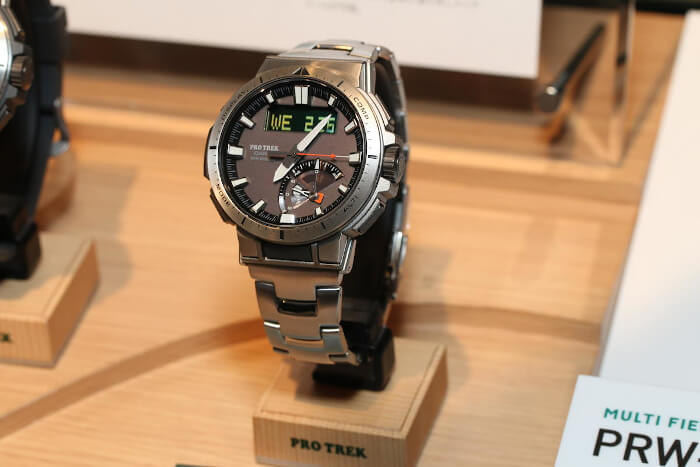 Photos via news.mynavi.jp