August 25, 2018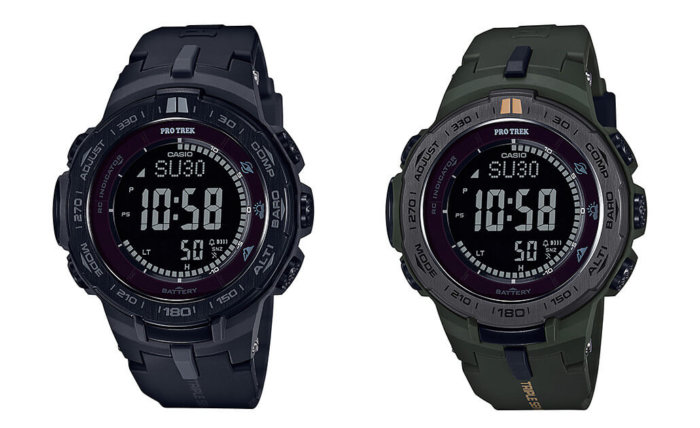 For a while, it looked like the Pro Trek PRW-3100 series was not destined for the U.S., but then in early 2017 Casio America released the black PRW3100Y-1 and the green PRW3100Y-3. (Note: The PRW3100Y-1 actually corresponds to the PRW-3100Y-1B international model and PRW-3100Y-1BJF Japan model. Normally it would have been the PRW3100Y-1B but it wasn't.) Amazon subsequently began to offer both watches at significant discounts from their $320 USD list price, and in our opinion, these offers represented some of the best deals available for a higher-end Casio watch.
The PRW-3100 is an upgraded version of the slimline PRW-3000 series with the upgrades being a stainless steel bezel and STN LCD display. The STN display is a particularly helpful upgrade for watches with reverse LCD displays, as it provides much better contrast and viewing angles and is a drastic improvement over regular reverse LCDs. The PRW-3100 is also equipped with Tough Solar power, Multi-Band 6 radio timekeeping, and the Triple Sensor with a pressure sensor (altimeter-barometer), compass, and thermometer. The PRW-3100 is basically one of the best options for a smaller Triple Sensor watch and provides a smaller alternative to the bulkier G-Shock Rangeman GW-9400.
Reader Sol pointed out to us that the PRW3100Y-1 is no longer available and that appears to be the case, although it is still listed on the official Pro Trek website. Amazon is no longer selling it, and it is difficult to find on Ebay as well. Also, the Japanese version PRW-3100Y-1BJF is not listed on the Japan Pro Trek site and is not readily available on Ebay either. This leads us to believe that the PRW3100Y-1 (PRW-3100Y-1B) stock has been depleted worldwide and will most likely not be available again. This also makes us question the status of the green PRW3100Y-3 which is still listed on the U.S. Pro Trek site but not the Japan site or in the Asia catalog. We can't help but think the PRW3100Y-3 will soon suffer the same fate as the PRW3100Y-1, and it's uncertain if the U.S. market will be getting any of the other PRW-3100 models that are currently available in Japan and Asia.
Update: Both models are no longer available.