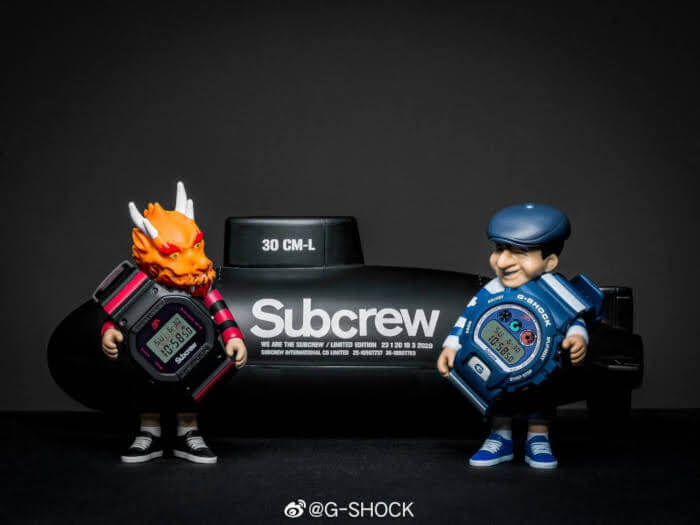 Hong Kong streetwear brand Subcrew has partnered with American skateboarding legend Steve Caballero for its latest G-Shock collaboration. The limited box sets include one of two G-Shock models: the black and red DW-5600SSC20-1PRSSS representing Caballero Dragon or the blue and white DW-6900SBC20-2PRSSS representing Subcrew. These models have striped bands, "Cab" and Subcrew logos on the face, and a custom case back and EL backlight. One of the two Caballero dolls shown in the photo are also included in the set, which have removable heads that can be replaced with a dragon head. Subcrew released an English-subtitled video about the collaboration here.
Update: The Subcrew website added a new page for the collaboration. The DW-6900SBC20 is available for 1,290 CNY at www.casiostore.com.cn. (We're not sure if the DW-5600SSC20 hasn't been added yet, or if it was available and sold out already. If it's the former, you can check this page for updates.)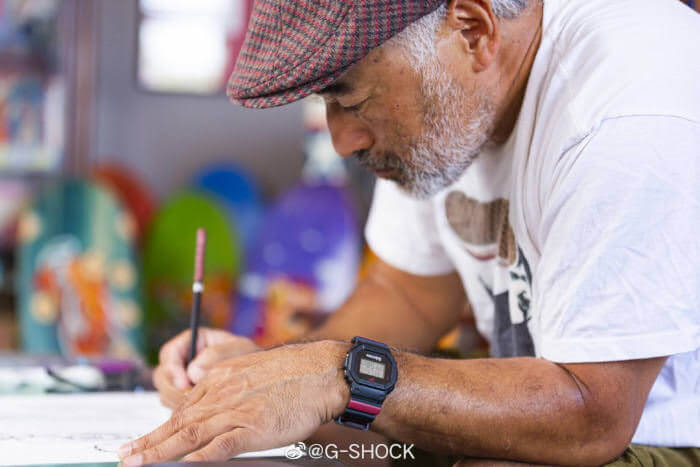 Steve Caballero was one of the most popular and accomplished skateboarders of the 1980s. He is credited with creating the Caballerial (or "Cab") and frontside boardslide, and held a 10-year record for the highest vertical on a half pipe. Skate fans who grew up during the era will likely remember him from the classic Bones Brigade video "The Search for Animal Chin." Caballero also appears in the acclaimed 2012 documentary "Bones Brigade: An Autobiography," which is free to view on YouTube. The sport of skateboarding was set to make its debut at the Tokyo Olympics in 2020, which has been postponed until 2021.
The Subcrew collaboration was announced on G-Shock's Weibo account in China, and it will be released on August 21, 2020. More specific release information was not announced yet. Fans may want to keep an eye on the Subcrew website and online shop at www.wearethesubcrew.com, as the site sold Subcrew's last G-Shock watch and ships internationally.