(Note: For the 2020 Dragon Ball Z and One Piece collaborations with G-Shock, click here. The 2020 Dragon Ball Z collaboration will be released throughout Asia, the United States, and Europe.)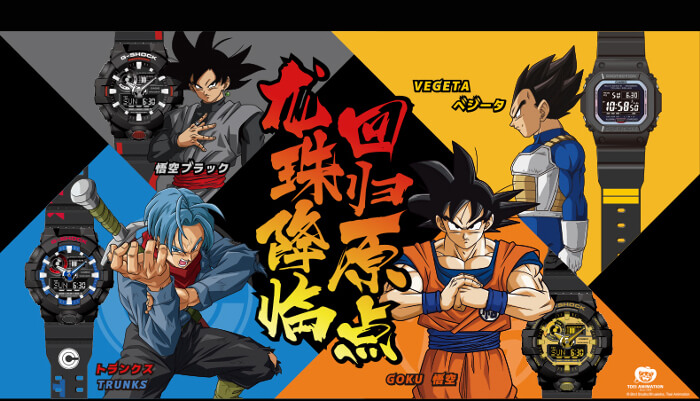 Casio and Toei Animation have teamed up to release a limited G-Shock collection in China to commemorate the completed run of the Dragon Ball Super anime TV series. Four of the watches in this five-piece set correspond to a Dragon Ball character and one represents the series. Each watch includes custom designed bands, an exclusive case back sticker, a unique spherical space pod case, and a Dragon Ball manga box.
The collection includes the following models which are sold individually:
G-Shock GA-110GB-1APRDB: Black and gold model representing Dragon Ball Super series.
G-Shock GA-710GB-1APRDB: Black and gold model representing Goku character.
G-Shock GW-M5610PC-1PRDB: Black and blue model representing Vegeta character.
G-Shock GA-700LT-1APRDB: Black and tricolor model representing Trunks character.
G-Shock GA-700-1APRDB: Black and red model representing Goku Black character.
Dragon Ball Super began airing on July 5, 2015 and ended on March 25, 2018. The series was a sequel to the Akira Toriyama's Dragon Ball manga and the Dragon Ball Z television series.
For more photos and information visit casiostore.com.cn.