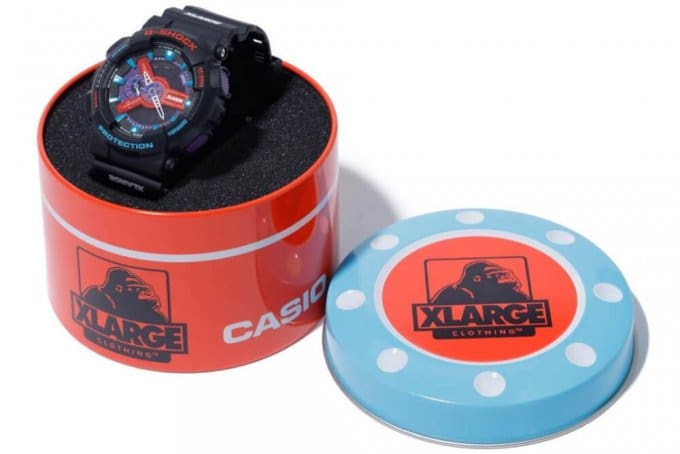 XLARGE (a.k.a. X-Large) is releasing a G-Shock GA-110 collaboration watch to commemorate the streetwear brand's 30th anniversary. X-Large was originally a Los Angeles-based company, but it appears that this collaboration will only be available in Japan. (X-Large was sold to the Japanese company B's International in 2008.) The black watch has a multicolor dial in red, blue, and purple. XLARGE logos appear on the dial and band, and the gorilla logo is engraved on the stainless steel case back.
X-Large was founded in 1991 by Eli Bonerz and Adam Silverman, with Mike D of the Beastie Boys as an investor. X-Large has been a frequent collaborator with G-Shock and has the distinction of releasing the most recent GD-X6900 model. The steampunk-inspired GA-110 series made its debut in 2010 and led to a major boom in G-Shock sales. In 2019, the GA-110 was revealed to be the top-selling G-Shock model of all time worldwide, and it was recently declared to be one of the four classic G-Shock masterpieces.
The XLARGE x G-Shock GA-110 will be available on November 20 for 17,600 yen at XLARGE and XLARGE/X-girl stores in Japan and online at zozo.jp and calif.cc (with international shipping available at calif.cc via WorldShopping).