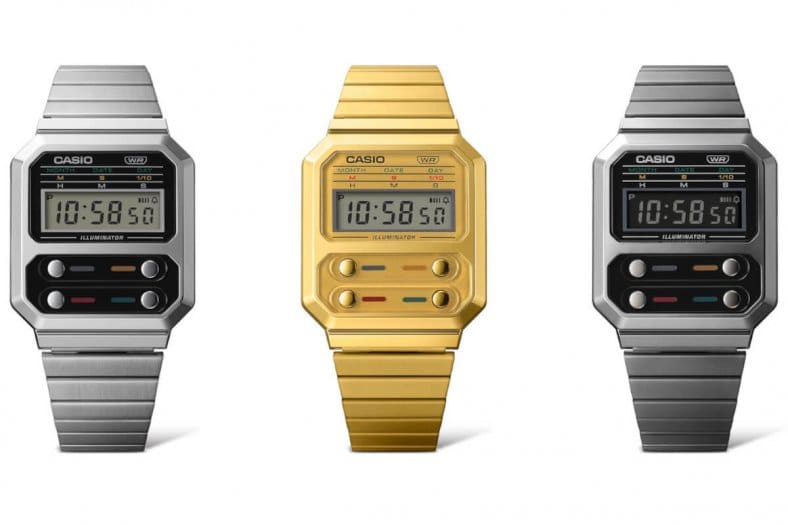 The Casio A100 base for the upcoming Casio x Pac-Man collaboration is actually an all-new Vintage Series model that is inspired by the Casio F-100 watch worn by Ripley and other characters in the classic 1979 movie "Alien." (The Alien watch was made up by the prop department from two F-100 cases.) The A100 series (or technically the A100WE series) will launch in August 2021.
The F-100 was released in 1978 and is notable for being the first Casio watch with a full resin exterior. It has a retro-futuristic style, with four buttons on the front of the face that resemble a control panel. With its light weight, affordability, and durability, it paved the way for the success of other resin Casio models like the G-Shock line.
The F-100 has since become a rare collector's item. The new A100 retains the same shape and structure, but it has a metallic-style chrome-plated finish (with a resin case) and a stainless steel band. There was actually a steel version of the F-100 released in 1978, the 52QS-14, but it had a slightly different shape.
Features of the AW100WE include water resistance, 1/10-second stopwatch (59'59″9 max), daily alarm, hourly time signal, auto-calendar, and LED light. The sliding type clasp can be adjusted without tools. The watch measures 40.7 x 32.7 x 9.2 millimeters and weighs approximately 53 grams. Battery life is rated for approximately 3 years on a CR1616.
The A100 series will launch with a silver edition (A100WE-1A), a gold edition (A100WEG-9A), what looks like a gray or gunmetal edition with an inverted LCD display (A100WEGG-1A), and the Pac-Man edition.
Update: Casio America is releasing the A100WE-1AVT ($54.95), A100WEG-9AVT ($74.95), and A100WEGG-1AVT ($74.95), with pre-orders starting on August 9, 2021 at www.casio.com.
Casio A100WE-1A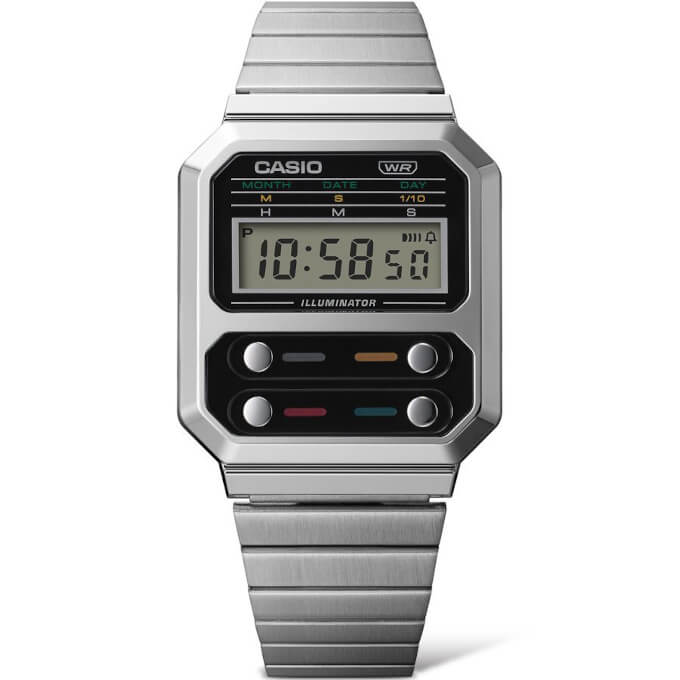 Casio A100WEG-9A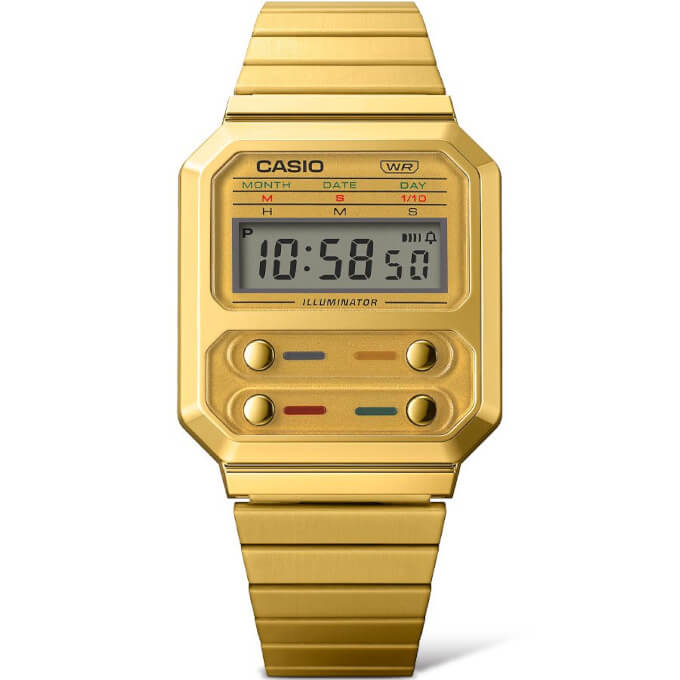 Casio A100WEGG-1A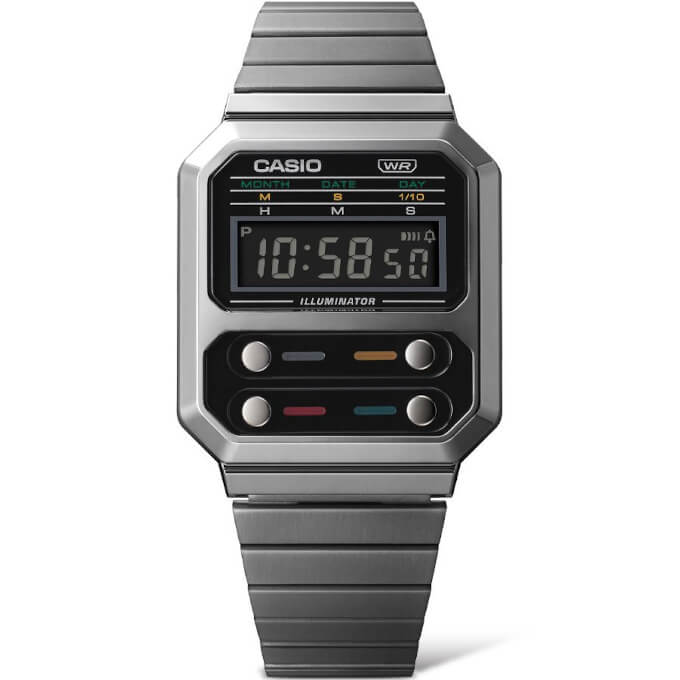 Casio F-100 and 52QS-14 Models from the 1970s: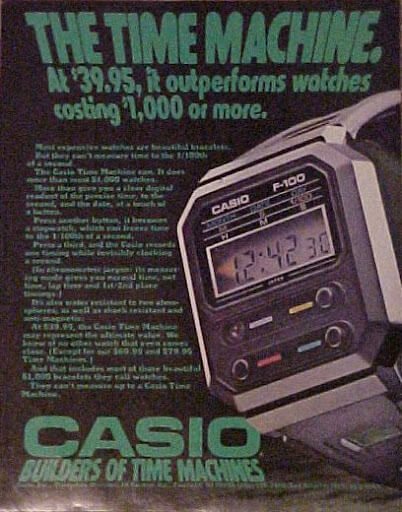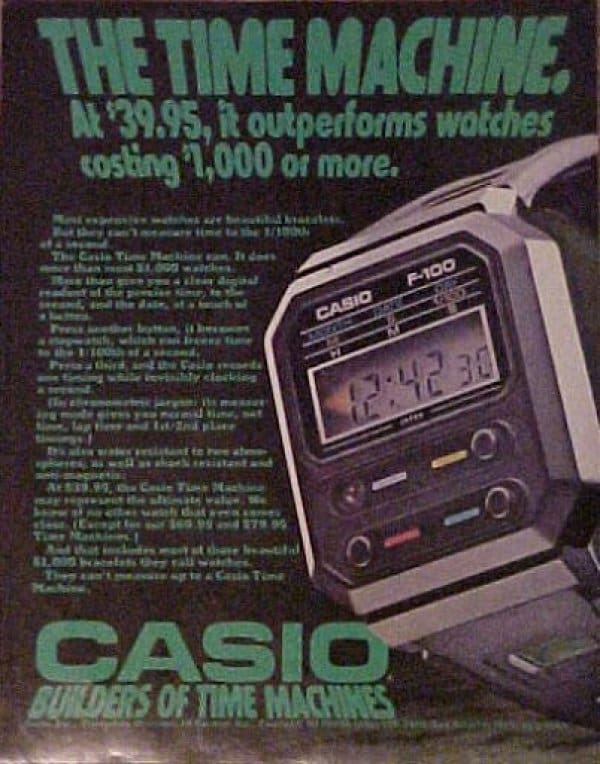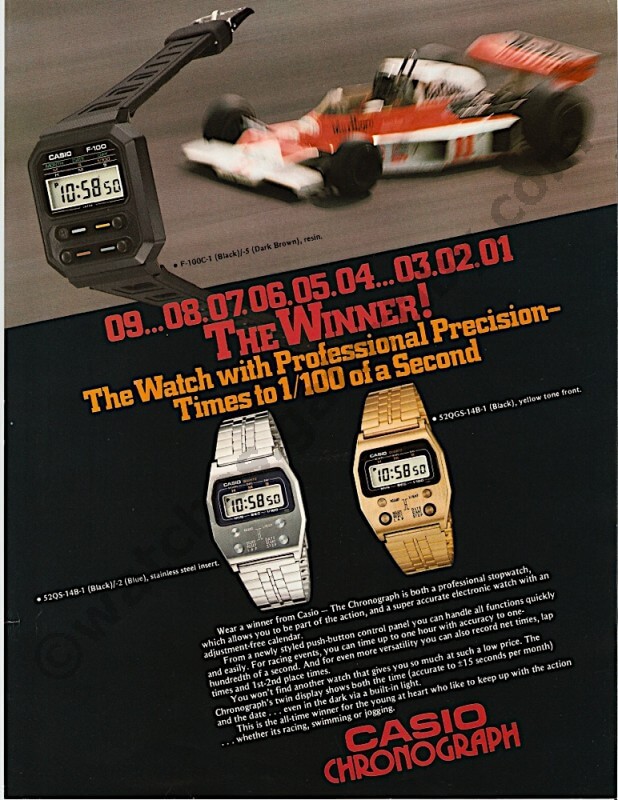 A100WE-1A: