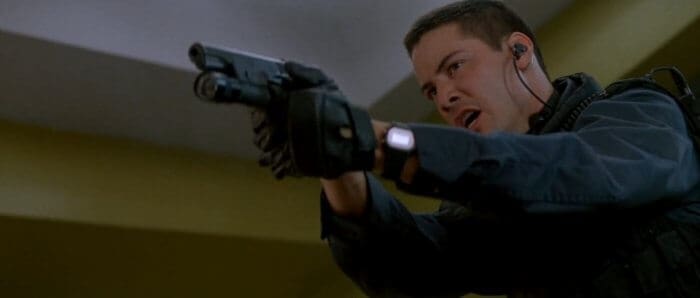 June 10 marks the 25th anniversary of the 1994 movie Speed starring Keanu Reeves, Sandra Bullock, and Dennis Hopper. Reeves plays LAPD officer and SWAT member Jack Traven in the surprise hit film that reinvigorated the action movie genre and cemented his status as a worldwide star. Speed is also known for having the most high-profile G-Shock appearance in a movie, as the G-Shock DW-5600C-1V worn by Reeves is an iconic model that appears clearly and prominently throughout the film. Timelines often include the movie as a high point in G-Shock's history.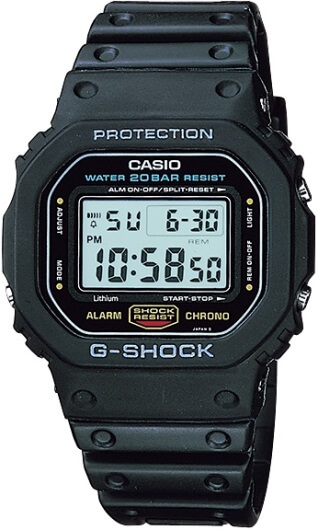 G-Shock appearance in Speed mentioned in G-Shock 35th Anniversary Perfect Bible: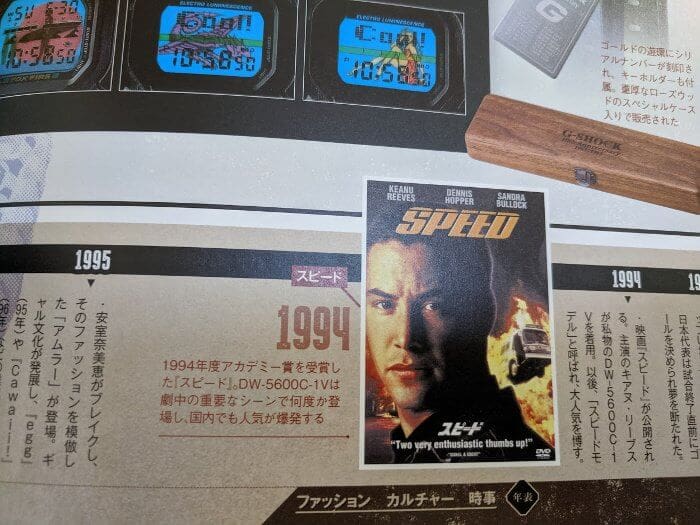 Here are some quick facts about the G-Shock DW-5600C-1V, a.k.a. the "Speed G-Shock."
• The DW-5600C-1V is a classic 1987 model that shares the same shape as the original G-Shock from 1983.
• The DW-5600C-1V has an inner stainless steel case and screw-lock case back and was the last basic 5000-5600 screw-back model. This makes it a popular collectible item. (Today, some premium models like the GW-5000, GMW-B5000, DW-5000 anniversary editions, and the Frogman line have screw-back cases.)
• The watch used in the movie was reportedly not a supplied prop but was owned by Keanu Reeves. (source)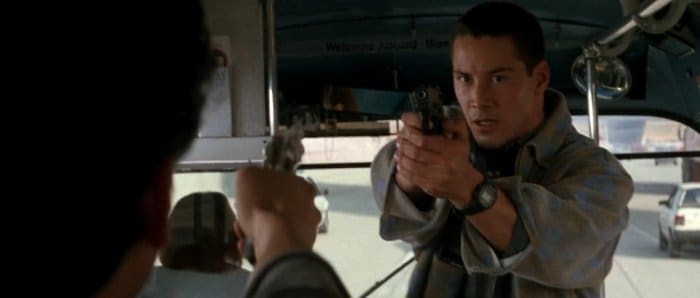 • The DW-5600C was also available in yellow (DW-5600C-9B) and black with gold accents (DW-5600C-9CV). There were also blue and green DW-5600B screw-back models.
• During its lifespan from 1987 to the mid 1990s, the DW-5600C was made with two modules (module 691 from 1987 to early 1990s and module 901 from 1990s) and was manufactured in two factory locations designated as "Japan A" and "Japan H." Though the features of all DW-5600C models are the same, the different modules and factory locations resulted in watches that have some distinct differences (see source for more info). The module 691 and "Japan A" watches are considered rarer and more sought after by collectors. (source)
• The DW-5600C (along with the DW-5600E) is also known as the "NASA" model as it is flight-qualified by the agency for space travel and has been worn by astronauts.
• The closest current model to the DW-5600C-1V is the G-Shock DW-5600E-1V (amazon) which does not have a screw-back case but does have the EL backlight which is an upgrade to the standard light on the DW-5600C.

• The closest current (non-anniversary) screw-back model is the GW-5000-1JF (amazon) which is a more advanced model with Tough Solar power and Multi-Band 6 auto timekeeping that is made in Japan. It is a Japan-only model but also popular as an import in other countries.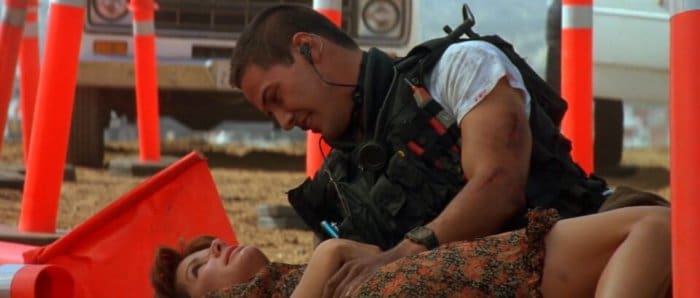 Speed is available for streaming on Amazon Prime Video, Google Play, iTunes, Vudu, and YouTube. Some theaters around the world are also holding special 25th anniversary screenings.







Disclosure: G-Central is independently managed by fans and is not an official G-Shock site. For official support, visit world.casio.com. Please follow your region's official site for more release information. All articles are written by G-Central. We may earn a commission on purchases from our links to Amazon, eBay, and Reeds Jewelers.
Advertisement: