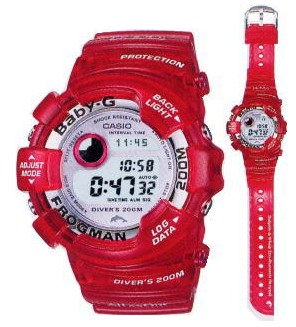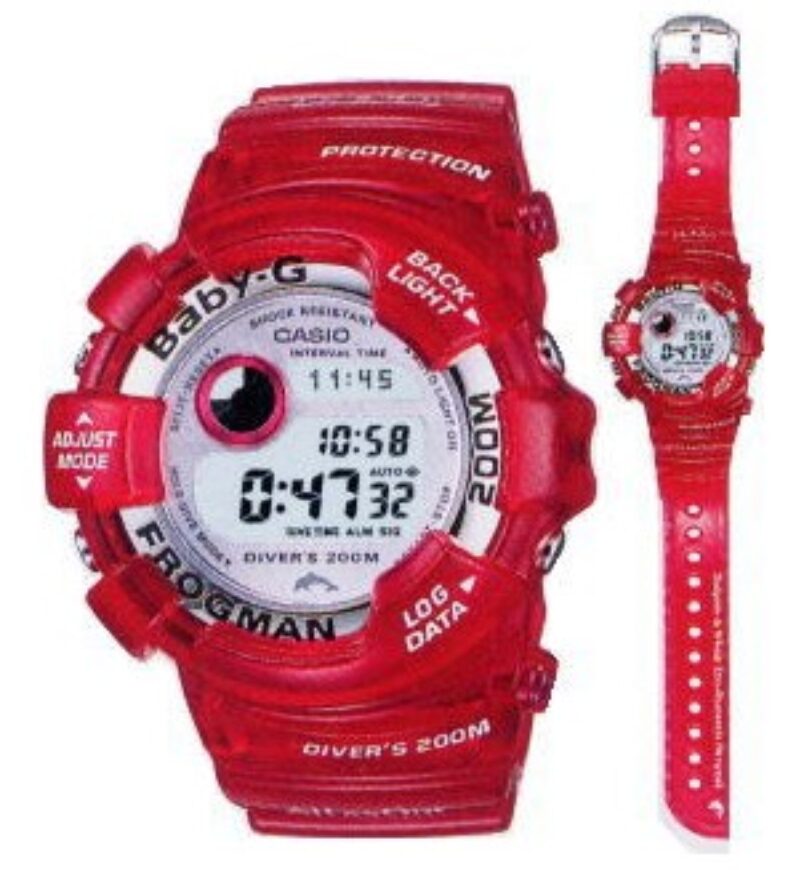 We recently covered Baby-G watches with solar and Multi-Band 6 but here is a Frogman that is perhaps the holy grail of Baby-G watches. The Baby-G Frogman BGW-100 Series is no longer in production but it can often be found on eBay in good condition. But is this Baby-G Frogman as full featured and a serious scuba diving watch like the G-Shock Frogman? All signs point to yes. The Baby-G Frogman is ISO standard 200 meter water resistant and features a screw back case just like its big brother.
The BGW-100 takes its design cues from the early G-Shock DW-9900 in a smaller form factor. The BGW-100 started its life as the Japan-made BGW-101 Seaman around 1997 and became the BGW-100 Frogman with a production run until around 2004.
BGW-100 Baby-G Frogman on eBay
Here are the full specs for the BGW-105K:
Shock resistant construction
Water resistant to 200m (ISO standard)
Dive time and surface interval measurement
Dive time; 1 second increments (Up to 23:59'59)
Surface interval; 1 minute increments (Up to 23:59')
One set of log data memory (Dive time, dive start time)
World time 26 cities and 9 preset diving sites (27 time zones) with DST
ID function: One set of data memory (Name, credit card number, emergency number, passport number, blood type, 5 records for other data)
Stopwatch 1/100 second (Up to 23:59'59"99)
Alarm Daily alarms, hourly time signal
Auto EL Backlight with afterglow
Accuracy ±15 seconds per month
Battery CR-1620, approx. 18-month
Low battery warning
Size: 49.2 × 43.4 × 14.9 mm
Weight: 65 g
Preset Diving Points: Cayman, Galapagos, Great Barrier Reef, Guam, Hawaii, Mauritius, Maldives, Red Sea, Tahiti
As you can see the Baby-G Frogman is a serious diving watch, just like the G-Shock Frogman. As an older model it lacks Tough Solar power, but it is still an attractive option for women, children, or men with smaller wrists. Surprisingly, these rare Baby-G Frogman usually aren't that expensive when they pop up on Ebay, with the exception of the BGW-101. Ebay currently has two BGW-100 watches available, a jelly red one in good condition for $250 and a black one in fair condition for $199.