Pre-orders are now open in the U.K. and the series is coming to other countries soon.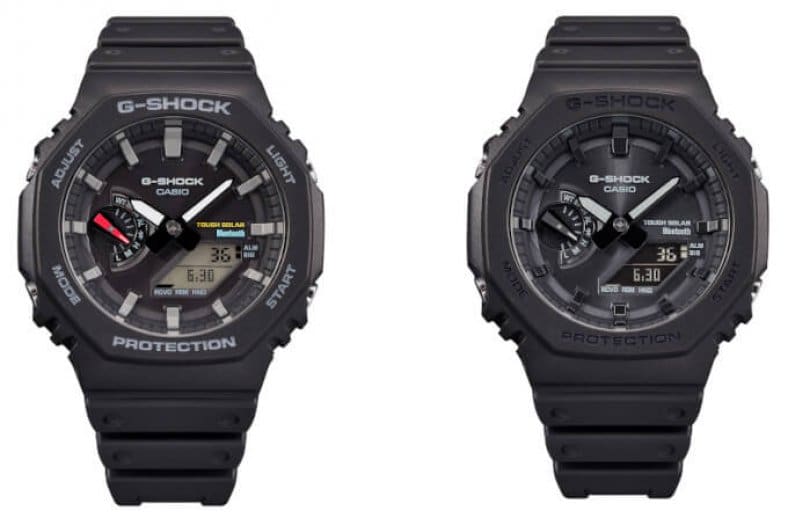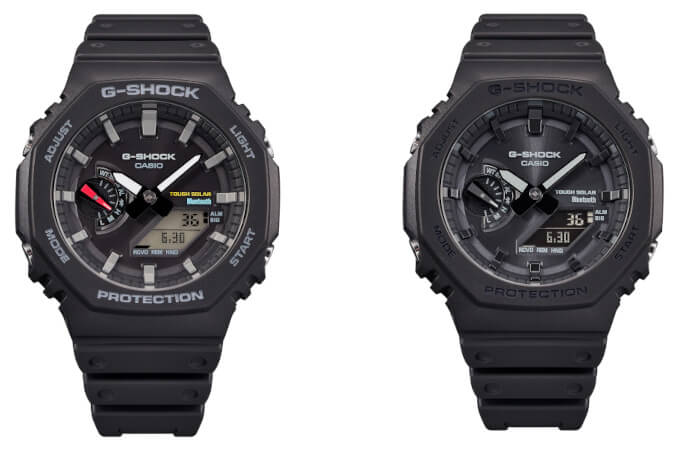 Pre-orders for the G-Shock GA-B2100-1AJF and GA-B2100-1A1JF have sold out within a few days at the official Casio Japan retail site. This was not unexpected, as pre-orders for popular models often sell out quickly (though it's usually with limited edition models). They are expected to be restocked at some point, and the other three colorways (blue, green, yellow) are still available. Other retailers in Japan will also begin selling the solar-powered and Bluetooth-equipped GA-B2100 series soon. (The official release date in Japan is May 14, but some retailers may also be taking pre-orders.) It remains to be seen if these models will sell out at other retailers too.
The GA-B2100-1A (left) has color accents based on the DW-5600C-1V from 1987 (also known as the "Speed" model). The positive LCD display on this model should be more legible for most people than the inverted LCD displays that are common on 2100 series watches. The full black GA-B2100-1A1 (right) is similar in style to the best-selling and non-solar GA-2100-1A1. The GA-B2100 is currently the thinnest solar-powered G-Shock watch at 11.9 millimeters (excluding discontinued models like the GW-056). It is also the most affordable analog-digital G-Shock model with both Tough Solar power and Bluetooth smartphone link. (The U.S. price is expected to be $150 for most models.)
Based on the initial reception and the worldwide shortage of the GA-2100-1A1 that we saw in 2019 and 2020, the GA-B2100-1A and GA-B2100-1A1 are likely to sell out at retailers in other countries when they become available, and we recommend getting your orders in quickly. It might not end up being a severe shortage like before, but we are expecting these models to have higher sales than usual. In the U.K., pre-orders are now available at g-shock.co.uk.
Update: The GA-B2100-1AJF and GA-B2100-1A1JF are available again for pre-orders at Casio Japan.