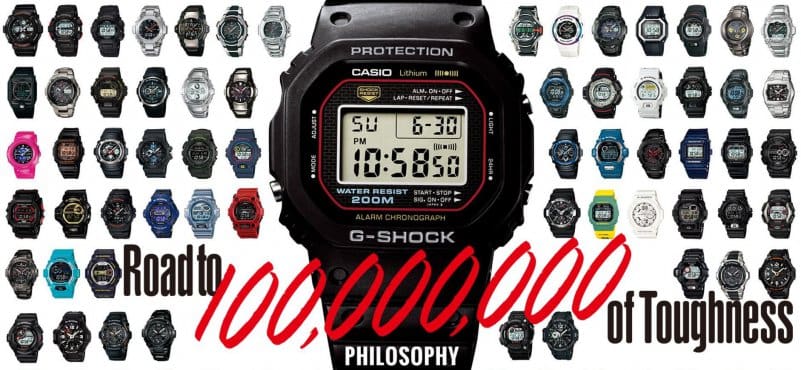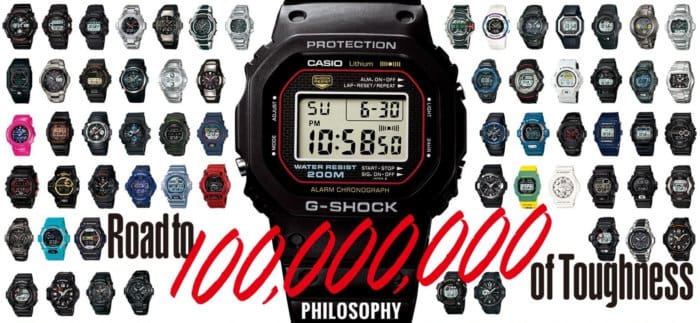 Congratulations to Casio as the venerable consumer electronics company celebrates the shipping of 100 million G-Shock watches as of August 31, 2017. The G-Shock 35th Anniversary website has been updated to mark this special milestone. The site has also been expanded with some new sections including a timeline of design innovations and technical features.
To celebrate the occasion, Casio outfitted the G-Shock MRG-G1000B-1A4 with a special case back engraved with the number 100,000,000 at the esteemed Yamagata factory. (The watch will not be available for sale.)
Casio also released an in-depth article about the history of G-Shock which can be seen here. The article covers the different eras of G-Shock starting with its birth in the 1980s. As most people know, G-Shock became very popular in the 1990s but a lot of people may not realize what a large role America played in its growth. It is also inspiring to read about the later stages after sales peaked in the late 1990s and how G-Shock became recommitted to technological innovation.