UPDATE: Casio officially announced the DW-H5600 series which is coming in May 2023.
See "G-Shock G-SQUAD DW-H5600 includes heart rate monitor, step counter, accelerometer"
The DW-H5600 will have an optical heart rate monitor, solar-assisted charging, and wired charging like the GBD-H1000 (below).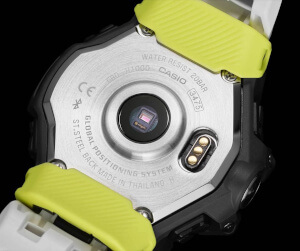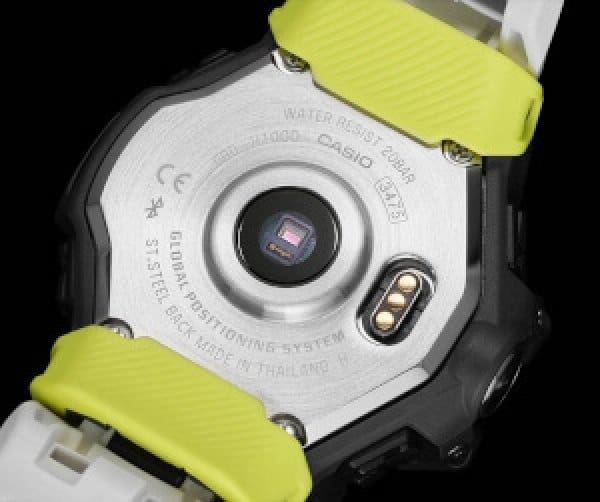 According to a new leaker ("kosutasu"), a new G-Shock G-SQUAD fitness model based on the classic 5000-5600 origin series is coming in April 2023. The DW-H5600 will have an optical heart rate monitor, step counter, and Bluetooth smartphone link. According to the leaker, the watch will not have built-in GPS but can access GPS via a Bluetooth connection with a smartphone. It is also expected to be made of biomass plastics.
According to a leaked image, the watch has an MIP (Memory-in-Pixel) LCD display and is also solar-powered (but apparently not with Tough Solar). According to diagrams previously leaked by Zona Casio, the watch also has wired charging with a connection on the case back. The watch being solar but not Tough Solar means that it will likely need to be charged by USB in order to use the heart rate monitor regularly. If not all of the functions are used, there is a good chance that the watch can be powered by solar alone (as is the case with the GBD-H1000, which can be powered by solar for time mode with step counting and notifications).
The watch is also expected to have phone notifications for calls, email, and messages. Hopefully, Casio has improved on the difficulty and time-consuming nature of accessing the phone notifications on previous Bluetooth/MIP models which required menu navigation and many button presses to read the full notifications.
Along with the attractiveness of this being an advanced fitness watch based on the original G-Shock case, the addition of a heart rate monitor and solar-charging is a big upgrade over similar models like the GBD-200 and GBD-100, although it probably doesn't have the vibration feature of those models. It will probably cost a lot more than the $150 price of the GBD-200, but less than the $399 of the GBD-H1000 (which has built-in GPS and a Triple Sensor).
We've chosen not to republish the leaked image as it is clearly marked as confidential and for Casio's internal use only, but you'll find them everywhere else by now. (Or just think of a DW-5600 with an MIP LCD display and you're pretty much there. The watch appears to be a similar size as the DW-5600 but the exact dimensions are not yet known.) According to the image, there will be two models in black and blue with black and blue metal bezels (DW-H5600MB) and two full resin models in black and light blue. The models with metal bezels are not fully metal bezels like the GM-5600 but rather partial metal bezels with the front portion being metal and the rest being resin.
The same leaker also revealed the upcoming GBD-H2000, expected in March 2023, which appears to have similar features as the GBD-H1000 but reportedly with a new module and features like sleep tracking and "multi sport logs."
(G-Shock G-SQUAD watches are sold as G-Shock MOVE in the U.S.)