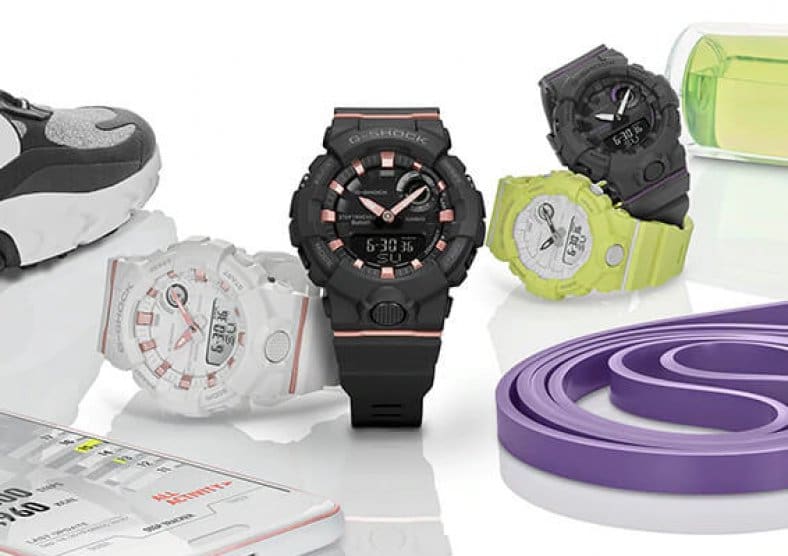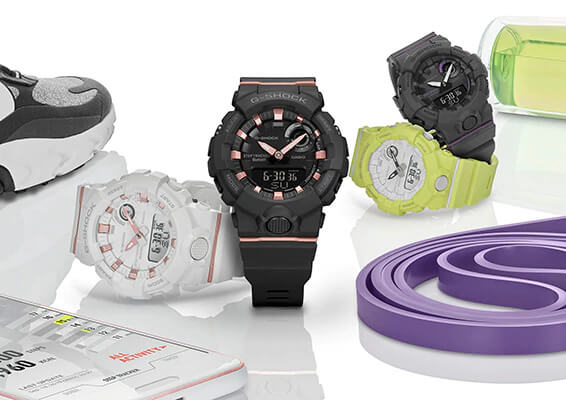 The upcoming G-Shock G-SQUAD GMA-B800 is essentially a smaller version of the GBA-800, a fitness-oriented watch featuring a daily Step Tracker and Bluetooth connectivity. The functions are identical, but the GMA-B800 has a width that is 3.4 millimeters smaller at 45.2 mm. In addition to offering a smaller size and new colorways designed for women, the series also opens up the possibility of creating matching couple's sets with the various GBA-800 watches.
In addition to the usual shock resistance and 200-meter water resistance, major features of the GMA-B800 include the daily step tracker (with intensity graph display, map display, and calories burned data), customizable interval timers (5 timers that repeat up to 20 times), stopwatch, 5 daily alarms, double LED Super Illuminator lights, automatic time adjust via Bluetooth, up to 300 cities for the dual time display, phone finder function, and easy watch setting adjustments via the G-Shock Connected App.
Casio announced the GMA-B800 series for Asia, and it is likely to have a wider release. The debut models include the black and rose gold GMA-B800-1A, the white and rose gold GMA-B800-7A, the gray and purple GMA-B800-8A, and the yellow and white GMA-B800-9A.
Update: Casio America announced the GMAB800-1A, GMAB800-7A, GMAB800-8A, and GMAB800-9A as part of the G-Shock S Series. The watches will be released in October 2019 with a list price of $120 each.


Update (March 2020): Casio announced the black and blue GMA-B800SC-1A2 and the black and orange GMA-B800SC-1A4 for a March 2020 release in Asia. Casio America is also releasing the GMAB800SC-1A2 and GMAB800SC-1A4 with a list price of US$120 each.