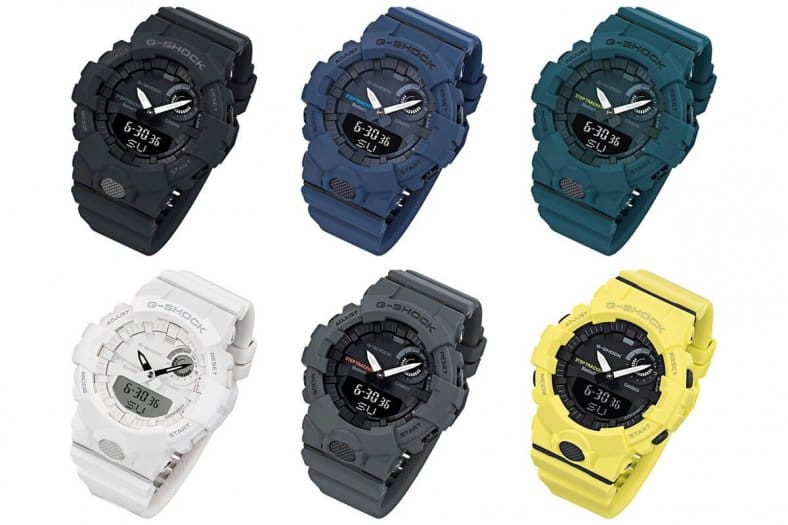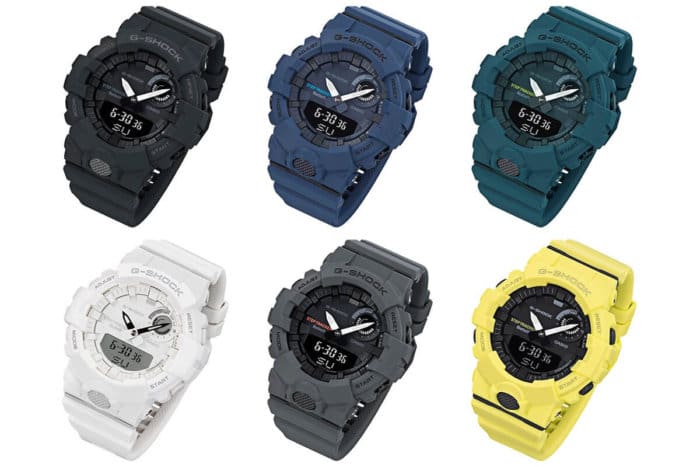 G-Shock is introducing the new G-SQUAD series with six model of the analog-digtal GBA-800 featuring a Step Tracker (a.k.a. pedometer) and Bluetooth connectivity. The six models include basic monotone configurations to match fitness clothing: GBA-800-1A (black), GBA-800-2A (navy blue), GBA-800-3A (teal), GBA-800-7A (white), GBA-800-8A (gray), and GBA-800-9A (lime green).
The GBA-800 has a 3-axis accelerometer and can pair with a G-Shock Connected smartphone app to track and view daily step tracking and calories burned. The app displays a graph that breaks down the steps taken into five metabolic equivalent (MET) levels in daily, weekly, or monthly views. If a smartphone is used while walking or running, the app will graphically display the steps taken and calories burned on a map. A special timer allows the user to configure five timers (up to 60 minutes each) to automatically repeat up to 20 times to create interval training workouts. The watch also has a 200-record lap memory that includes month, date, and lap/split times.
The Bluetooth connection also allows the smartphone app to set dual time display settings with 300 cities, automatically sync the time four times a day, and set the time and alarms. The Phone Finder function will set off an alarm on the smartphone by pressing a watch button.
At 54.1 x 48.6 x 15.5mm, the GBA-800 has the same dimensions of the mid-size GA-800. This smaller size makes it an appropriate choice for women too. Like the GA-800, the GBA-800 has a front button for the LED light, but does not have a third analog hand. The battery life is rated for approximately 2 years. Full features include shock resistance, 200-meter water resistance, Bluetooth Low Energy, step counter, stopwatch, countdown timer, 5 daily alarms, and auto Super Illuminator double LED light with afterglow.
Update: The black GBA-800-1AJF, white GBA-800-7AJF, and lime green GBA-800-9AJF are scheduled for a February 2018 release in Japan with a list price of ¥16,500 JPY each. The GBA-800-1A, GBA-800-7A, and GBA-800-9A are also a February 2018 release in Asia.
Update 2: Casio America announced the black GBA800-1A, white GBA800-7A, lime green GBA800-9A, navy blue GBA800-2A, teal GBA800-3A and grey GBA800-8A. The GBA800-1A, GBA800-7A, and GBA800-9A will be released in March 2018, and the GBA800-2A, GBA800-3A, and GBA800-8A in April 2018 with a list price of $120 USD each.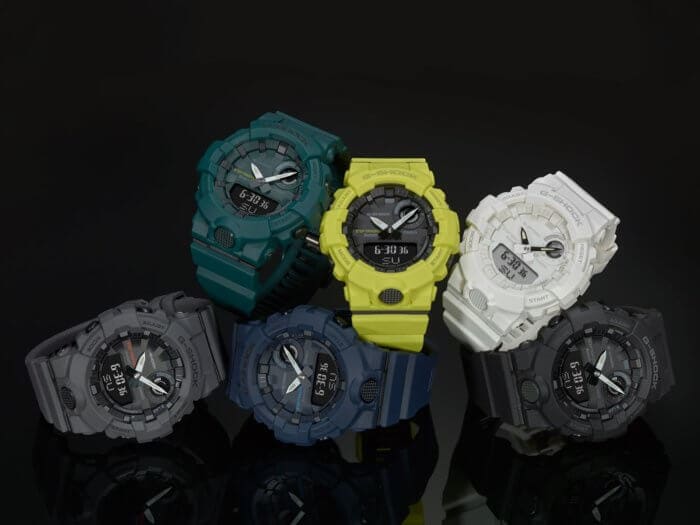 Update: Casio released two more models, the light blue GBA-800-2A2 and orange GBA-800-4A, in Japan and Asia for May 2018.
G-Shock G-SQUAD GBA-800-2A2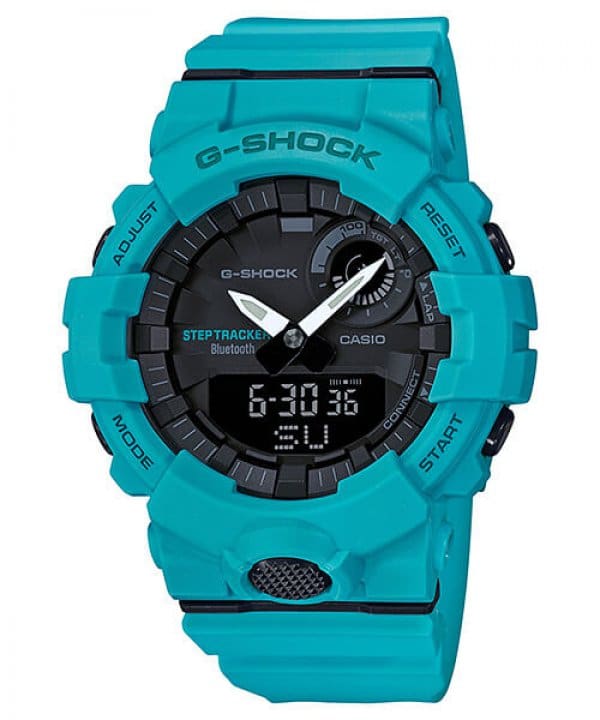 G-Shock G-SQUAD GBA-800-4A