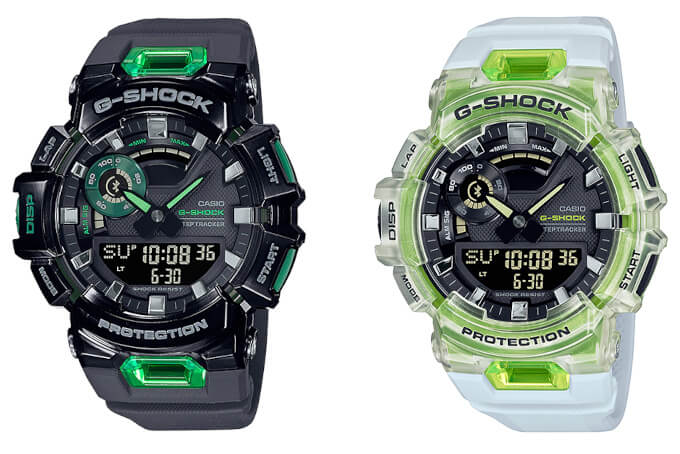 Following the debut of the GBA-900 fitness series in April, G-Shock is releasing two skeleton colorways: the black and green GBA-900SM-1A3 and the white and green GBA-900SM-7A9. The GBA-900SM-1A3 has a glossy black bezel, translucent green ventilation holes, and a black resin band. The GBA-900SM-7A9 has a translucent bezel with a green inner case, translucent green ventilation holes, and a white resin band.
The GBA-900SM is an affordable G-SQUAD model with a step counter and Bluetooth smartphone link. The GBA-900SM features numerous upgrades over the GBA-800, including a more robust LCD display, large ventilation holes on the band, automatic lap measurement, and a self-calibrating step counter (that calibrates when used with a GPS-equipped smartphone). The watch features daily training management through the G-Shock Move smartphone app. It measures mileage, speed, pace, and calories burned, and records up to 45 lap data records.
The GBA-900SM-1A3 and GBA-900SM-7A9 were announced for Asia in November 2021 (but not Japan). The GBA-900SM-1A3ER and GBA-900SM-7A9ER are currently available in the U.K. for £119 each at g-shock.co.uk and are expected to be released throughout Europe. The GBA900SM-1A3 and GBA900SM-7A9 are also slated for a U.S. release with a price of $130 each.
G-Shock GBA-900SM-1A3: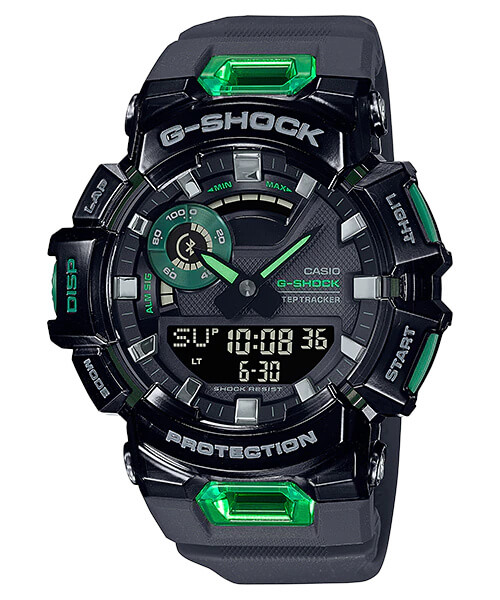 Size: 51.3 × 48.9 × 16.6 mm Weight: 61 grams
Structure: resin case, bezel, and band, mineral glass
Protection: Shock Resistance, 200-meter Water Resistance Power: Battery (CR2025, approx. 2-year life)
Features: Step counter, Bluetooth smartphone link, dual time (Home city time swap), stopwatch (23:59'59 max, 1/100-second first 60 minutes, 1-second after 60 minutes, lap/split timing, distance/pace display, auto/manual lap timing auto lap notification, 45-record lap memory), countdown timer (60 minutes, settable in seconds, 5 interval timers, auto-repeat, 5-second countdown auto start, repeat 1-20 times), 5 daily alarms, hourly time signal, dual LED light with 1.5 or 3-second afterglow, full auto-calendar, button tone on/off, 12/24-hour format, hand shift, airplane mode
G-Shock GBA-900SM-7A9: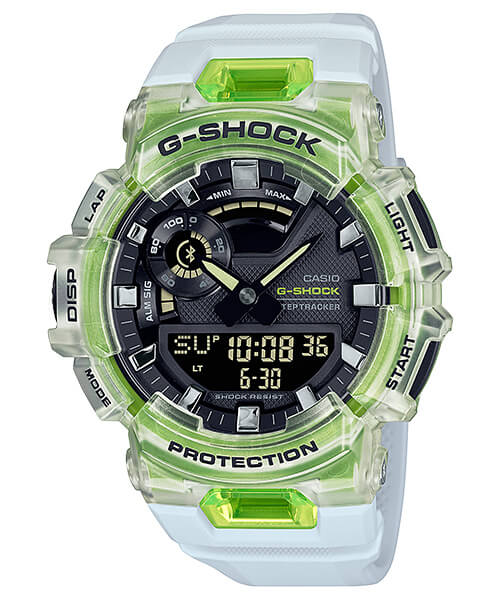 Size: 51.3 × 48.9 × 16.6 mm Weight: 61 grams
Structure: resin case, bezel, and band, mineral glass
Protection: Shock Resistance, 200-meter Water Resistance Power: Battery (CR2025, approx. 2-year life)
Features: Step counter, Bluetooth smartphone link, dual time (Home city time swap), stopwatch (23:59'59 max, 1/100-second first 60 minutes, 1-second after 60 minutes, lap/split timing, distance/pace display, auto/manual lap timing auto lap notification, 45-record lap memory), countdown timer (60 minutes, settable in seconds, 5 interval timers, auto-repeat, 5-second countdown auto start, repeat 1-20 times), 5 daily alarms, hourly time signal, dual LED light with 1.5 or 3-second afterglow, full auto-calendar, button tone on/off, 12/24-hour format, hand shift, airplane mode