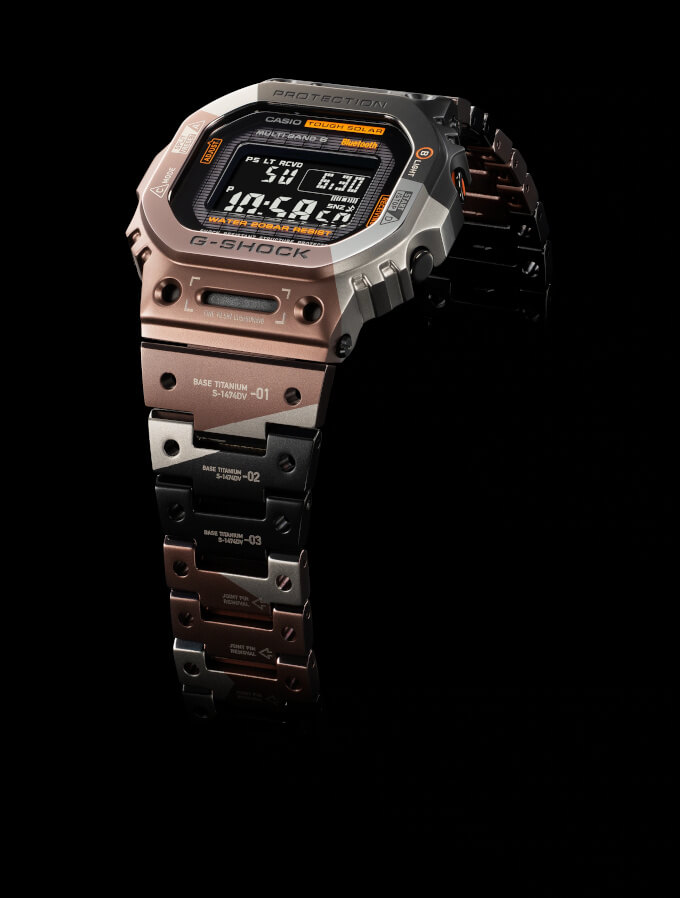 Round two of the "Titanium Virtual" series is coming in June with the release of the G-Shock GMW-B5000TVB-1.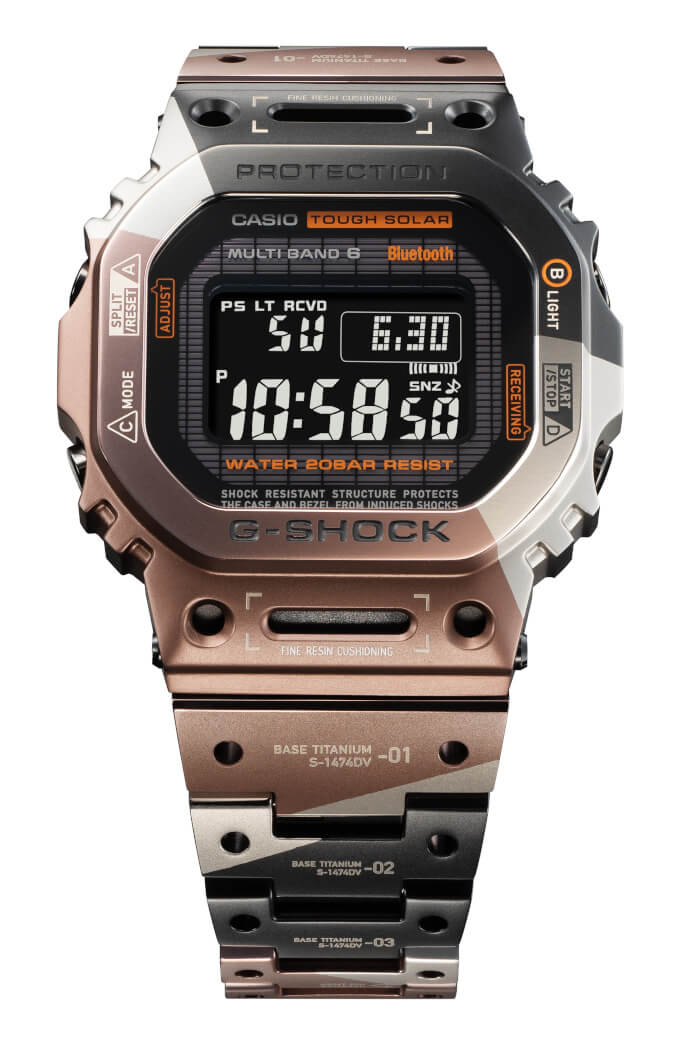 The GMW-B5000TVB-1 shares the mecha-like, label-heavy design of the popular GMW-B5000TVA-1, which was one of the most well-received full metal squares. It also has the two cutaway sections near the lugs that reveal the inner resin cushion, but this time it is black resin instead of red. While the GMW-B5000TVA-1 could go fairly unnoticed from a distance, the TVB-1 has a striking multi-color design that combines black, brown, and gray for a geometric camouflage style. Other differences include orange accents and an inverted LCD display. Like the TVA-1, the titanium-built TVB-1 is lighter (at 106 grams) than stainless steel versions of the GMW-B5000 (167 grams).
According to the official specs, the watch has a black ion plated bezel and a "Diamond Like Coating" (a.k.a. diamond-like carbon or DLC coating). As with the GMW-B5000TVA-1, it's not exactly clear where the IP coating is in relation to the DLC coating. One noticeable difference between the two is that unlike the GMW-B5000TVA-1, the GMW-B5000TVB-1 does not have the "Diamond Like Carbon Coating" label on the right side of the bezel. This deluxe model also has sapphire crystal with a glare-resistant coating.
Major features include full shock resistance, 200-meter water resistance, Tough Solar power, Multi-Band 6 automatic radio time adjustment, and Bluetooth smartphone link. The GMW-B5000TVB-1 is expected to be released worldwide. In Japan, the tax-included price of the GMW-B5000TVB-1JR is 203,500 yen, making it more expensive than the GMW-B5000TVA-1JR (198,000 yen), which was $1,650 in the U.S. For more information and an interactive 3D view, visit casio.com/intl.
Update: G-Shock U.S. is releasing the GMWB5000TVB1 for $1,700.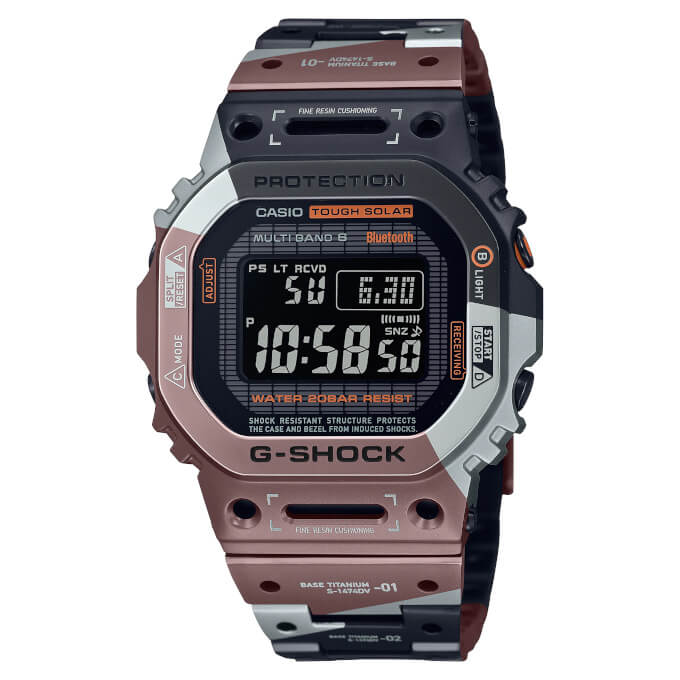 Size: 49.3 × 43.2 × 13 mm Weight: 106 grams
Structure: Titanium screw-back case, bezel, and band, sapphire crystal
Protection: Shock Resistance, 200-meter Water Resistance Power: Tough Solar
Features: Multi-Band 6 auto time adjustment, Bluetooth smartphone link, 5 world times (39 time zones, 39 cities + UTC, DST on/off, auto DST, home/world city swap), 1/100-second stopwatch (23:59'59 max, elapsed time, split time, 1st-2nd place times), countdown timer (24 hours, settable in seconds, minutes, and hours), 5 daily alarms, hourly time signal, full auto EL backlight with 2 or 4-second afterglow, full auto-calendar, button tone on/off, low battery alert, 12/24-hour format, date/month display swap, adjustable day display language (6)
The deluxe titanium GMW-B5000TVB-1 has an other-worldly look that is likely to appeal to fans of anime, sci-fi, and gaming.
Buy GMWB5000TVB1:
Casio Reeds eBay