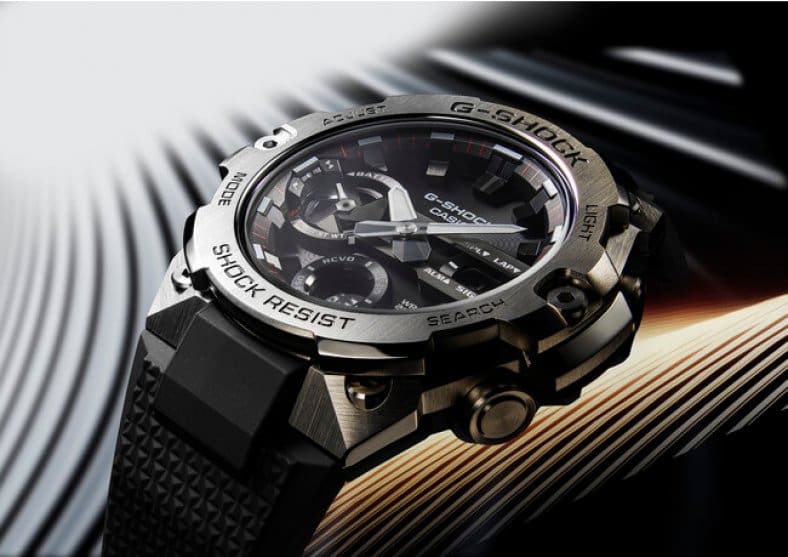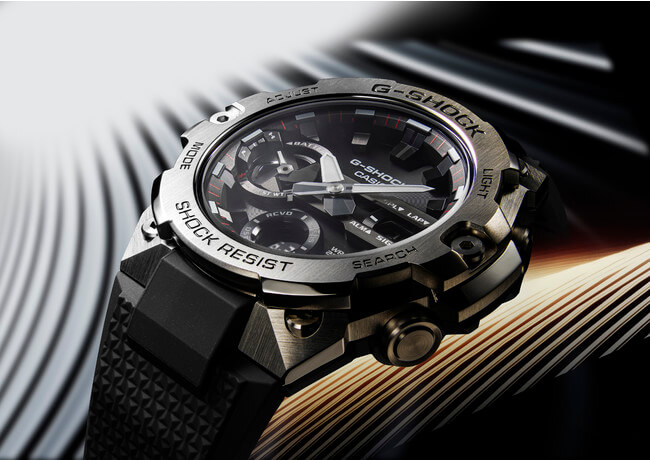 The all-new GST-B400 is the slimmest G-STEEL watch at 12.9 millimeters thick (as of March 2021). G-STEEL is a mid-range line of G-Shock watches that is made with a combination of materials including stainless steel. The GST-B400 series was announced for a May release in Japan and Asia with the following launch models: silver GST-B400-1A with black resin band, red and silver GST-B400AD-1A4 with stainless steel band, blue and black GST-B400BD-1A2 with stainless steel band, and silver GST-B400D-1A with stainless steel band.

The lower profile is a result of a newly designed module that is smaller with less components, combined with a high-density mounting with a flatter layout. With two analog hands, the Tough Solar-powered GST-B400 also consumes 55.7% less power than the GST-B200, and this allows for a new dial design with a metallic texture. For the GST-B400AD and GST-B400BD models, the dial is treated with a multilayer vapor deposition to create a vividly colored dial.
The GST-B400 can connect to a smartphone via Bluetooth for easy watch settings, which also allows for automatic time adjustment, the Time and Place function which logs the time and position on a map with a single press of a watch button, and a Reminder function. Other features include shock resistance, 200-meter water resistance, world time, 1/100 second stopwatch (1/100 second up to 59'59″99, 1 second from 1:00'00" to 23:59'59", with elapsed time and lap/split time), countdown timer (1 hour), 5 daily alarms, hand shift feature, and Super Illuminator double LED light (with backlit LCD displays). It is also possible to swap the date/month display format, and the day display can be changed from English to Spanish, French, German, Italian or Russian.
The GST-B400 is a Carbon Core Guard model like the GST-B200 and GST-B300. The full dimensions are 46.6 x 49.6 x 12.9 millimeters. The GST-B400-1A with resin band weighs approximately 80 grams, and the other models with a stainless steel band weigh approximately 160 grams.
The GST-B400 series was announced for a 21 May 2021 release in Japan and will also be released in Asia. The series is also expected to be released worldwide. The tax-included retail prices in Japan are as follows: GST-B400-1AJF ¥45,000, GST-B400AD-1A4JF ¥54,000, GST-B400BD-1A2JF ¥62,000, and GST-B400D-1AJF ¥50,000. All four models will be released throughout Asia and in the U.K. G-Shock U.S. is releasing the resin-banded GSTB400-1A ($320), black and blue GSTB400BD-1A2 ($500, as the GSTB400BD1A2), and the all silver GSTB400D-1A ($400).
G-Shock G-STEEL GST-B400-1A
Silver bezel, black dial, and black resin band.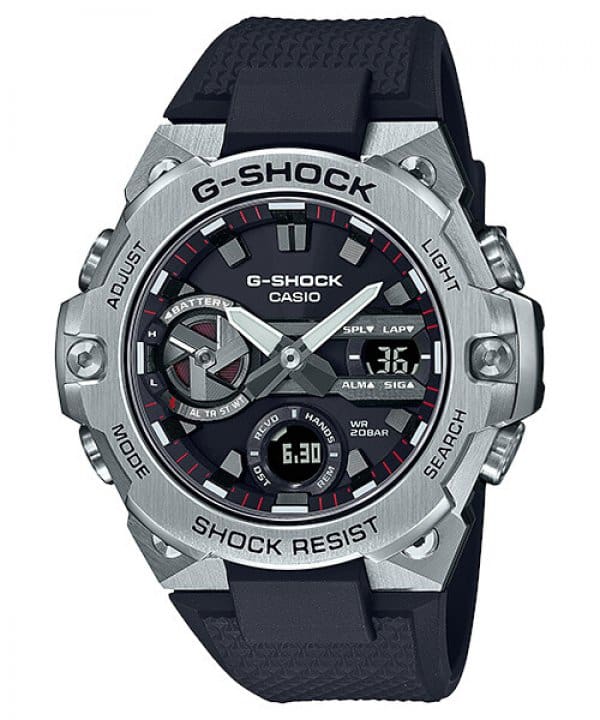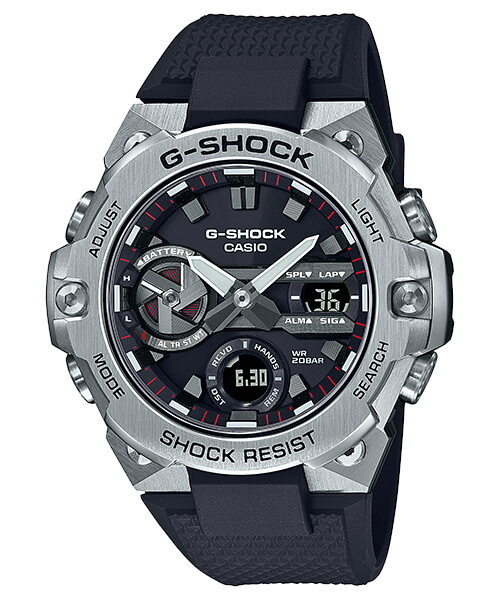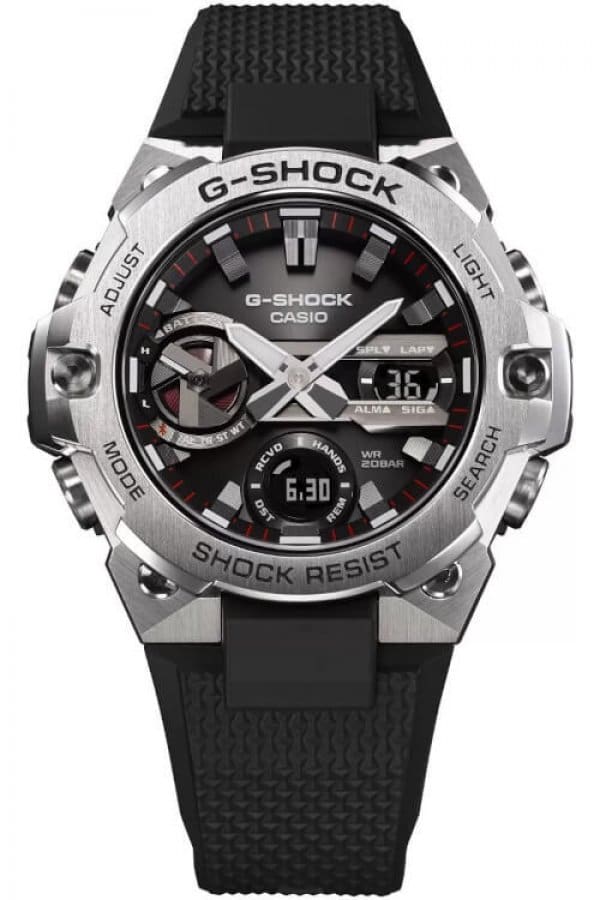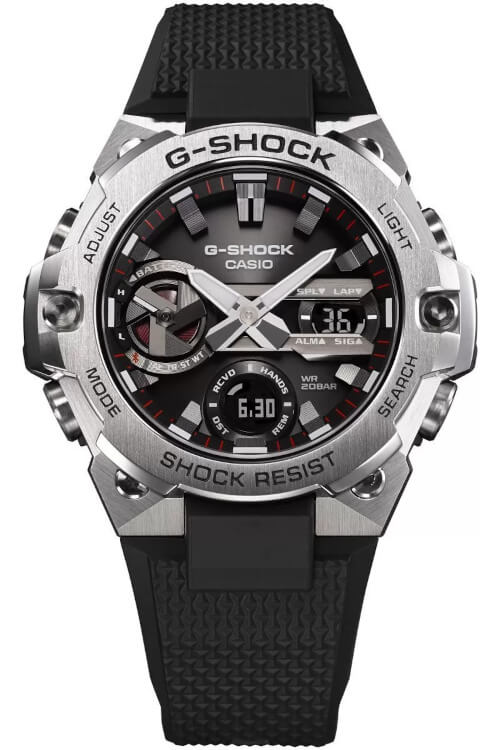 G-Shock G-STEEL GST-B400AD-1A4
Black bezel, red dial, and stainless steel band.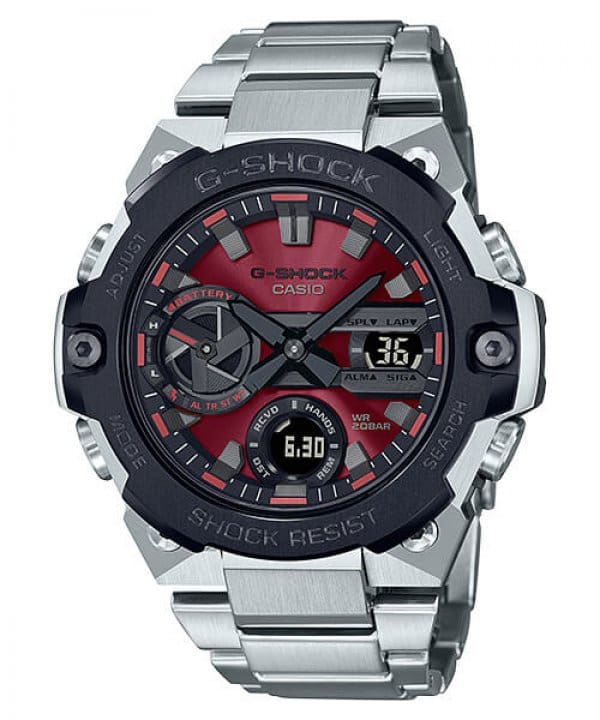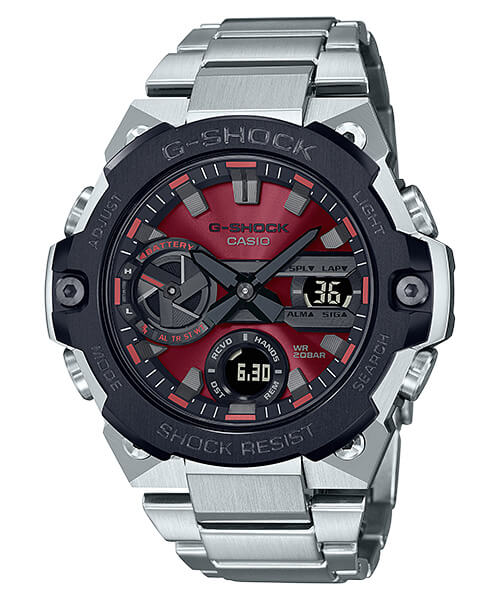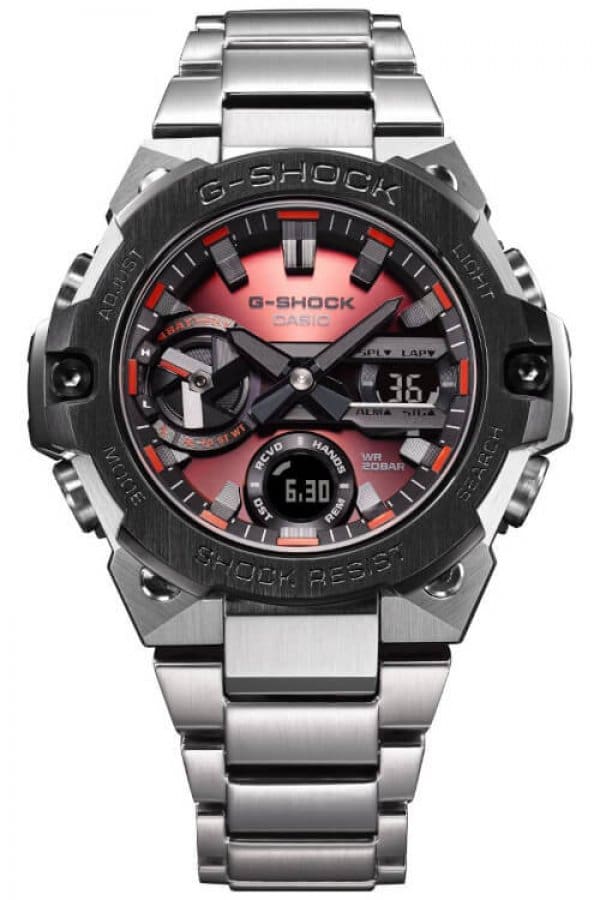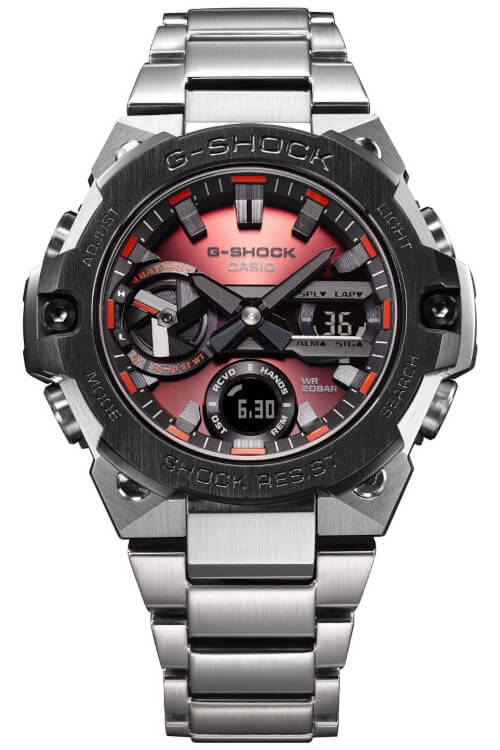 G-Shock G-STEEL GST-B400BD-1A2
Black bezel, blue dial, black IP case, and black IP stainless steel band.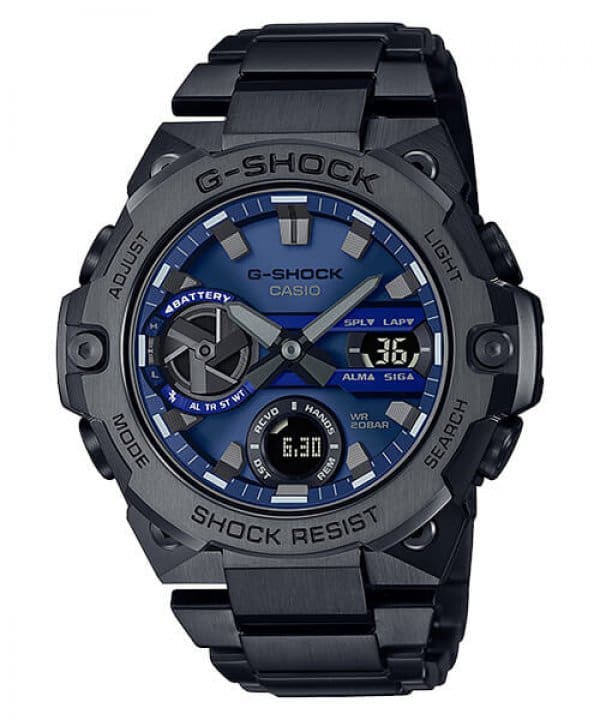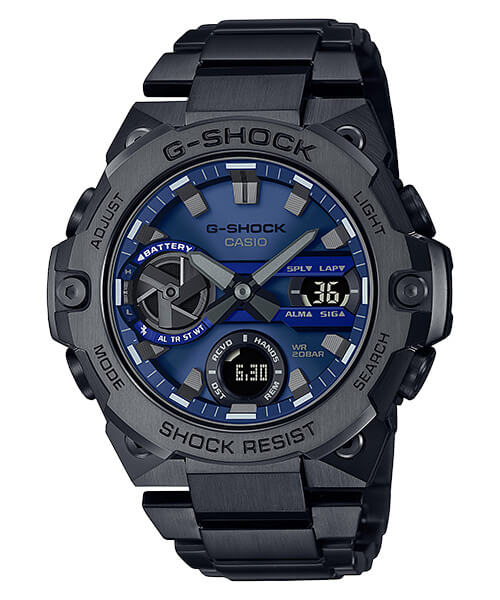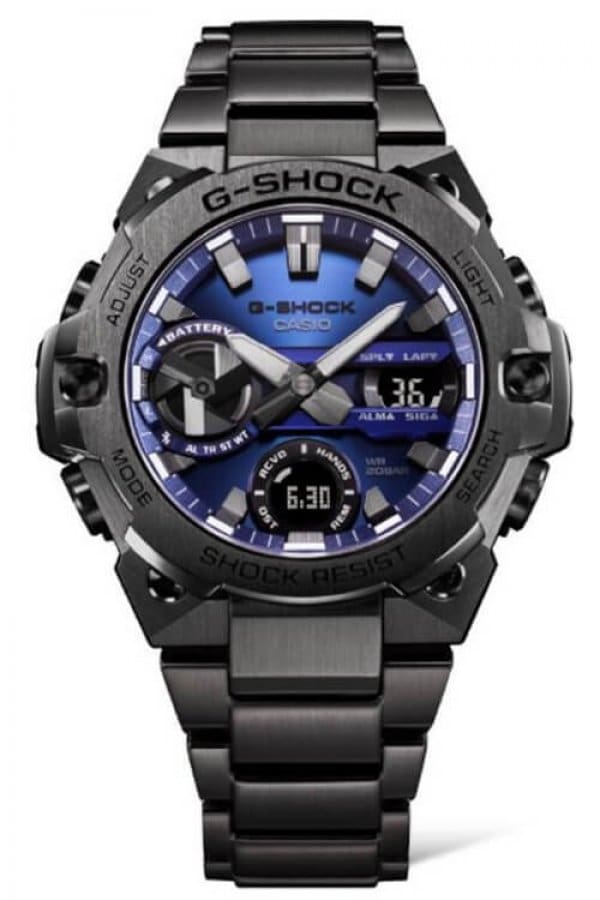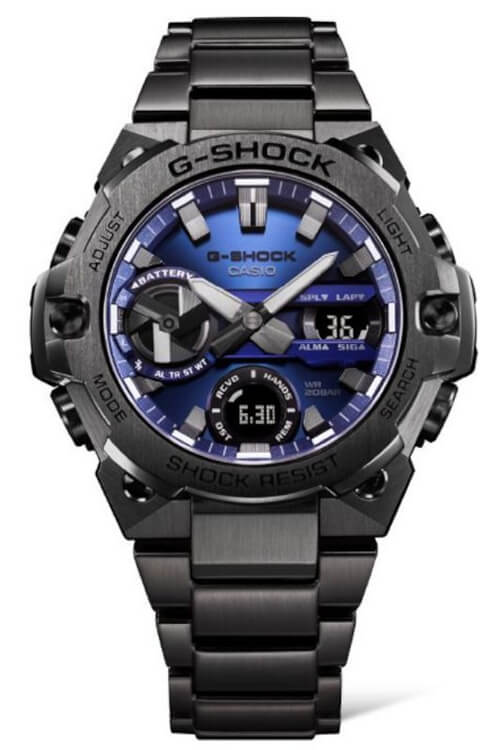 G-Shock G-STEEL GST-B400D-1A
Silver bezel, silver dial, and stainless steel band.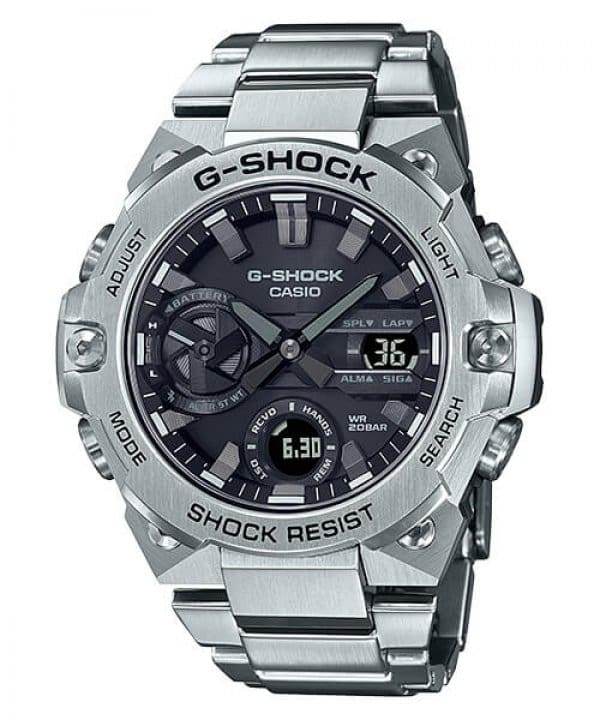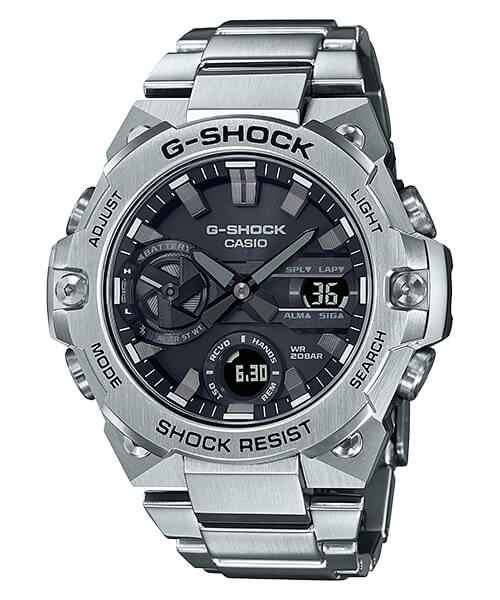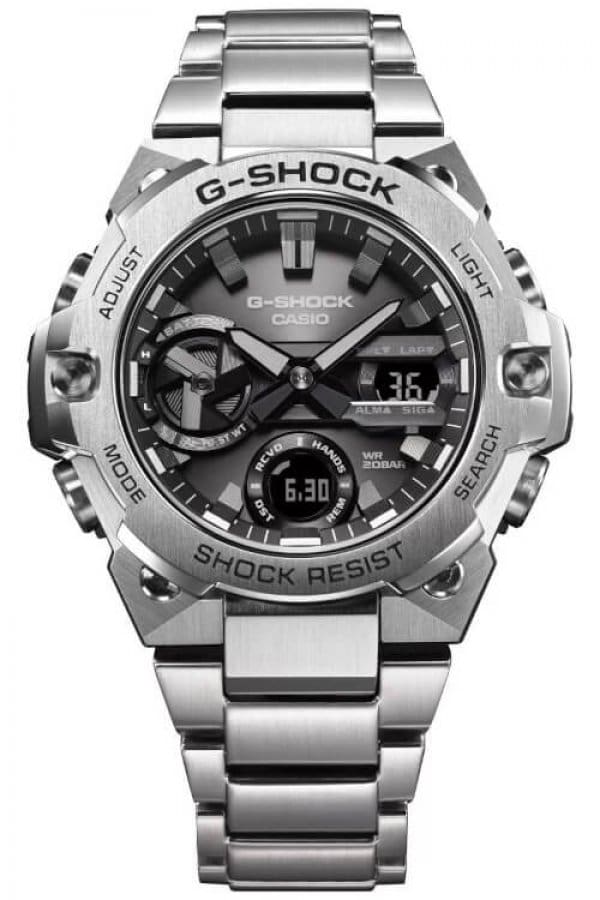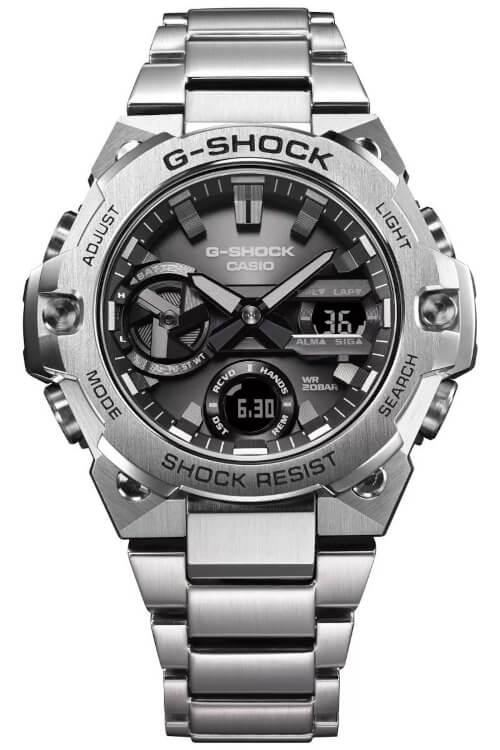 G-Shock G-STEEL GST-B400 Promo Video: