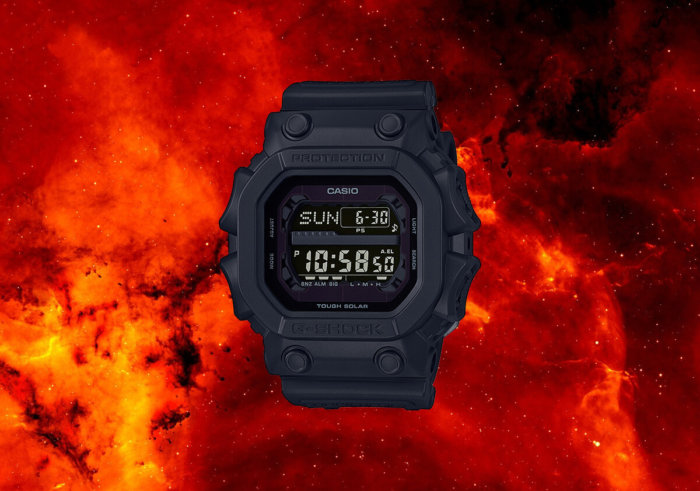 G-Shock Japan announced the GXW-56BB-1JF and now Casio has revealed the G-Shock GX-56BB-1 for the rest of Asia. What makes this announcement interesting is that the GX-56 (Tough Solar) series was assumed to be discontinued years ago with only the GXW-56 (Tough Solar/Multi-Band 6) series living on solely in the Japan domestic market. While never one of the best-selling G-Shock models, the GX-56 and GXW-56 watches have developed a strong cult following over the years due their unique design, extreme toughness, and recent exclusivity. A GX-56 or GXW-56 watch is commonly referred to as the "King" by G-Shock fans online. Originally intended as an extra-tough G-Shock watch for use in the harshest conditions, the King models have also become fashionable watches due to their unique look and size. They are also a good option for larger people who like the square G-Shock design but find the 5600 series too small.
Update: The GX-56BB-1 is getting a U.S. release in August 2016 as the GX56BB-1 with a retail price of $150.
The GX-56BB-1 is a matte black stealth model with no lettering paint and a reverse LCD display. The strap buckle has a black ion plated finish. (see comments below) The GX-56 is an extra-large mud-resistant watch designed to withstand impacts from any direction. Like the GXW-56BB-1JF, the GX-56BB-1 features Tough Solar power but does not have Multi-Band 6 radio time syncing. The GX-56BB-1 has the usual features of Tough Solar models like world time, full auto EL backlight, stopwatch, timer, 5 daily alarms with 1 snooze alarm, power saving mode, full auto calendar, 12/24 hour format, and button tone on/off. The GX-56BB-1 measures 55.5 × 53.6 × 17.5 mm and weighs 88 grams.
The GX-56BB-1 is part of the Black Out Basic Series which includes three other non-solar models.