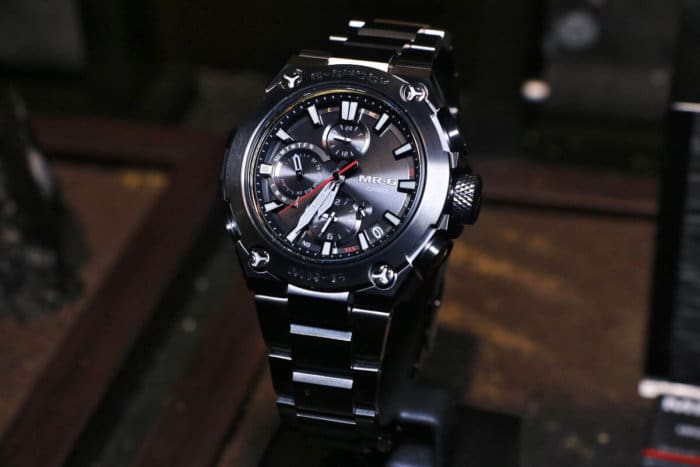 The newly revealed G-Shock MRG-B1000 model is scheduled for an October 2017 release in Japan. The MRG-B1000B-1AJR is a Tough Solar and Bluetooth-connected luxury model that continues the MR-G tradition of a titanium case and band along with a sapphire crystal. It has a smaller face than the MRG-G1000 and MRG-G2000 but the exact dimensions are not yet known.
This is a full analog model like the recent G-STEEL GST-B100 and we can assume the Bluetooth functions are the same. The watch uses a connected smartphone to automatically sync the time through internet time servers, and a smartphone app is used to adjust the watch's world time and alarm settings. There is dual dial world time, and the lack of city indicators on the watch display suggests that a smartphone is required to adjust the world time settings. While the use of Bluetooth is a convenient way to keep the watch synced anywhere in the world, those who want to sync the watch regularly without a smartphone and outside the range of Multi-Band 6 transmitters should look into the GPS timekeeping models like the MRG-G2000, MRG-G1000, or MTG-G1000.
The retail price of the MRG-B1000B-1AJR is ¥280,000 JPY, which puts it in the same range as the MRG-G1000 series.
More information will be added to this page when it's available.
Photo via news.mynavi.jp