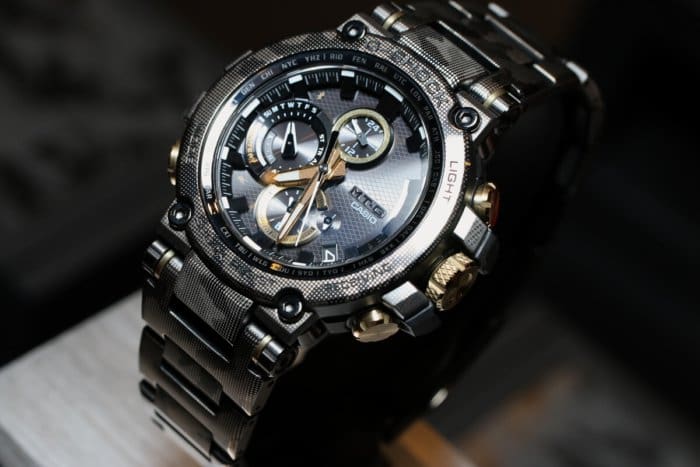 Kakakumag.com has extensive coverage of Casio's autumn and winter products show where many new G-Shock models were revealed. While the upcoming watches are all existing models with new color variations, perhaps the most eye-catching is the G-Shock MTG-B1000DCM-1AJR with its metal camouflage pattern. This new style is created with a laser engraving process that produces a dot pattern of three sizes on the black IP-treated bezel and band. Judging by the model number ending with "JR", this is a limited edition release.
The base MTG-B1000 is the first Bluetooth-connected MT-G model and also features Tough Solar power, Multi-Band 6 radio timekeeping, and a sapphire crystal. The MTG-B1000 series began the recent trend of smaller G-Shock watches and is considered more of a mid-size to large watch rather than extra-large.
The MTG-B1000DCM-1AJR is coming to Japan in November 2019 with a list price of 145,000 JPY plus tax. The MTG-B1000DCM-1A is also being released in Asia.
Update: Casio America announced the MTGB1000DCM-1A for December 2019 with a list price of US$1,200.
The same type of laser engraved camouflage pattern is available on the full titanium G-Shock GMW-B5000TCM-1 featuring a DLC coating.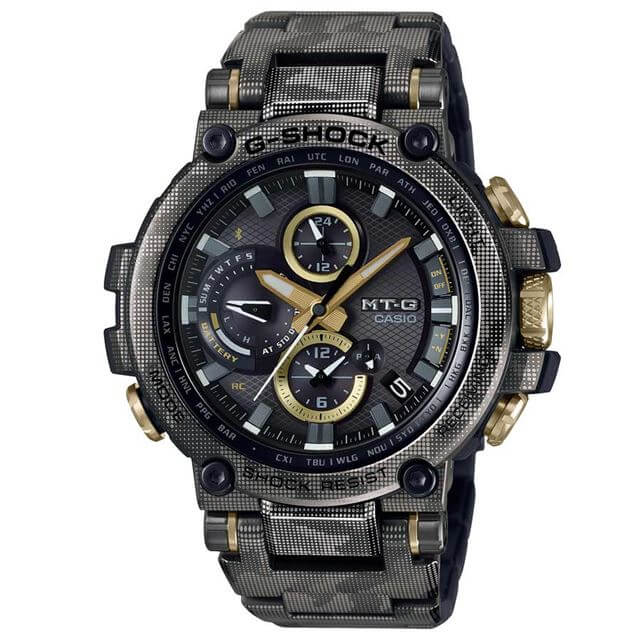 Photo via news.mynavi.jp.