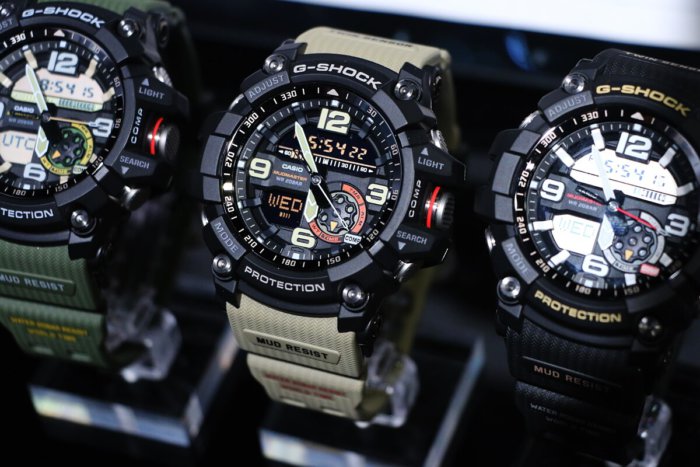 Casio Europe was the first official G-Shock site to add the upcoming G-Shock Mudmaster GG-1000 to its lineup. The GG-1000 is an all-new analog-digital G-Shock design for 2016. The model numbers are GG-1000-1A (black band), GG-1000-1A3 (army green band), and GG-1000-1A5 (desert tan khaki band). G-Shock Japan announced the GG-1000 series for an April 2016 release with the model numbers GG-1000-1AJF, GG-1000-1A3JF, and GG-1000-1A5JF.
Update: Casio USA announced a May release for the green GG1000-1A3 and desert tan GG1000-1A5 with a list price of $320.

The Mudmaster GG-1000 is a smaller version of the Mudmaster GWG-1000 with less features in the same way the Gulfmaster GN-1000 is a reduced version of the Gulfmaster GWN-1000.
The GG-1000 is a battery-powered watch (not Tough Solar) with a Twin Sensor (compass and thermometer). The bezel has a similar design as the GWG-1000 but does not have a front-facing light button. The face has two LCD display areas and a prominent mode indicator dial. Like the GWG-1000 the GG-1000 is resistant to mud and dust. Unlike the GWG-1000's sapphire crystal, the GG-1000 has a mineral glass display.
Other features include shock resistance, 200-meter water resistance, super auto LED light, neo-brite luminous hands, world time, 1/100 second stopwatch, countdown timer, 5 daily alarms with snooze feature, button tone on/off, automatic calendar, 12/24 hour timekeeping, and 2-year battery life.
Measurements are 56.2 x 55.3 x 17.1 mm and the weight is 92 grams. That is slightly smaller and lighter than the original GWG-1000 which is 59.5 × 56.1 × 18 mm and 119 grams.
The Mudmaster GG-1000 line will be released in April 2016 starting in Japan. The retail list price is ¥37,000 JPY.
Pros: Mud-resistant. Rugged and tough style. Smaller and lighter than the GWG-1000. More affordable than the GWG-1000.
Cons: Does not have Tough Solar power or Multi-Band 6. No pressure sensor (altimeter-barometer).
G-Shock Mudmaster GG-1000-1A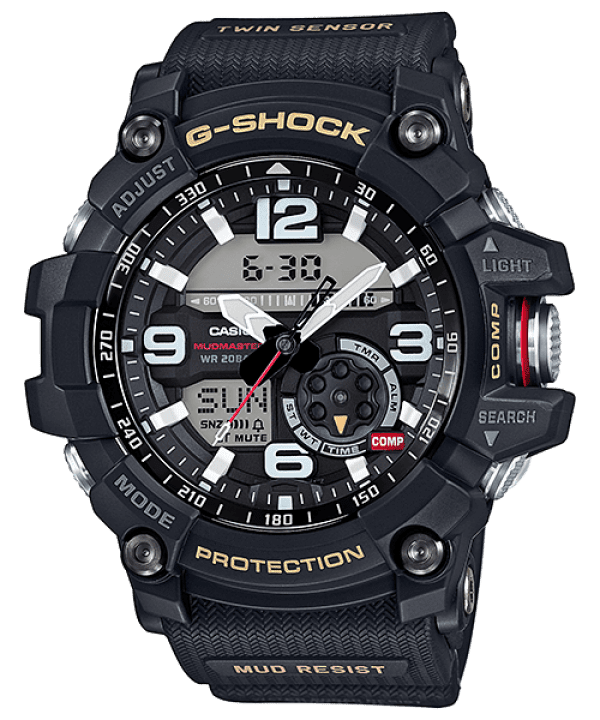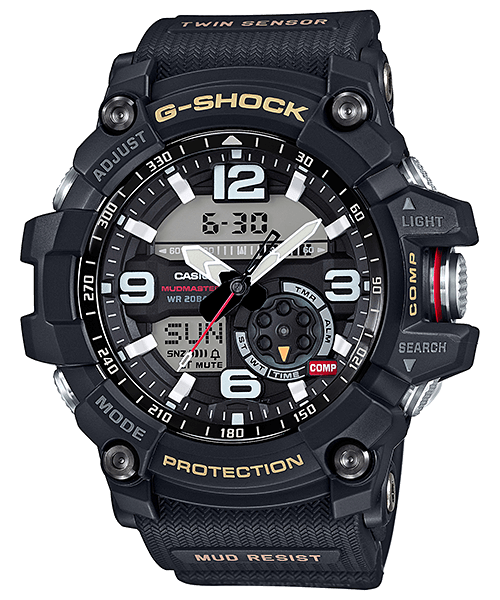 G-Shock Mudmaster GG-1000-1A3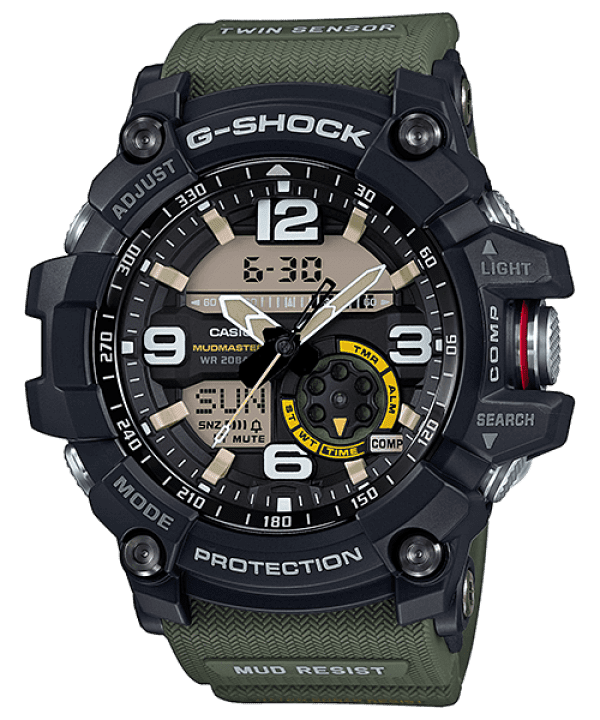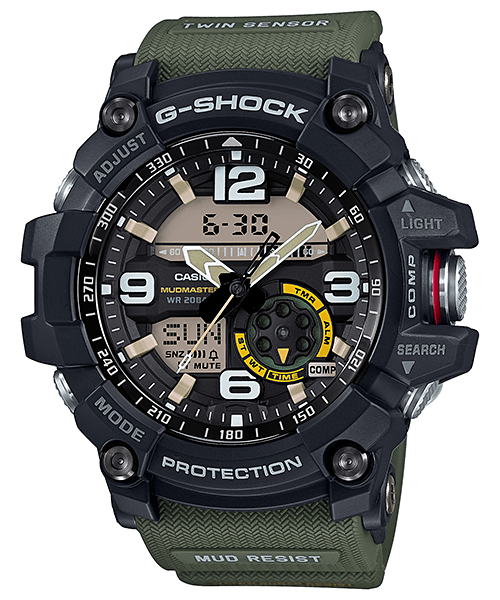 G-Shock Mudmaster GG-1000-1A5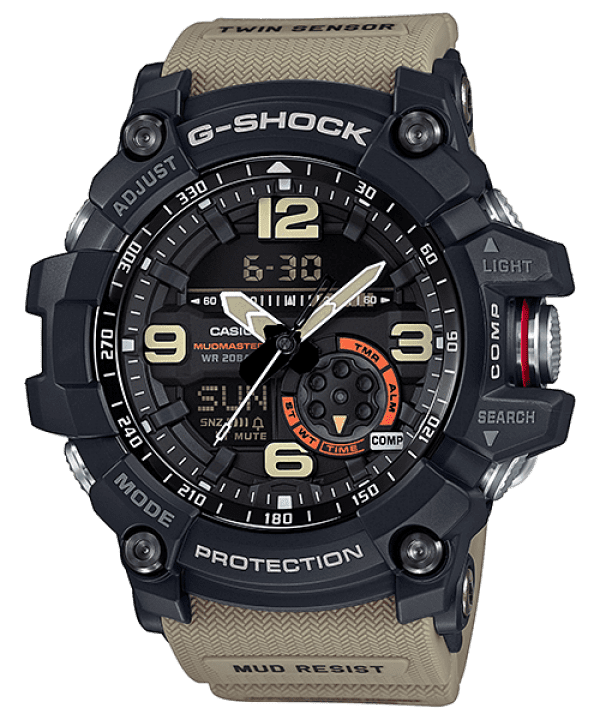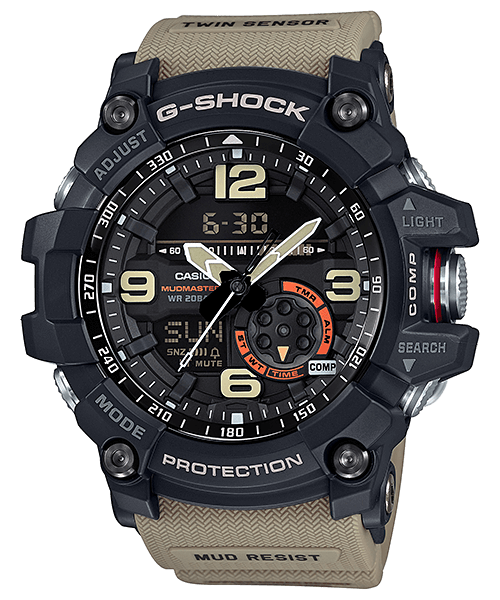 G-Shock Mudmaster GG-1000GB-1A
With gold dial ring and markers, released July 2016 as part of the Master of G Twin Sensor Black and Gold Series.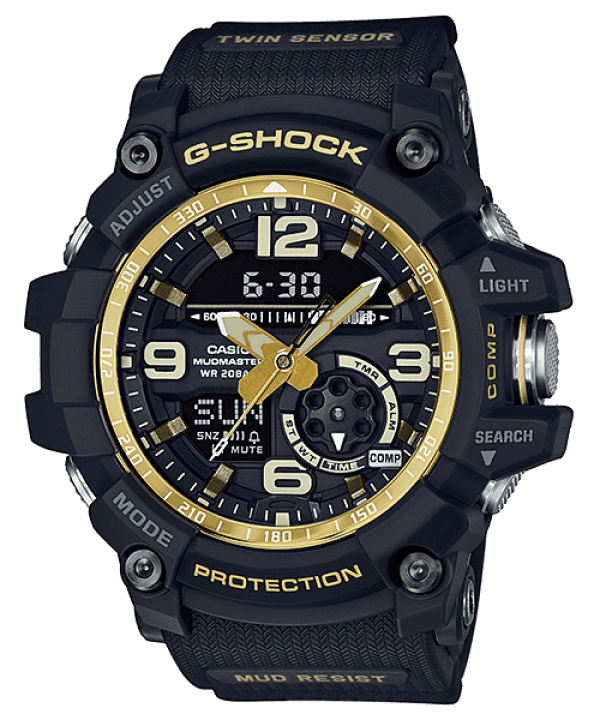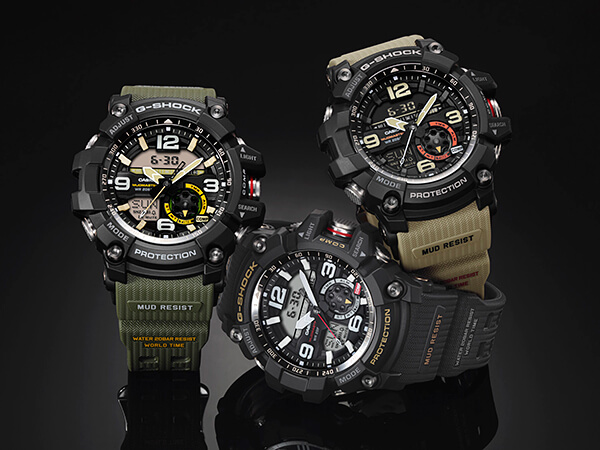 G-Shock Mudmaster GG-1000 Promotional Video:
Source: casio-europe.com
Photos via news.mynavi.jp, casio-intl.com