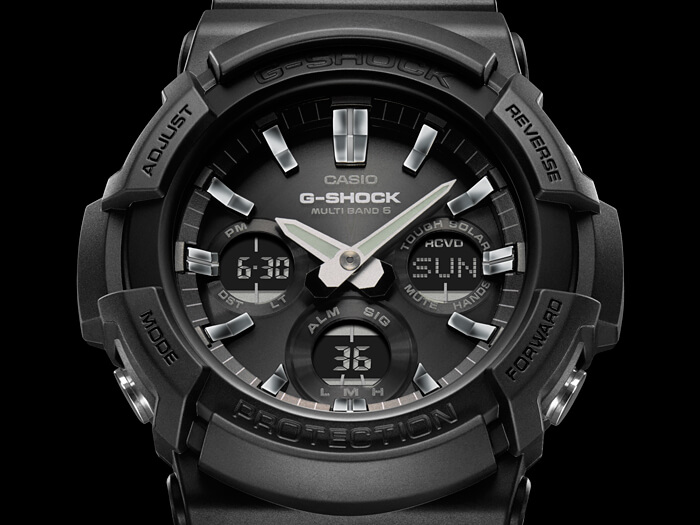 A G-Central reader shared the results of an inquiry sent to the United Kingdom's Defence Equipment and Support agency of the Ministry of Defence, asking which watches are currently issued to the Royal Navy. The response, dated 28 May 2020, states that the current watch issued to Royal Navy divers is the "Casio [G-Shock] model GAW-100B-1AER," with 135 watches issued. It also states that previous watches issued were the "Casio [G-Shock] model GR-8900-1ER," with 508 issued, before being replaced by the GAW model. Prior to that, the Citizen [Promaster Diver] BN0000-04H was issued.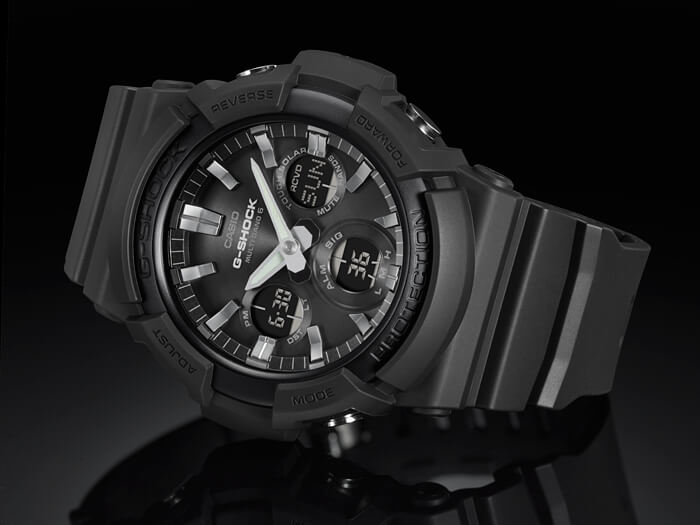 The large-size G-Shock GAW-100B-1A is somewhat of an unexpected choice, as it has small and inverted LCD subdisplays that are not so easy to read, and it does not have diving-specific features like the Frogman line. The GAW-100B-1A features 200-meter water resistance, Tough Solar power, Multi-Band 6 radio-controlled timekeeping, world time, 1/100-second stopwatch (60 minutes max with split), timer (100 minutes max), 5 alarms, and full auto dual LED lights. The GAW100B-1A was released in the U.S. but is sold out there, and the GAS100B-1A (below, without Multi-Band 6) is easier to find. The GAW-100B-1AJF is still an active model in Japan, and the GAW-100B-1AER is available in the U.K. at G-Shock.co.uk. (G-Shock U.S. recently made the white GAW100B-7A available, which was previously released in Japan and Europe.)
The G-Shock GR-8900-1 features 200-meter water resistance, Tough Solar power, world time, 1/100-second stopwatch (23:59'59.99" max with split, 1st-2nd place times), timer (24 hours max), 5 alarms, and a full auto LED light.
The Ministry of Defence recently collaborated with G-Shock in early 2020, with the release of the British Army x Mudmaster GG-B100BA-1A. Two more collaboration watches, including Royal Air Force and Royal Navy editions, are expected in 2020, but disruptions from the pandemic could delay them. Looking back at that article, with the price range of the three models stated to be between £250-£800, it seems likely that the Royal Navy edition will be the £800 side, with a G-Shock Frogman GWF-A1000, and the Royal Air Force edition may be the £250 side, possibly with the upcoming G-Shock Gravitymaster GR-B200. (Update: G-Shock U.K. announced the Royal Air Force x G-Shock GR-B200RAF-8AER Gravitymaster/.) The British Army Mudmaster sits in between at £399.
The original inquiry specifically wanted to know if the MoD is issuing the Cabot Watch Company (CWC) SBS Diver Issue (QS120-DD) watch to the Royal Navy, as it is generally believed that the MoD is still issuing the British brand's Swiss-made watches. The official CWC site states that the watch is currently issued to specialist units, but the MoD will not disclose or confirm such information about its Special Forces (see below). CWC has a long history with the Royal Navy, as its Royal Navy Diver Automatic, and later a quartz version, replaced the Rolex Military Submariner (MilSub) as the Royal Navy's standard issue watch in 1980.
See the Ministry of Defence's original response here. A previous request for information in 2018, asking about who supplies the watches for the army, also revealed that the MoD purchased G-Shock GR-8900A-1ER watches, as well as Seiko watches. Another request in 2019, asking about which watches are supplied to Royal Navy divers and Special Forces, resulted in the answer, "In response to your request for the wrist watch make and model of Royal Navy military divers, I can tell you that personnel are issued with a CASIO G-SHOCK GR-8900." The part about special forces was addressed, "With regard to the make and model of the wrist watch issued to Special Forces personnel, this information is exempt from release under section 23(1) – Information relating to Special Forces – of the FOI Act." So, it is possible that the MoD is still issuing CWC dive watches to its Special Forces units, but it will not confirm it.
Based on its selections of G-Shock watches, the Ministry of Defence seems to be being more cost-conscious these days, but not overly so, as it has chosen solar-powered G-Shocks over cheaper, more basic models. Tough Solar is a logical choice, as it means a longer battery lifespan and less maintenance. We haven't been able to find any photos of Royal Navy divers wearing the GAW-1000 or GR-8900, but here is a photo from 2018 of a Royal Navy Lieutenant Commander wearing a G-Shock GD-110.