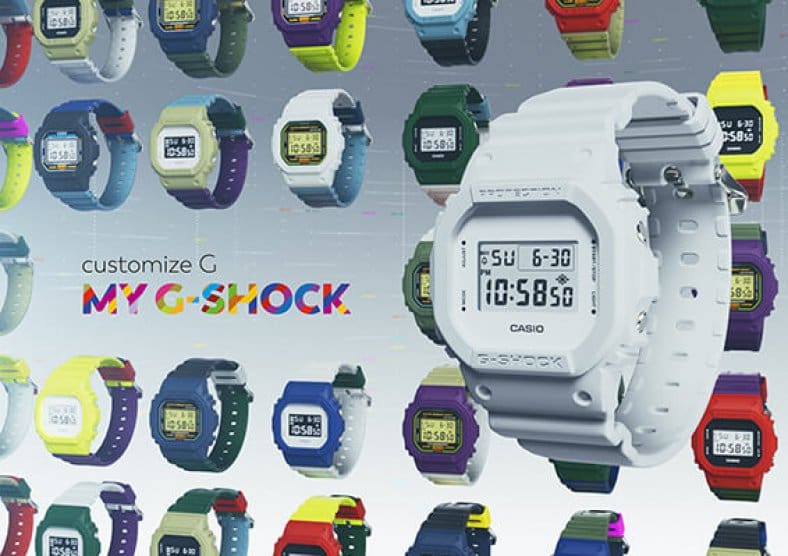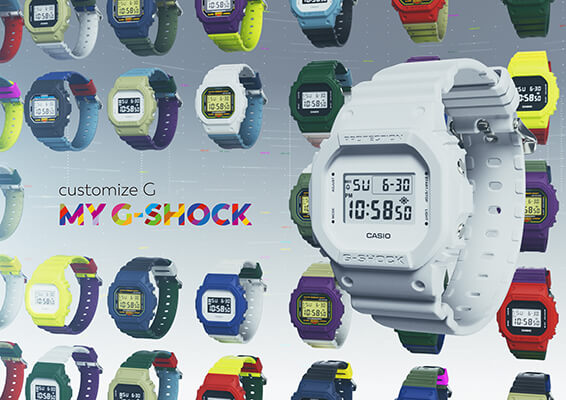 G-Shock Japan is launching the "My G-Shock" custom watch service on October 20, 2021 (14:00). The service is essentially an e-shop that allows customers to select their own colors and parts to create a personalized G-Shock DWE-5610 watch, with about 1.9 million combinations available. These selectable parts include the bezel, face (including display type), band (short and long sections), buckle, and band keeper. Prices start at 15,400 yen (tax-included).
The base DWE-5610 features a Carbon Core Guard interior case made of carbon fiber reinforced resin. There will be "First Color" limited faces and colors based on the first color G-Shock DW-5600 models. Casio is also planning to develop seasonal themes including more limited colors and collaborations. There are two band keeper types available: the single-loop type and the triple-loop type that allows for more combinations. Watches are shipped within three to five weeks of ordering. Skeleton (translucent) bezels and bands and buckles have an additional fee. Each watch will ship in a box that doubles as a papercraft kit.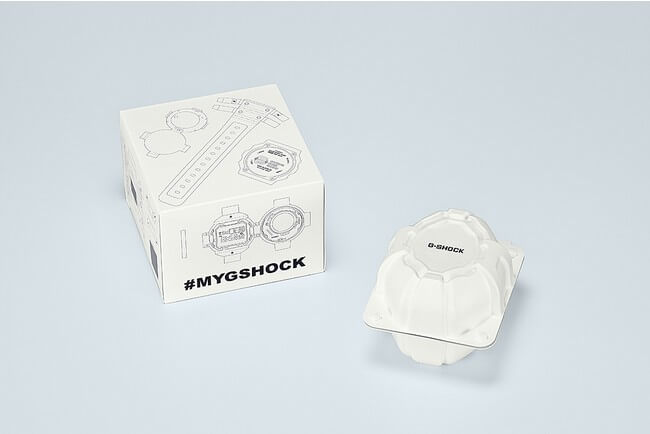 The My G-Shock site is located at www.casio.com/jp/watches/mygshock (currently under maintenance). There is also a preview site at gshock.casio.com. The service will also be available on the "Casio Watches" smartphone app. The service is available to Japan residents only. It was reported earlier that this service is starting with Japan, so hopefully it will also be launched in other countries later.
List of customizable parts (number of colors at start of service, including limited "First Color" options): Bezel (19 colors), Band (19 colors), Buckle (2 colors), Single-Loop Keeper (20 colors), Triple-Loop Keeper (19 colors), Face (7 Types, 3 of which are the limited faces)
My G-Shock Service Sneak Peak Video (in Japanese):
My G-Shock Promo Video: