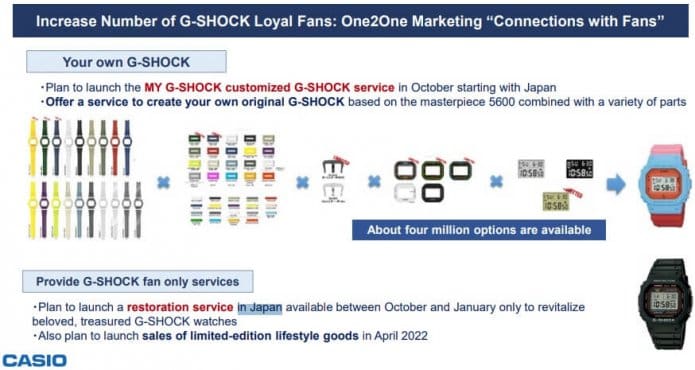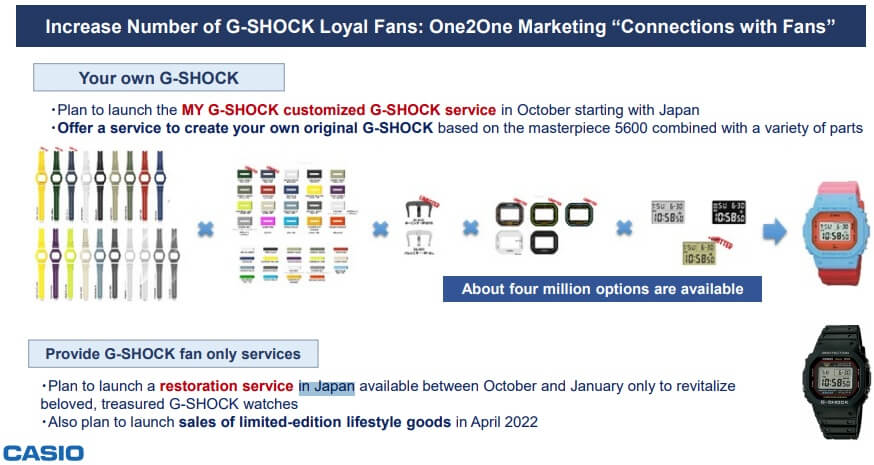 Image via world.casio.com
Update: The official English version of the financial reports briefing states that the "My G-Shock" watch customization service is planned to launch in October "starting with Japan." This implies that there are plans to offer this service outside of Japan too. The report states that the restoration service for old G-Shock watches will launch in Japan (without any implications for other regions), and it does not mention any regions for the sales of the limited edition lifestyle goods.
Original Post:
In the latest financial results report, in which G-Shock and other watch sales have shown a strong recovery, Casio also revealed plans to start the "My G-Shock" customized watch service in Japan. This "pick your parts" service will allow customers to choose their colors and part styles for a 5600 series G-Shock watch.
According to an illustration from the report, it appears that the different options include the bezel color, upper band color, lower band color, keeper color, face color, face style, LCD display style (such as standard non-tinted, standard tinted, inverted), and buckle color. The "My G-Shock" service is scheduled to begin in October 2021. It's not certain if this service will ever be available outside of Japan, but it is certainly something that many fans would want. It also remains to be seen if this service will be applied to any other G-Shock models. If it is successful, maybe we will someday see it with the GA-2100 series and other watches.
According to the report, Casio will also be offering a limited G-Shock restoration service in Japan from October 2021 to January 2022 for older G-Shock watches. Casio is also planning to sell G-Shock-related limited lifestyle goods starting in April 2022.