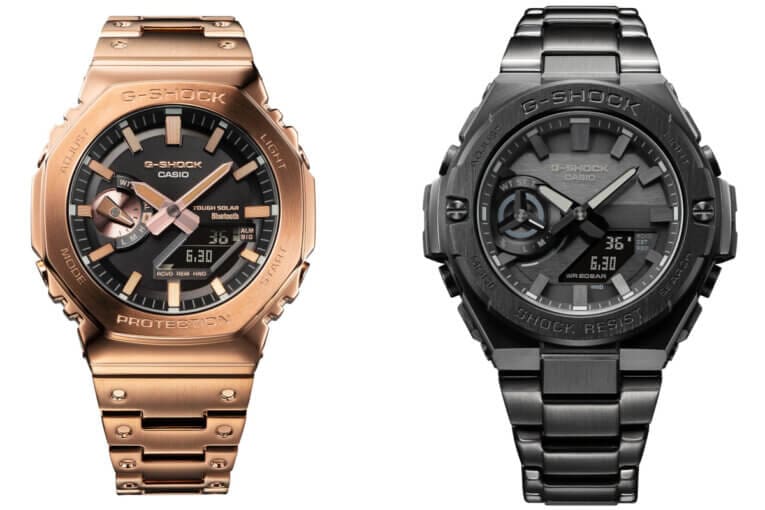 According to Casio.com, the rose gold G-Shock GM-B2100GD-5AJF and black GST-B500BD-1AJF have ended production and are discontinued in Japan. This usually means that they will be discontinued in other countries as well.
Previous reports indicated that the GM-B2100GD-5A, which was advertised as rose gold but is more of a brownish copper-like color instead of the usual pink rose gold, was expected to be discontinued. We hope to see a traditional yellow gold GM-B2100 model sometime this year, but nothing has been confirmed yet.
At 12.8 millimeters, the GST-B500BD-1A was one of the thinner options for a black ion plated metallic G-Shock with an analog display. Similar all-black alternatives include the full metal GM-B2100BD-1A (12.8 mm) and the pricier full analog MTG-B3000B-1A (12.1 mm). Both of these models are equipped with Tough Solar power and Bluetooth smartphone link like the GST-B500BD-1A.
The GM-B2100GD-5AJF and GST-B500BD-1AJF may still be available from retailers in Japan for the time being, and the GM-B2100GD-5A and GST-B500BD-1A are still available in other countries. (The GST-B500BD-1A was not released in the U.S.) When current stocks are depleted, that is expected to be the end of them.