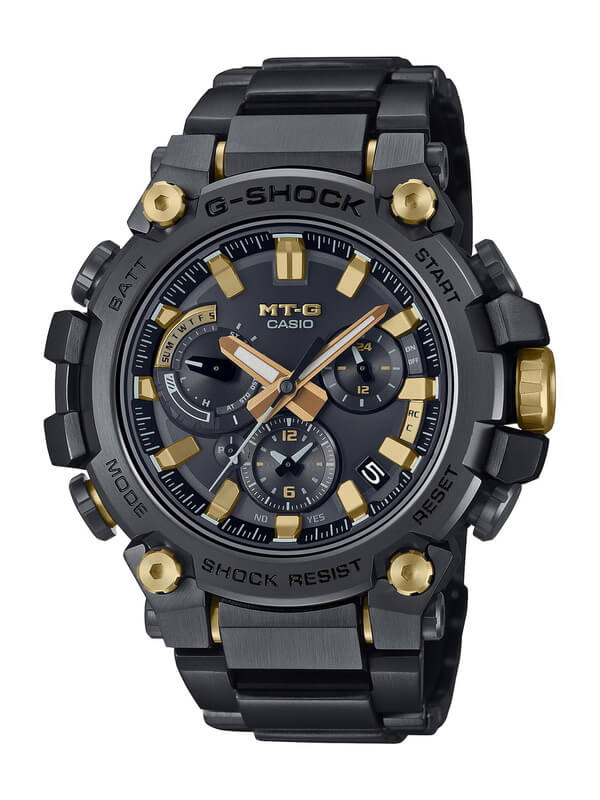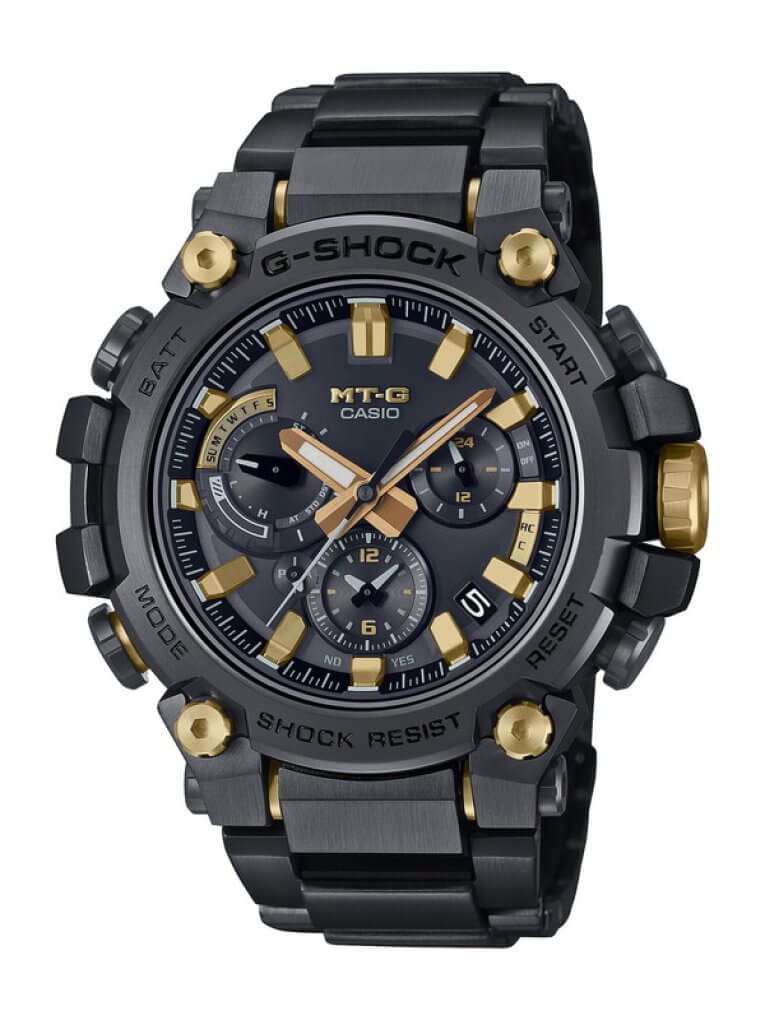 The all-new G-Shock MTG-B3000 was officially announced by Casio for a May 14 release in Japan. It was also announced for Asia and is expected to be released worldwide. The MTG-B3000 looks more like an evolution of the MTG-B1000 series rather than the MTG-B2000. It features a thinner module and case size, with total dimensions of 51.9 x 50.9 x 12.1 millimeters, which is significantly slimmer than the MTG-B1000 (14.4 mm) and MTG-B2000 (15.9 mm). The three launch models include the gray MTG-B3000B-1A with soft urethane band, the red MTG-B3000BD-1A with composite band, and the green MTG-B3000BD-1A2 with composite band.
Update: G-Shock U.S. is releasing the MTGB3000B-1A ($950), MTGB3000BD1A ($1,050), and MTGB3000BD12 [sic] ($1,050).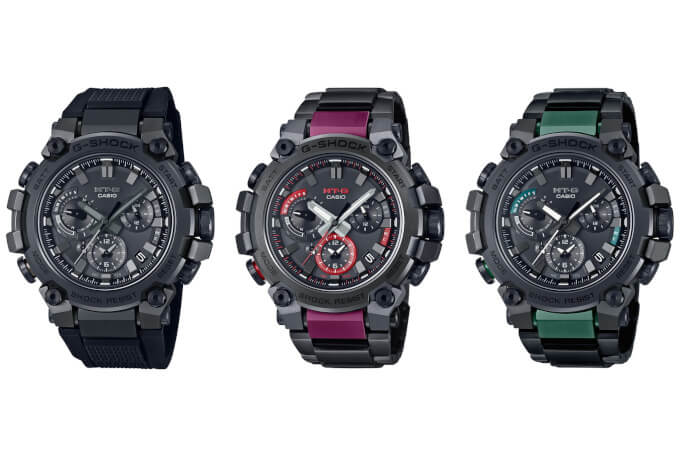 The MTG-B3000 has a newly developed module (5672) which is the thinnest ever for a solar G-Shock chronograph. The watch has an advanced Dual Core Guard structure that protects the carbon-reinforced resin case with exterior metal components. The raised three-dimensional shape of the stainless steel back cover extends to the sides and front to protect the crown and buttons, and the lugs are also an extension of the back cover. This unique case back structure gives the watch a more metallic appearance without the resin side parts of the MTG-B1000. The bezel is also stainless steel.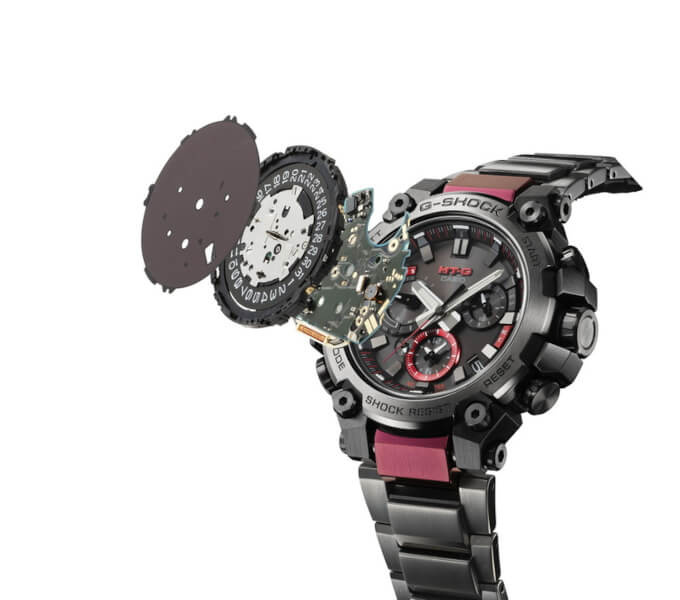 The band on the MTG-B3000BD models is a layered composite band made of stainless steel with a resin inner layer. The hollow stainless steel segments encase fine resin parts and result in a lighter weight. The MTG-B3000BD-1A and MTG-B3000BD-1A2 weigh about 148 grams, and the MTG-B3000B-1A with a soft urethane band weighs about 111 grams. The band also has a new quick-release function that does not require tools. Pressing both buttons on the sides of the lugs allows the band to be swapped out easily.
The dial is similar to the MTG-B1000 but with the indicator that was at the 12 o'clock position moved to the right, and the MT-G and Casio logo now appearing at the top center. The watch has a sapphire crystal with an anti-glare coating.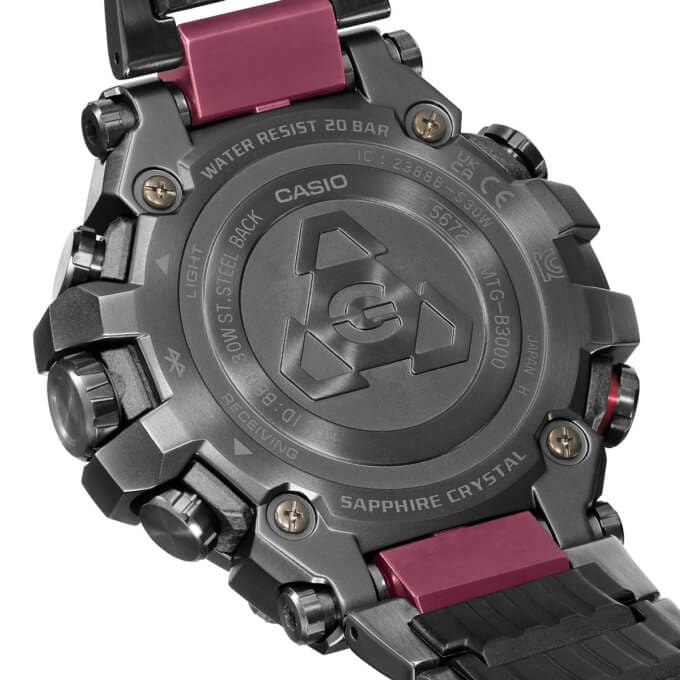 The MTG-B3000 features shock resistance, 200-meter water resistance, Triple G Resist (shock, centrifugal force, vibration), Tough Solar power, Multi-Band 6 radio wave auto time syncing, and Bluetooth smartphone link. The watch also has a daily alarm, stopwatch (1-second, 23:59'59" max, with elapsed, split, 1st and 2nd place times), countdown timer (1-second units, 24 hours max), dual time (27 time zones, home time swap, auto DST switching), battery level indicator, power save function, day and date display with full-auto calendar, and LED Super Illuminator light with afterglow. The Bluetooth functions include auto time adjustment, easy watch setting, ~300 world time cities, phone finder, watch status display, and self-check.
G-Shock MTG-B3000 Rating by G-Central
Build

Functions

Size & Weight

Style

Price
Summary
The G-Shock MTG-B3000 offers a new level of slimness for a high-end G-Shock watch and combines that with an attractive rugged stainless steel style. Unfortunately, the launch colorway options are rather limited (with no silver option and the all-black model available only with a resin band).
Pros
• Very thin size for a high-end metal G-Shock
• Sapphire crystal
• Triple G Resist also protects against g-force and heavy vibration
Cons
• Limited color and band options at the moment
• No auto-activation for LED light
• Full analog display limits some functions (only one daily alarm, 1-second increments for stopwatch)
Alternatives: The GST-B500 is a more affordable metallic model with Tough Solar and Bluetooth. The GM-B2100 is a deluxe full metal version of the "CasiOak," but it lacks Multi-Band 6.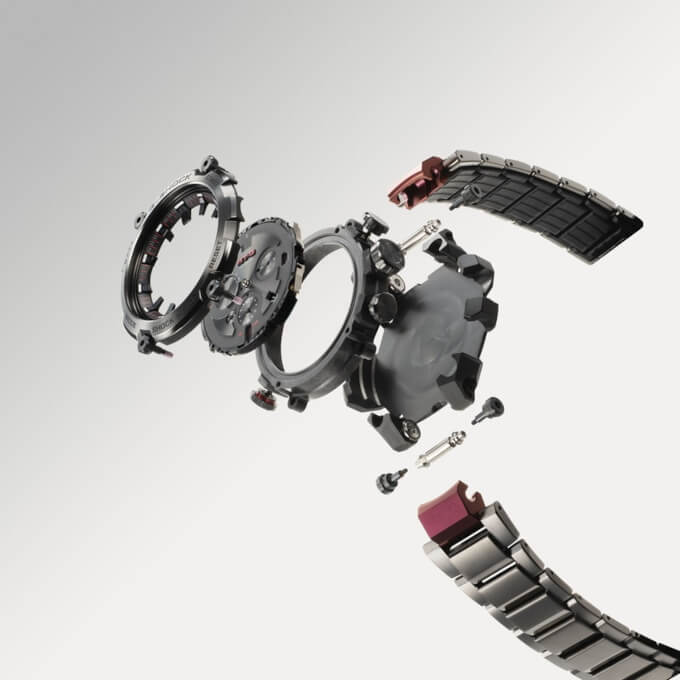 G-Shock MTG-B3000B-1A: Gray with urethane band.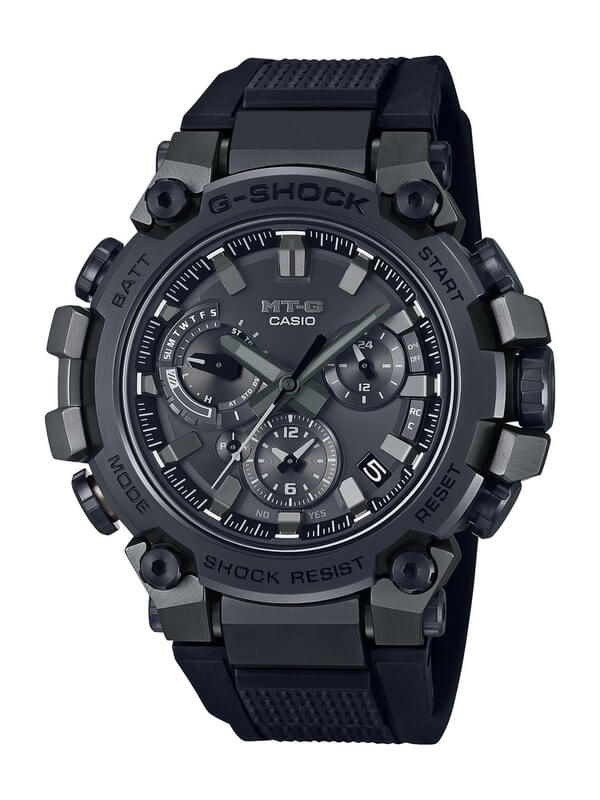 Buy MTGB3000B-1A:
Amazon Reeds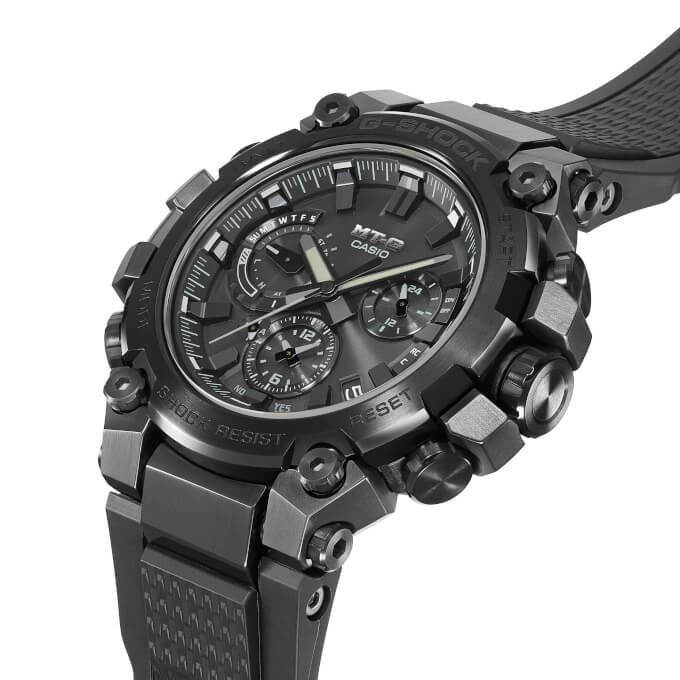 G-Shock MTG-B3000BD-1A: With red accents and layered composite band.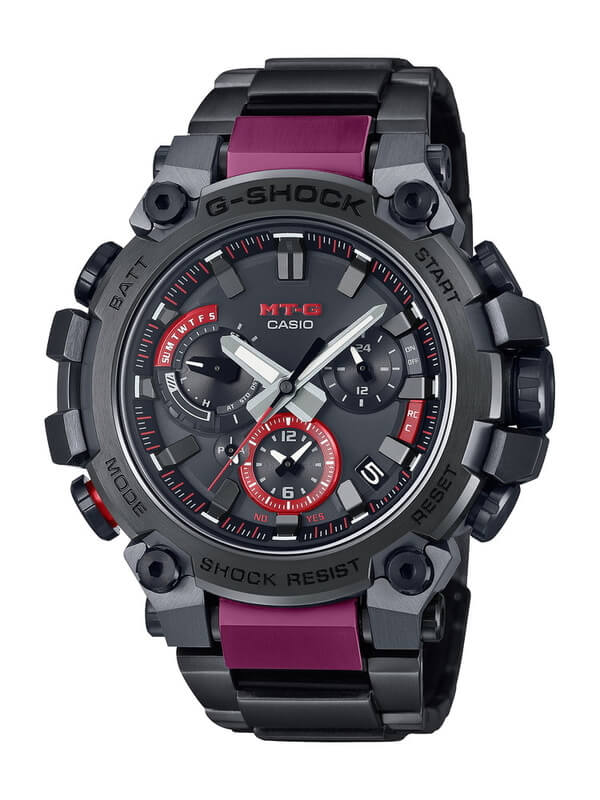 Buy MTGB3000BD1A:
Amazon Reeds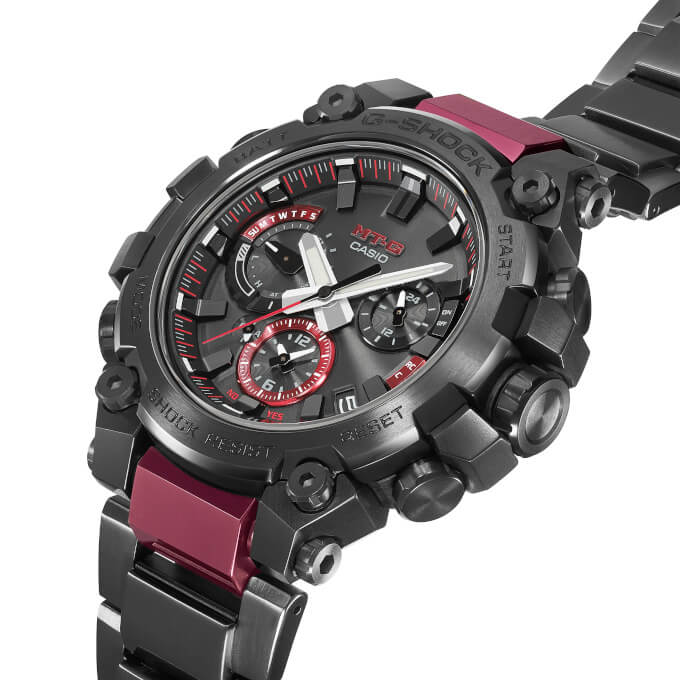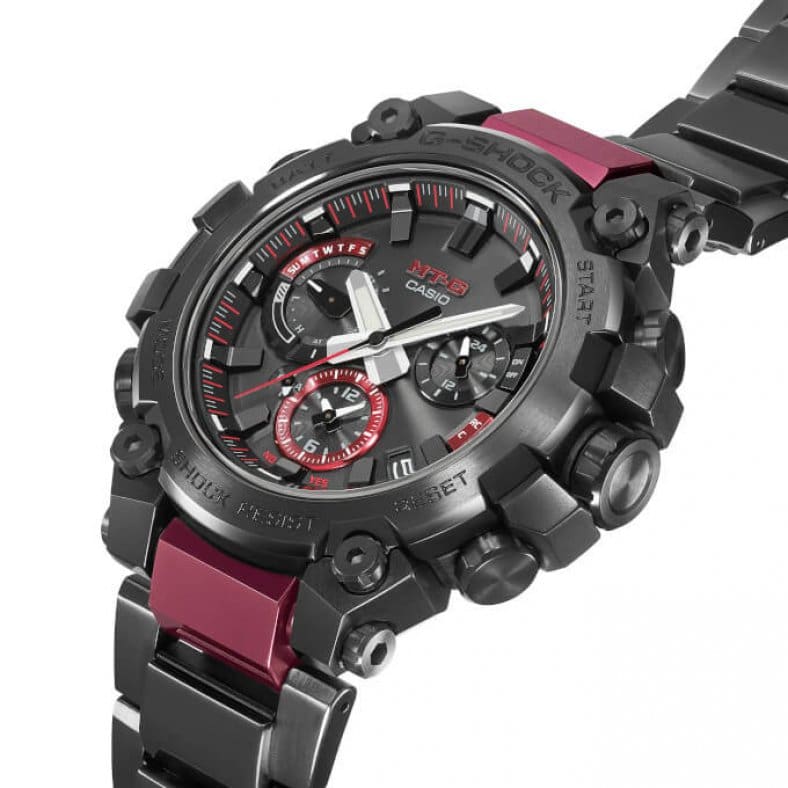 G-Shock MTG-B3000BD-1A2: With green accents and layered composite band.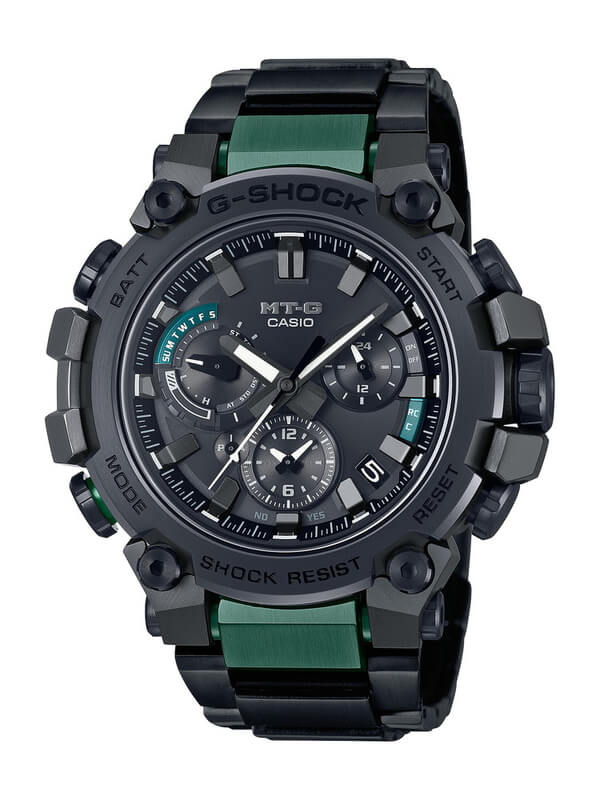 Buy MTGB3000BD12:
Amazon Reeds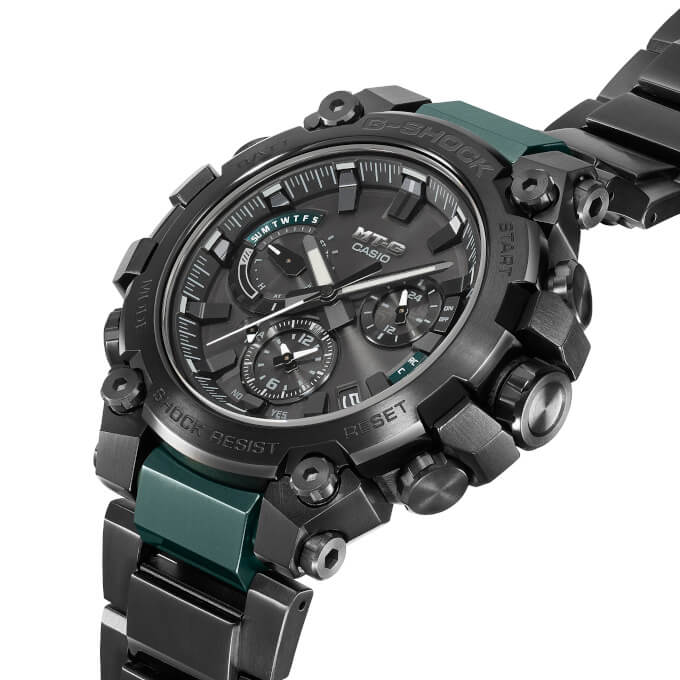 MTG-B3000 Dual Core Guard Promo Video: