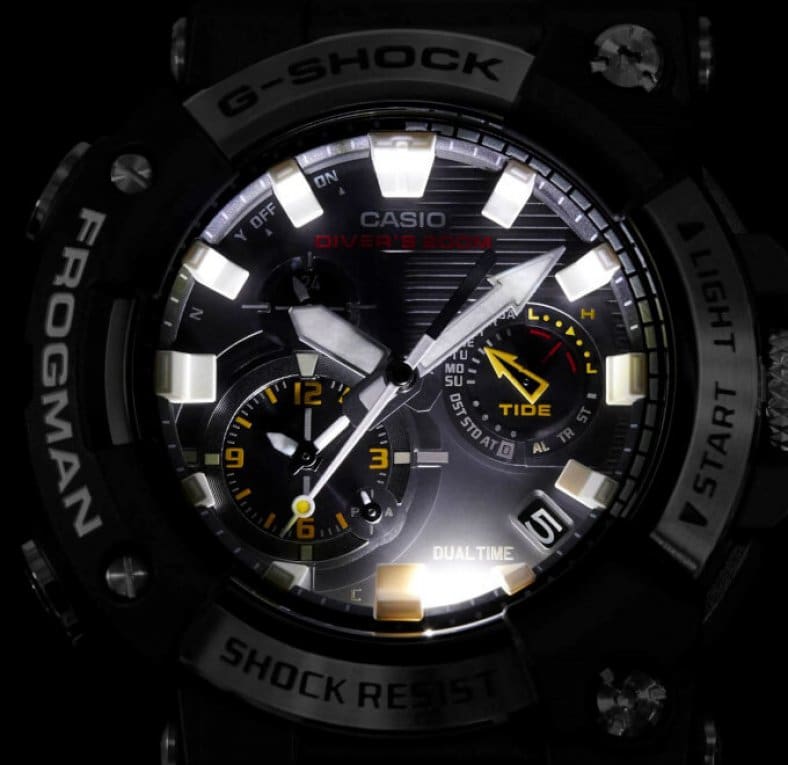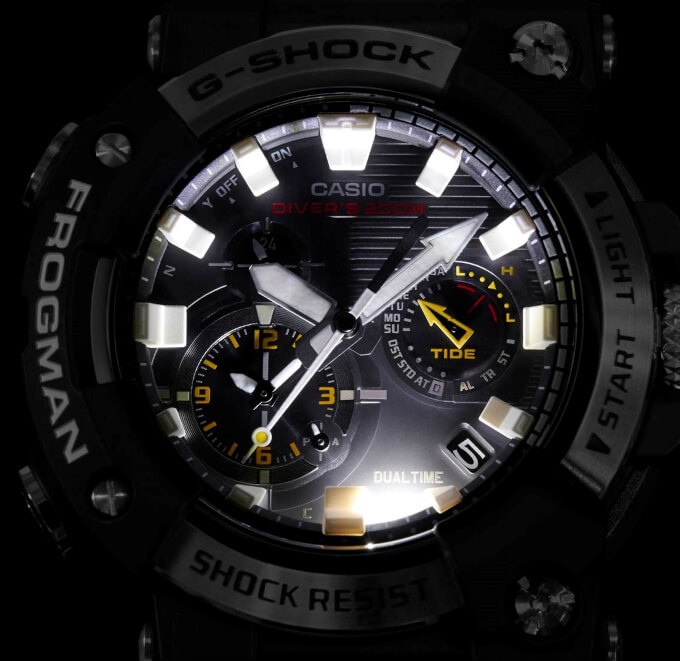 (UPDATE: Five Frogman GWF-A1000 models have been listed as active again, as of mid-February 2022. It looks like the original delistings may have been an error by Casio.)
Original Post:
According to G-Shock Japan, all models from the G-Shock Frogman GWF-A1000 series are currently in "End of Production" status, meaning that they have been discontinued. When there are no active models in a series like this, it usually means that the series as a whole has been discontinued.
The GWF-A1000 launched in 2020 and was the first Frogman watch with an analog display, a Carbon Core Guard case, and Bluetooth smartphone link. Though it was well-received at launch, it was also a somewhat polarizing model, as some fans of the long-running diving line had difficulty accepting the change to an analog display and a carbon monocoque case, a change which also resulted in the watch lacking some of the features from the previous GWF-D1000, such as the compass, thermometer, and water depth meter. The GWF-A1000 did offer innovative features for an analog diving watch, such as the ability to track diving time and surface intervals using the three analog hands, along with syncing diving log records to a smartphone.
The Frogman line started in 1993 with the DW-6300 and was traditionally known for its stainless steel or titanium screw-back cases. Frogman watches are compliant with the ISO 6425 divers' watches standard (a.k.a. "Diver's 200M"). G-Shock has released many limited edition and collaborative Frogman models, making the series a favorite of collectors. The Frogman led the way for the professional-grade "Master of G" lineup, which now includes Land (Mudman, Mudmaster, Rangeman), Sea (Frogman, Gulfman, Gulfmaster), and Air (Gravitymaster) models.
With the 30th anniversary of the Frogman coming in 2023, we are very hopeful that a new Frogman model is coming soon. The Frogman GWF-D1000B-1JF and GWF-1000-1JF are still in production, but regional availability varies at this time.
(In other recent news, all G-Shock Gulfmaster GWN-Q1000 models were also discontinued.)