Quick Jump: View all G-Shock Mudmaster GWG-1000 Models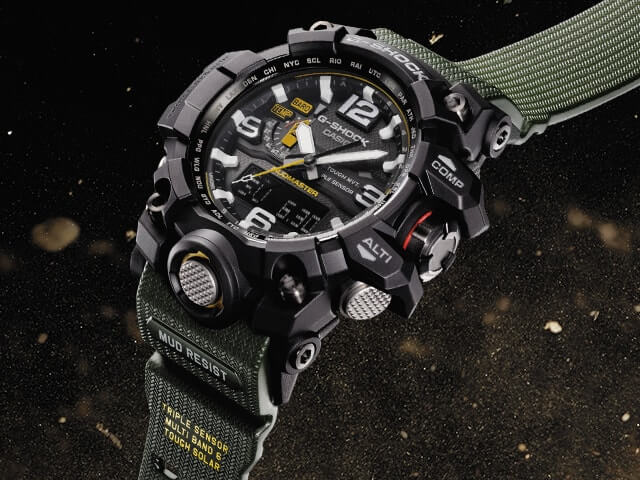 The highly anticipated GWG-1000 Mudmaster is now available for sale. This new model combines features of the Mudman and Rangeman with an analog/digital hybrid display. It has a case design that looks like a cross between an aviation G-Shock and the Rangeman, giving it a tough and tactical appearance. Model numbers are GWG-1000-1A (black), GWG-1000-1A3 (black with olive band), and GWG-1000-1A9 (black with yellow band). List price is $750.
The GWG-1000 is designed to withstand harsh environments like the desert or mud. It has a protected button structure like the Rangeman. In addition to mud resistance the watch is also resistant to heavy vibration. Like the Rangeman, the Mudmaster features the Triple Sensor with compass bearing, altimeter/barometer, and thermometer. It also has Tough Solar charging and Multi-Band 6 radio time synchronization along with the standard shock and water resistance (200 meters). Other specs include low temperature resistance to -10°C or 14°F, world time (29 cities, DST on/off), stopwatch (24 hours, modes: elapsed time, split time, 1st and 2nd place times), countdown timer (max 60 minutes), 5 daily alarms, hourly time signal, auto-calender, and dual LED backlights for the analog and digital displays. The watch measures 59.5 × 56.1 × 18.0 mm and weighs approximately 100 grams. Pictured is the GWG-1000-1A3.
The new Mudmaster is a tactical-looking watch that combines advanced technical features with extreme durability and takes the analog-style G-Shock to another level. Casio has been focusing on analog designs for its high-end G-Shock watches and it will be interesting to see how this trend continues in future models. The GWG-1000 will be getting a lot of attention as one of the premier G-Shock models and it is further proof of the brand's ongoing commitment to high-end watches.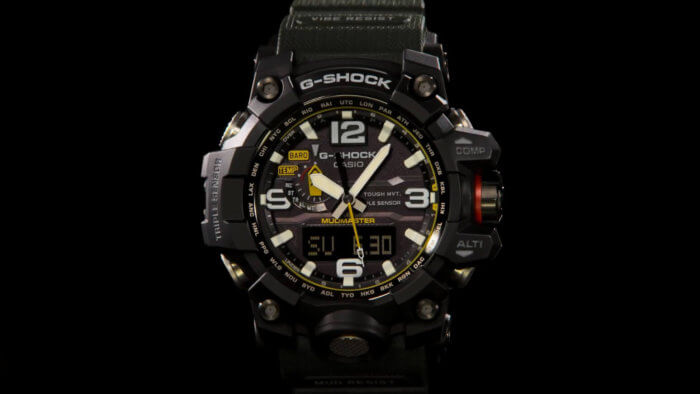 Angle view: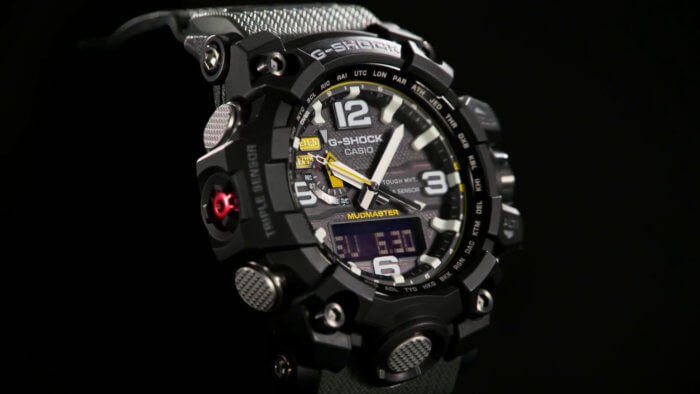 Second angle: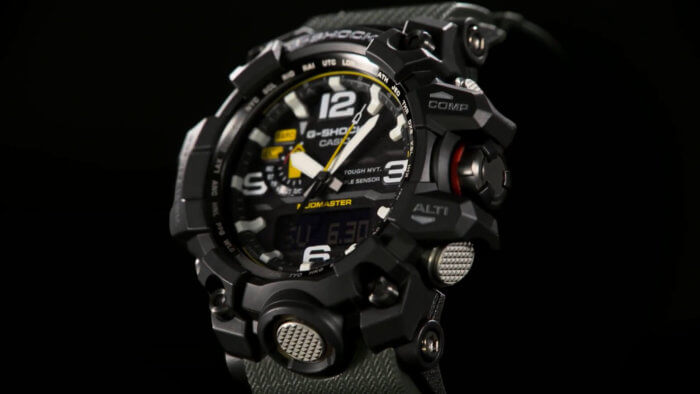 Resin band with features listed: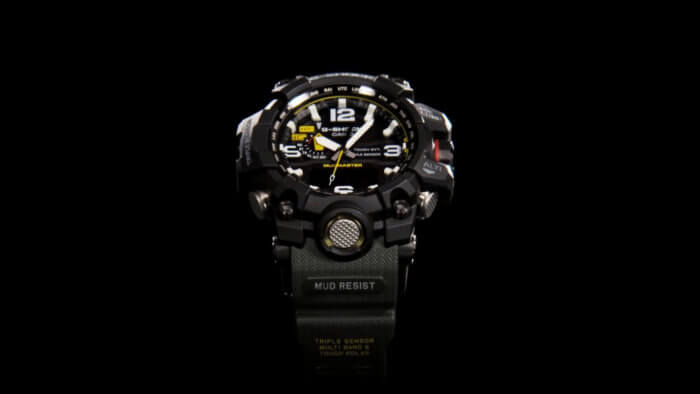 Vibe resist: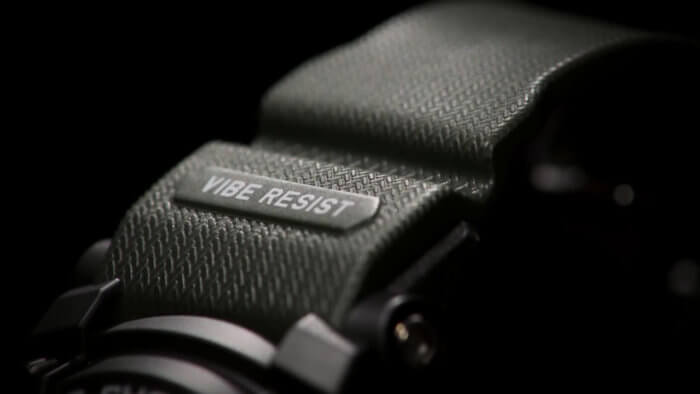 GWG-1000 MUDMASTER PROMOTIONAL VIDEO:
Source: Casio International
UPDATE: The retail price for the GWG-1000 is $750. Recently discovered leaked model numbers also show a listing for a GWG-1000GB-1A "Master of G Black and Gold" seasonal December 2015 release for $800.
UPDATE (August 24): Casio America announced the release of the Mudmaster GWG1000-1A3 and GWG1000-1A9 and stated the Mudmaster is part of the Master of G line.
Below are the GWG1000-1A (left), GWG1000-1A3 (middle), and GWG1000-1A9 (right).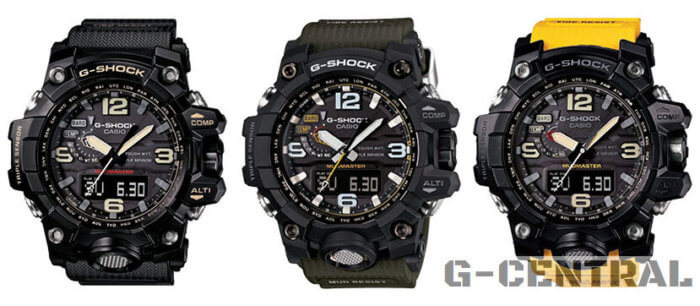 GWG-1000 on Amazon GWG-1000 on eBay
G-Shock Mudmaster GWG-1000-1A
Black bezel with light yellow lettering, black backlight front button, light yellow markers and hands, black resin band. The GWG-1000-1A was not released in North America and is available as an import.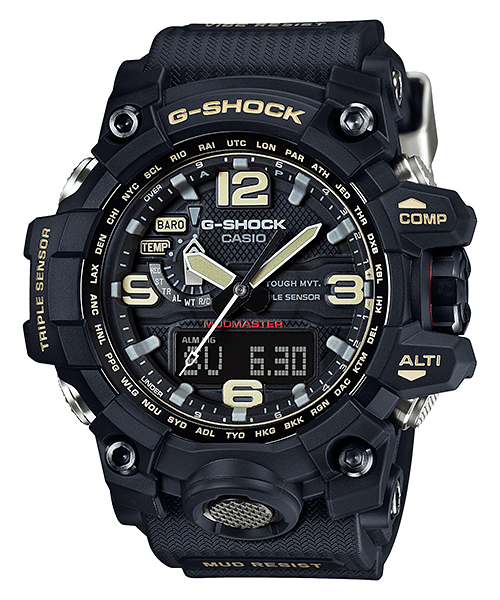 GWG-1000-1A on Amazon GWG-1000-1A on eBay
G-Shock Mudmaster GWG-1000-1A3
Black bezel with white and gray lettering, silver backlight front button, white markers and hands, olive green resin band.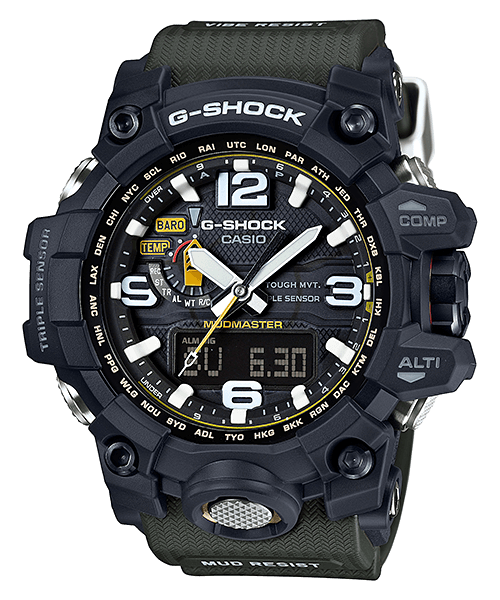 GWG-1000-1A3 on Amazon GWG1000-1A3 at Reeds GWG-1000-1A3 on eBay
G-Shock Mudmaster GWG-1000-1A9
Black bezel with gray and stealth lettering, black backlight front button, yellow markers and hands, yellow resin band.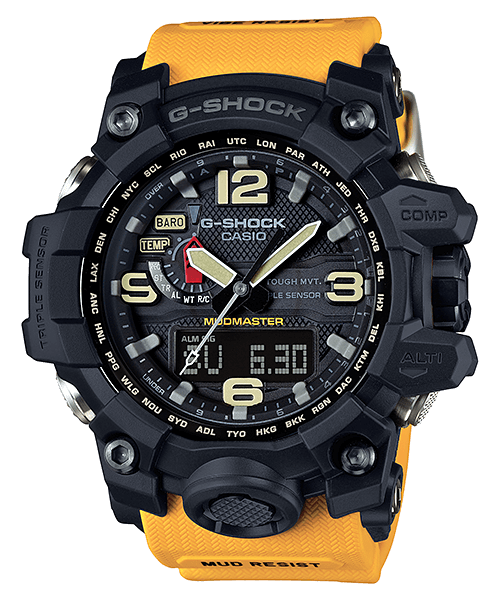 GWG-1000-1A9 on Amazon GWG-1000-1A9 on eBay
G-Shock Mudmaster GWG-1000GB-1A
Black and Gold Master of G Series
The GWG-1000GB-1A adds a luxurious touch to the Mudmaster's appearance by using a gold color for the ring dial, buttons, buckle, and band keeper. This model will also be released in the USA as the GWG1000GB-1A. This special edition winter 2015 release is part of the Black and Gold Master of G Series.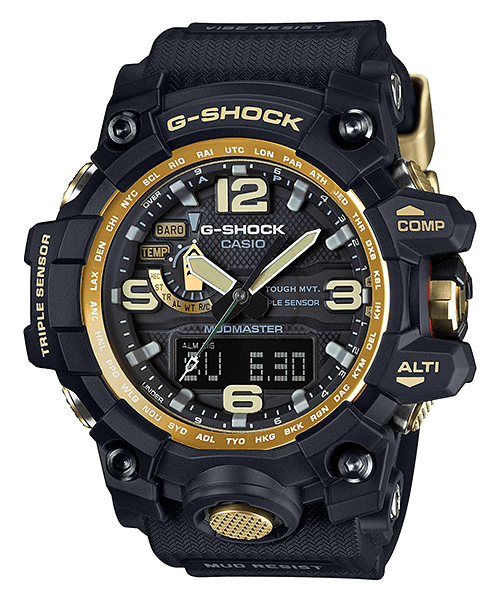 GWG-1000GB-1A on Amazon GWG-1000GB-1A on eBay
G-Shock Mudmaster GWG-1000RD-4A
Rescue Red Master of G Series
The GWG-1000RD-4A was announced by G-Shock Japan for March 2016 and is part of the Rescue Red Master of G Series. The GWG-1000RD-4A features red bands and a blue dial ring.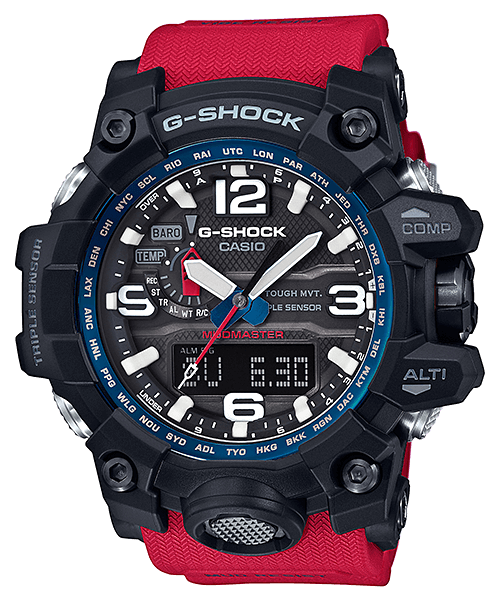 GWG-1000RD-4AJF on Amazon GWG-1000RD-4AJF on eBay
G-Shock Mudmaster GWG-1000DC-1A5
Master in Desert Camouflage Series
The Mudmaster GWG-1000DC-1A5 is a September 2016 release as part of the Master in Desert Camouflage Series. The watch has a black bezel with light brown G-Shock lettering and bands with a desert camouflage pattern.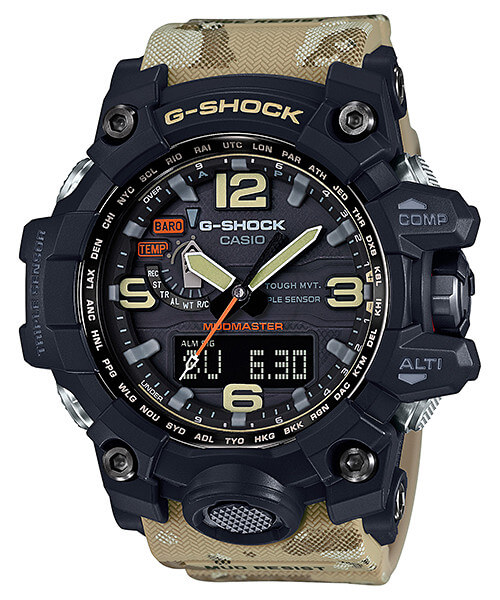 GWG-1000DC-1A5JF on Amazon GWG-1000DC-1A5 on eBay
Maharishi x G-Shock Mudmaster GWG-1000MH-1A
The Maharishi x G-Shock Mudmaster GWG-1000MH-1A is the first GWG-1000-based collaboration watch. This late-2016 limited edition model is made in partnership with London clothing store Maharishi. The bands feature a unique "British Bonsai Forest" pattern that resembles digital camouflage. The face, hands, and markers have a unique orange design.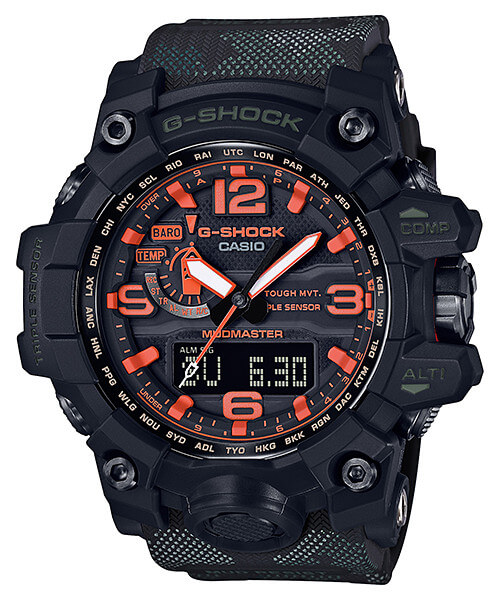 GWG-1000MH-1A on Amazon GWG-1000MH-1A on eBay
G-Shock Mudmaster GWG-1000-1A1
A Basic Black Mudmaster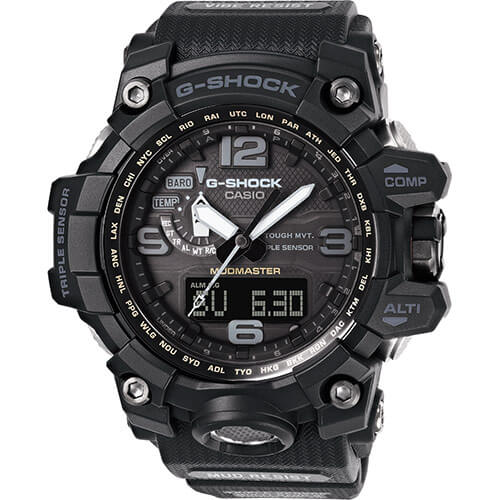 The GWG-1000-1A1 is perhaps the best Mudmaster choice for those who like to keep it simple. With a straightforward black and gray color scheme, the GWG-1000-1A1 gives off an extremely tough appearance.
GWG1000-1A1 on Amazon GWG1000-1A1 at Reeds GWG-1000-1A1 on eBay
G-Shock Mudmaster GWG-1000WLP-1A
The GWG-1000WLP-1A is a Love The Sea And The Earth 2019 edition in collaboration with non-profit organization Wildlife Promising. It has a black case with gold accents and a yellow band with a leopard print, inspired by the wild leopard of East Africa.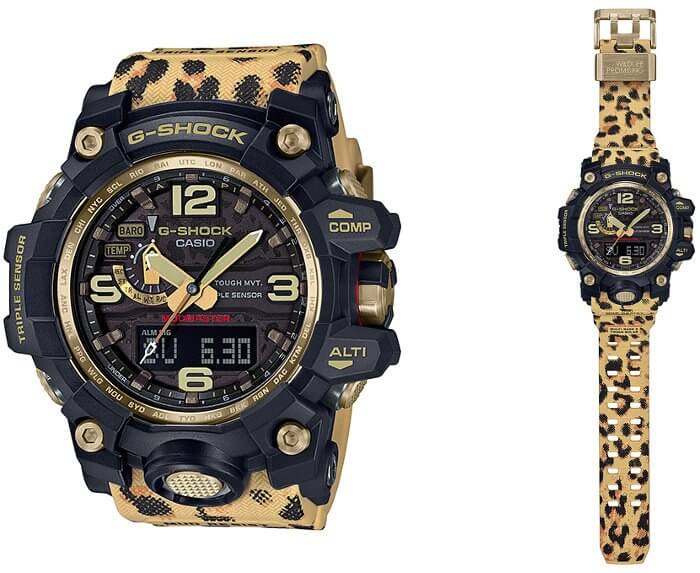 GWG-1000WLP-1AJR on Amazon GWG-1000WLP-1AJR on eBay





Disclosure: G-Central is independently managed by fans and is not an official G-Shock site. For official support, visit world.casio.com. Please follow your region's official site for more release information. All articles are written by G-Central. We may earn a commission on purchases from our links to Amazon, eBay, and Reeds Jewelers.
Advertisement: