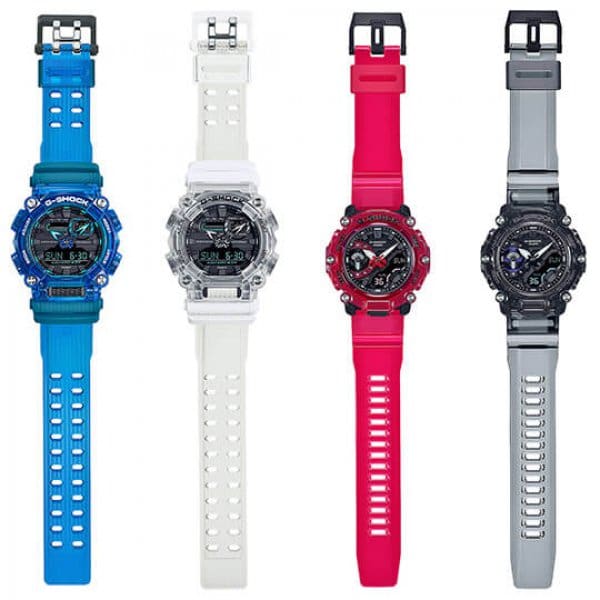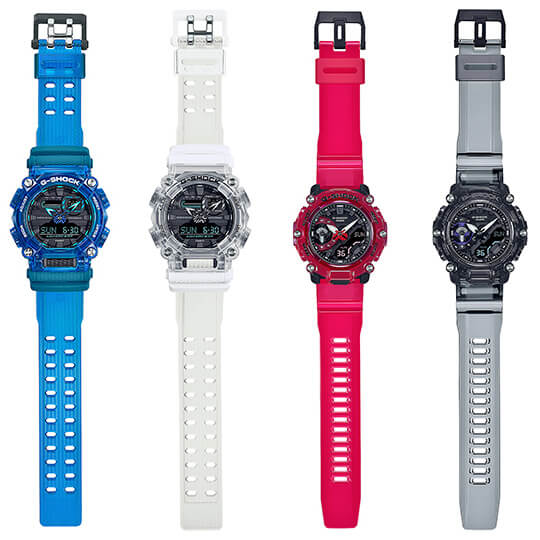 The G-Shock GA-900SKL and GA-2200SKL series were announced for a January release in China and are also expected to be released worldwide in February. These "skeleton" models feature translucent bezels and bands. This series is dubbed the "Sound Wave" series in Japan.
The GA-900SKL series, featuring an approximate 7-year battery life, measures 52.8 x 49.5 x 16.9 and weighs 65 grams. The GA-2200SKL, a lightweight Carbon Core Guard model with a 3-year battery life, measures 50.8 x 47.1 x 12.8 millimeters and weighs 57 grams. Both models feature shock resistance, 200-meter water resistance, world time, countdown timer, and 5 daily alarms. The GA-2200SKL has a more advanced countdown timer with a range of 24 hours that is also settable 1-second increments (versus 60 minutes and 1-minute increments on the GA-900SKL). The GA-900SKL has an LED light for nighttime viewing, and the GA-2200SKL has dual LED lights with a backlit LCD display.
Update: The GA-900SKL-7AJF, GA-2200SKL-4AJF, and GA-2200SKL-8AJF are planned for a February release in Japan. All three models will also be released in other Asian countries, along with the blue GA-900SKL-2A.
G-Shock U.S. released the GA900SKL-2A, GA900SKL-7A, GA2200SKL-4A, and GA2200SKL-8A for $130 each.
G-Shock GA-900SKL-2A: Translucent blue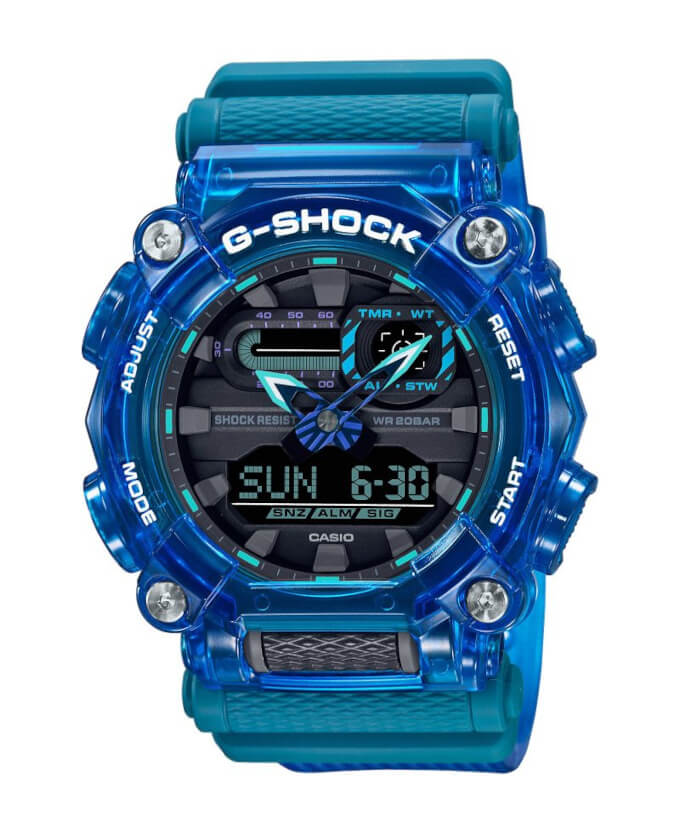 Size: 52.8 × 49.5 × 16.9 mm Weight: 65 grams
Structure: Resin case, bezel, and band, mineral glass, Neobrite
Protection: Shock Resistance, 200-meter Water Resistance Power: Battery (CR2016, approx. 5-year life)
Features: World time (31 time zones, 48 cities + UTC, DST on/off, home/world time city swapping), 1/100-second stopwatch (23:59'59 max, elapsed time, split time, 1st-2nd place times, target time alarm, direct timing start button), countdown timer (60 minutes, settable in minutes), 5 daily alarms (with 1 snooze), hourly time signal, LED light with 1.5 or 3-second afterglow, full auto-calendar, button tone on/off, 12/24-hour format, hand shift
G-Shock GA-900SKL-7A: Translucent white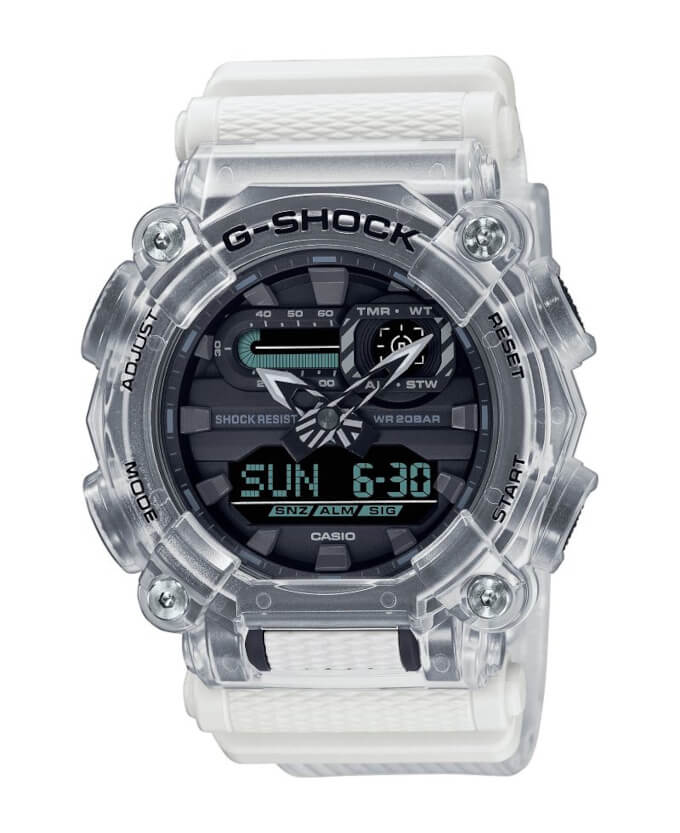 Size: 52.8 × 49.5 × 16.9 mm Weight: 65 grams
Structure: Resin case, bezel, and band, mineral glass, Neobrite
Protection: Shock Resistance, 200-meter Water Resistance Power: Battery (CR2016, approx. 5-year life)
Features: World time (31 time zones, 48 cities + UTC, DST on/off, home/world time city swapping), 1/100-second stopwatch (23:59'59 max, elapsed time, split time, 1st-2nd place times, target time alarm, direct timing start button), countdown timer (60 minutes, settable in minutes), 5 daily alarms (with 1 snooze), hourly time signal, LED light with 1.5 or 3-second afterglow, full auto-calendar, button tone on/off, 12/24-hour format, hand shift
G-Shock GA-2200SKL-4A: Translucent red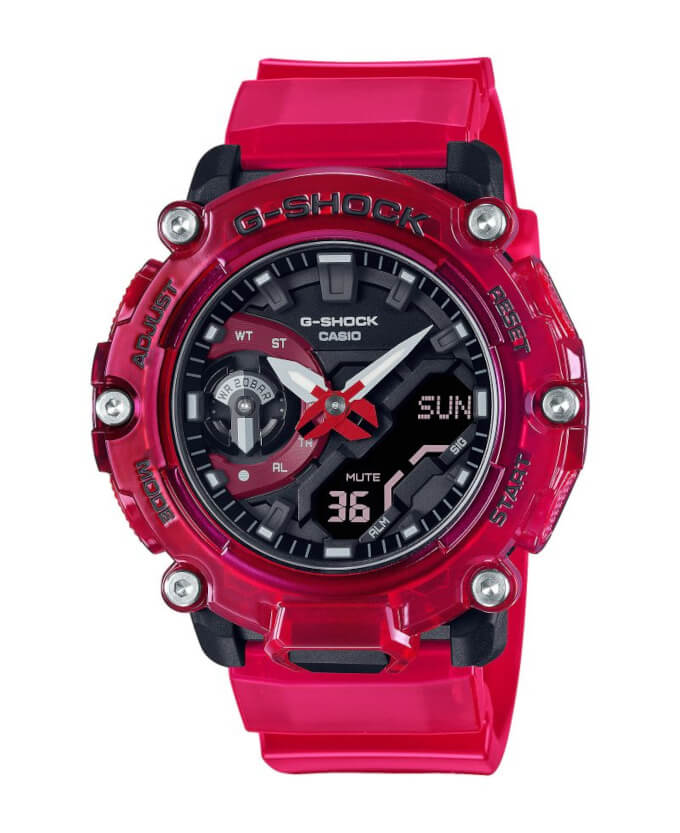 Size: 50.8 × 47.1 × 13.1 mm Weight: 57 grams
Structure: Carbon Core Guard, resin case, bezel, and band, mineral glass
Protection: Shock Resistance, 200-meter Water Resistance Power: Battery (SR726W x 2, approx. 3-year life)
Features: World time (31 time zones, 48 cities + UTC, DST on/off), stopwatch (23:59'59 max, 1/100-second first 60 minutes, 1-second after 60 minutes, elapsed time, split time, 1st-2nd place times), countdown timer (24 hours, settable in seconds, minutes, and hours), 5 daily alarms, hourly time signal, dual LED light with 1.5 or 3-second afterglow, full auto-calendar, button tone on/off, 12/24-hour format, hand shift
G-Shock GA-2200SKL-8A: Translucent gray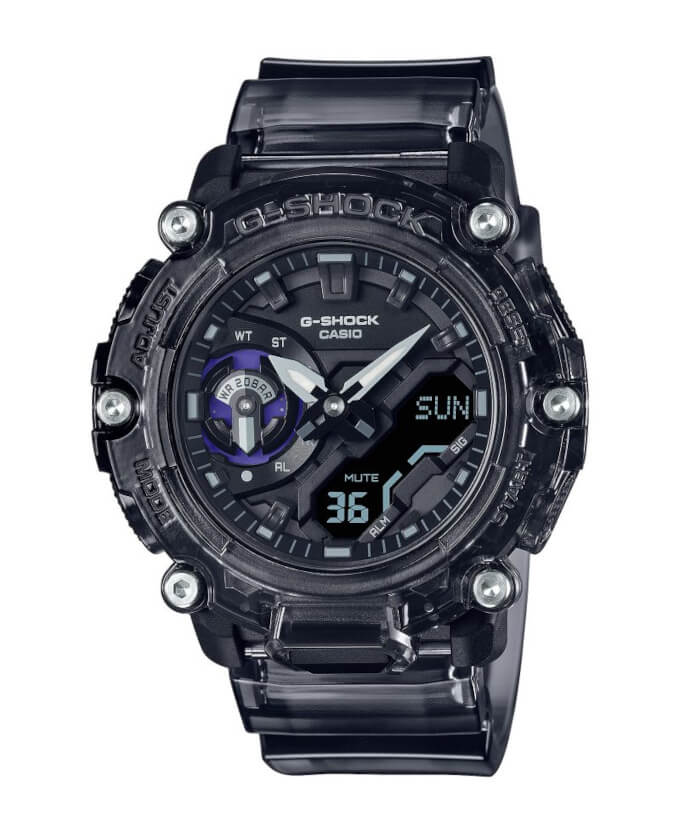 Size: 50.8 × 47.1 × 13.1 mm Weight: 57 grams
Structure: Carbon Core Guard, resin case, bezel, and band, mineral glass
Protection: Shock Resistance, 200-meter Water Resistance Power: Battery (SR726W x 2, approx. 3-year life)
Features: World time (31 time zones, 48 cities + UTC, DST on/off), stopwatch (23:59'59 max, 1/100-second first 60 minutes, 1-second after 60 minutes, elapsed time, split time, 1st-2nd place times), countdown timer (24 hours, settable in seconds, minutes, and hours), 5 daily alarms, hourly time signal, dual LED light with 1.5 or 3-second afterglow, full auto-calendar, button tone on/off, 12/24-hour format, hand shift