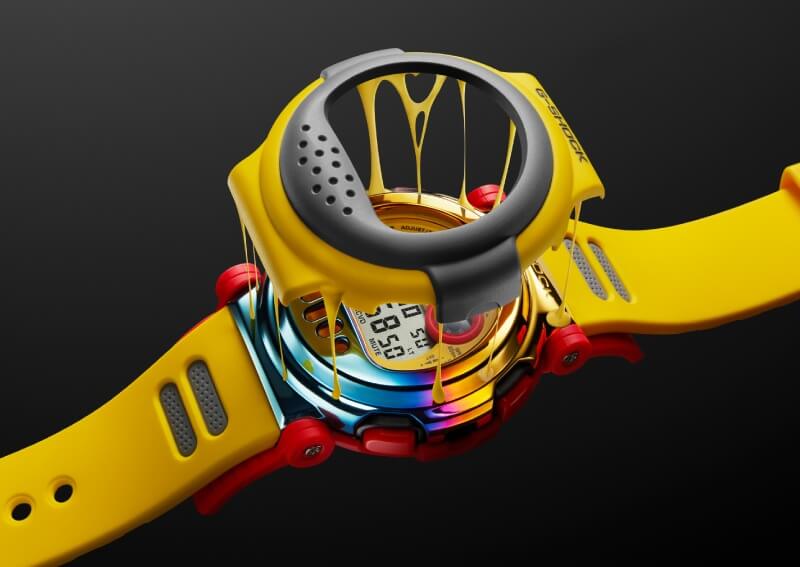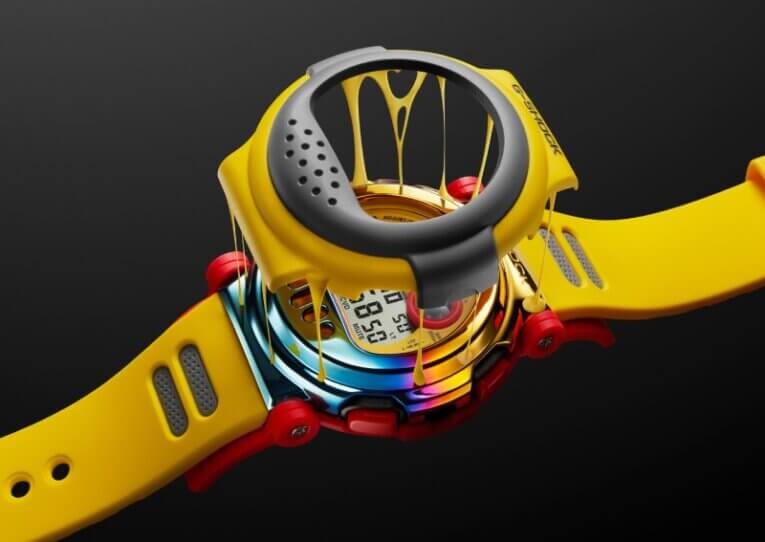 Not to be confused with the similarly named GA-B001, the upcoming G-Shock G-B001 continues the evolution of the DW-001 "Jason" from the '90s. The G-B001 has the familiar and unique capsule-like shape of the DW-001 but now with a Carbon Core Guard case and a dual bezel structure with a detachable resin outer bezel and a stainless steel inner bezel. The watch can be worn with or without the resin bezel to reveal the metal bezel for a different look. The watch is also equipped with Bluetooth smartphone link, which adds functions such as automatic time adjustment, one-touch time correction, auto summer time switching, alarm and timer settings, 300-city world time, time and place log, and phone finder.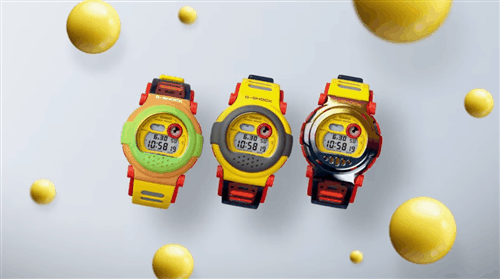 The series will launch with three models. The yellow and gray G-B001MVE-9 has a rainbow ion plated metal bezel (with shades of gold, red, and blue), and it also includes a translucent orange and green bezel and a translucent blue band that can be swapped with the yellow bezel and band. The other two models are the G-B001MVA-1 with a black and translucent gray bezel, silver ion plated metal bezel, and black and red band, and the G-B001MVB-8 with a translucent gray and black bezel, gold ion plated metal bezel, and a translucent gray band. The yellow G-B001MVE-9 is based on the colors of the classic DW-001J-9, which is also the inspiration for a special yellow series coming in December.
The G-B001MVE-9 includes an extra bezel and band set.

The G-B001MVB-8 (left) and G-B001MVA-1 (right) seen with and without their resin outer bezels.

All three models were announced for a worldwide release, and based on the Japanese model names (ending in "JR"), they are all limited editions. In Japan, the series will be released on January 27, 2023. Specific launch dates for other countries have not been revealed yet.
The DW-001 was a 1994 model with a thermometer sensor and a mask-like bezel. The DW-001 was built on the the "Capsule Tough" concept featuring a rounded shape and a resin back cover. With its soft shapes, the DW-001 stood in stark contrast to the more angular and rugged styles of other G-Shock watches and offered a very unique style with its two-tone bezel. Officially known as the "Nexax" series, it was also informally known as "Jason" after the Friday the 13th horror movie villain. It was later revived as the G-001 in 2010 with the same appearance but without the thermometer. (The last G-001 model was the G-001BB-1 from 2018.) Like the holes on the G-001, the holes on the G-B001 are purely stylistic and there is no thermometer.
Update (2/24/23): G-Shock U.S. released the GB001MVE-9 for $350.
G-Shock G-B001MVE-9: (USA: GB001MVE-9, $350. Japan: G-B001MVE-9JR, 44,000 yen, tax included.)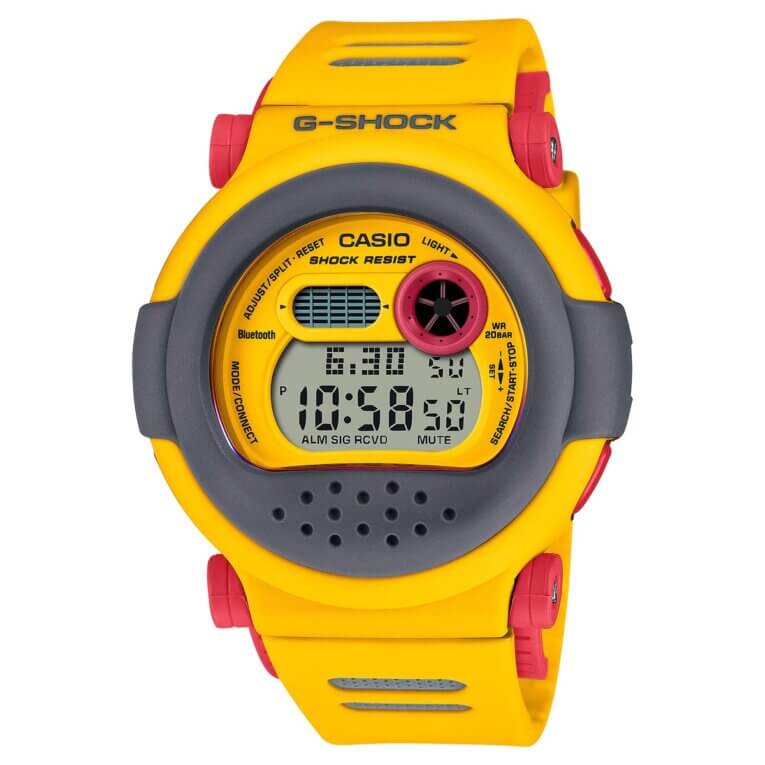 Buy GB001MVE-9
Casio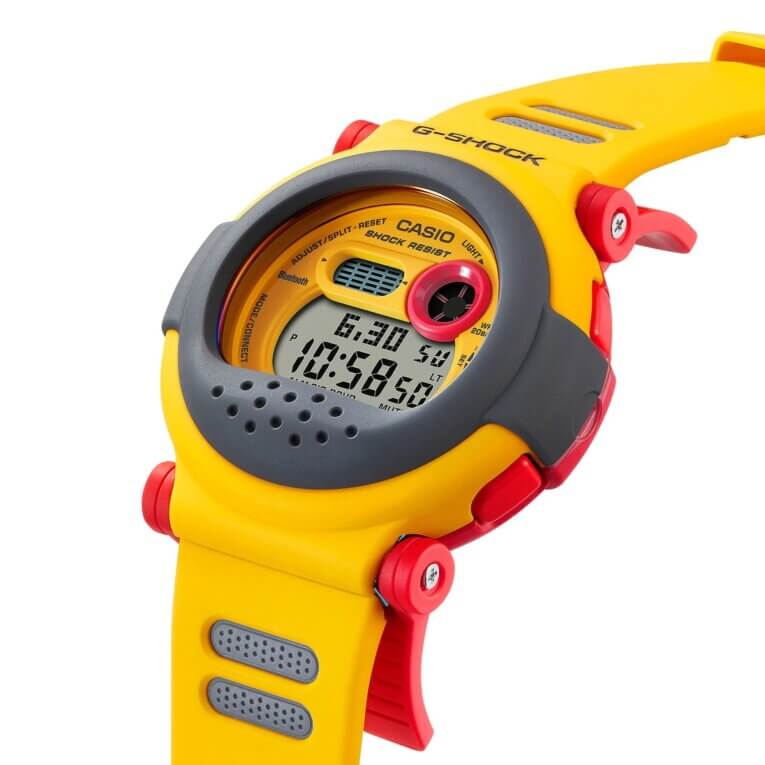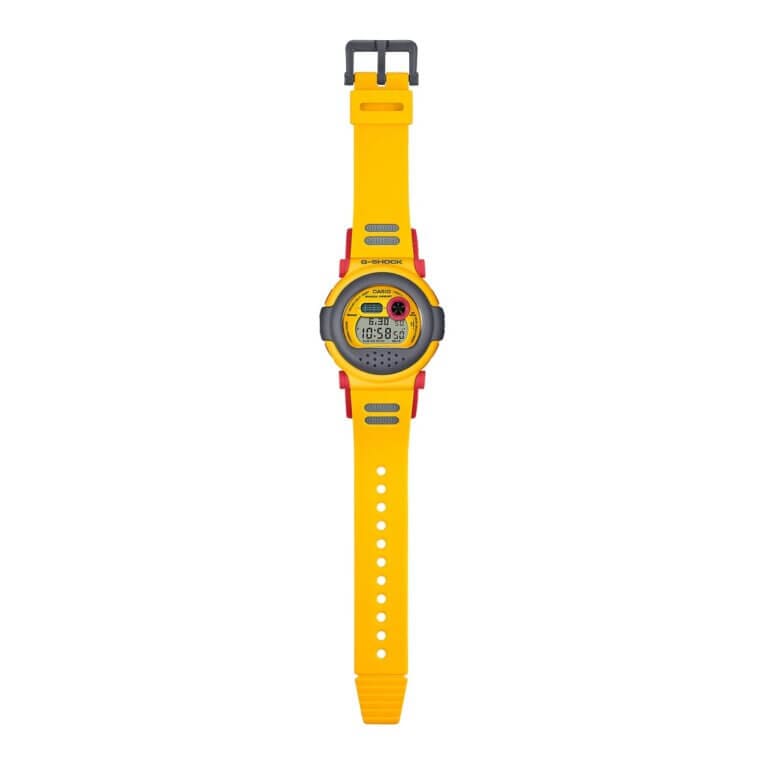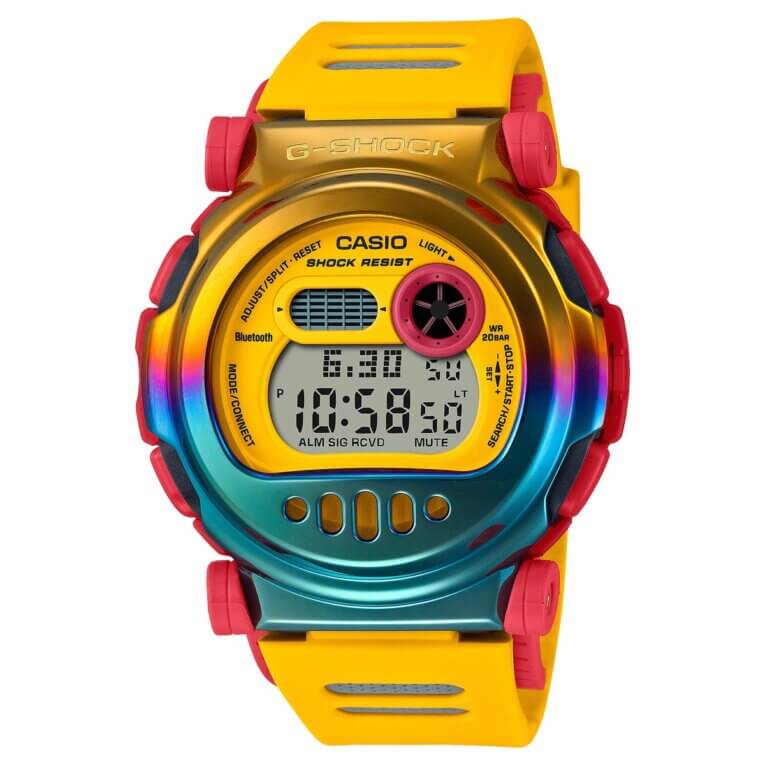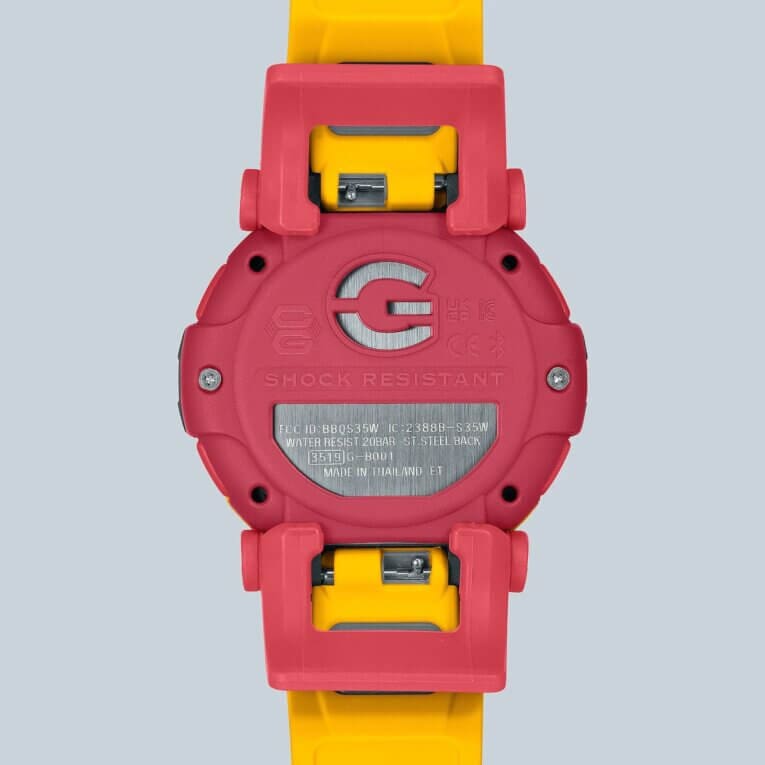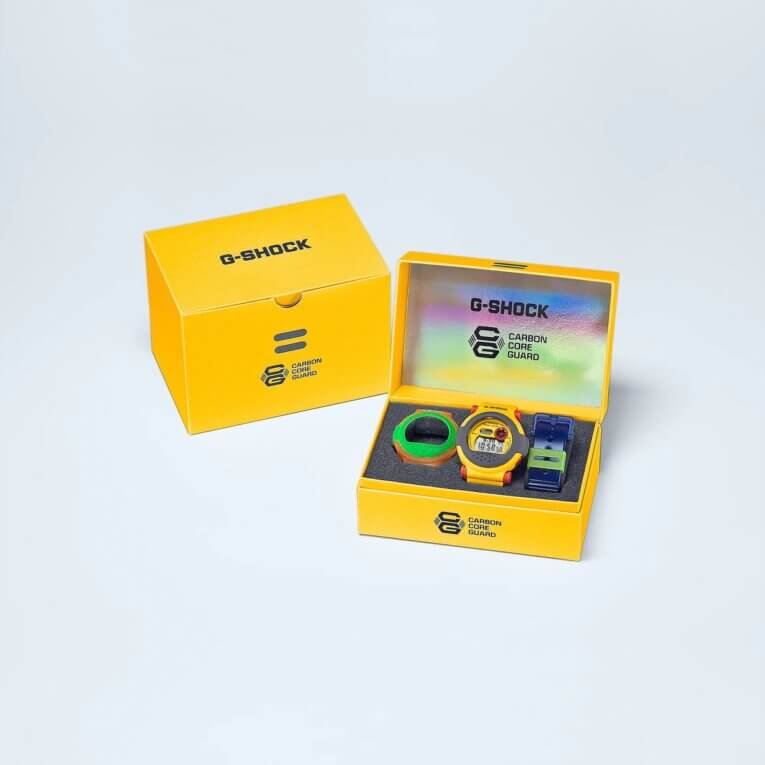 G-Shock G-B001MVA-1: (Japan: G-B001MVA-1JR, 34,100 yen, tax included)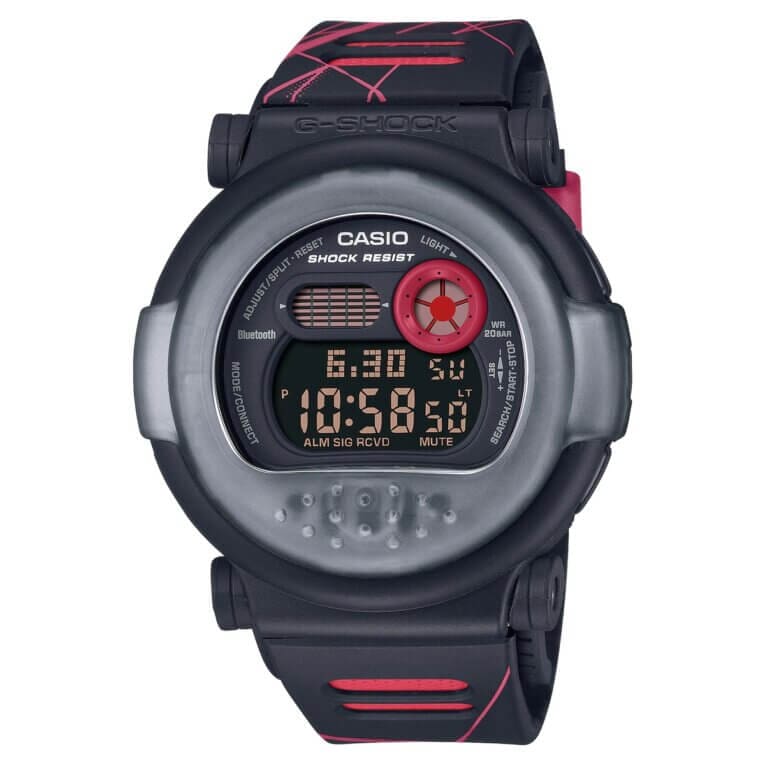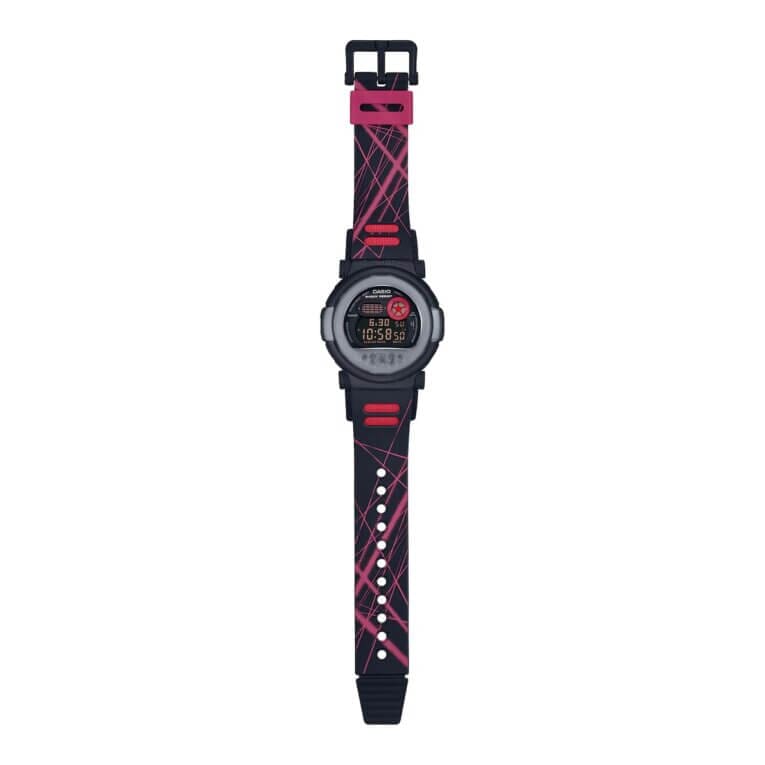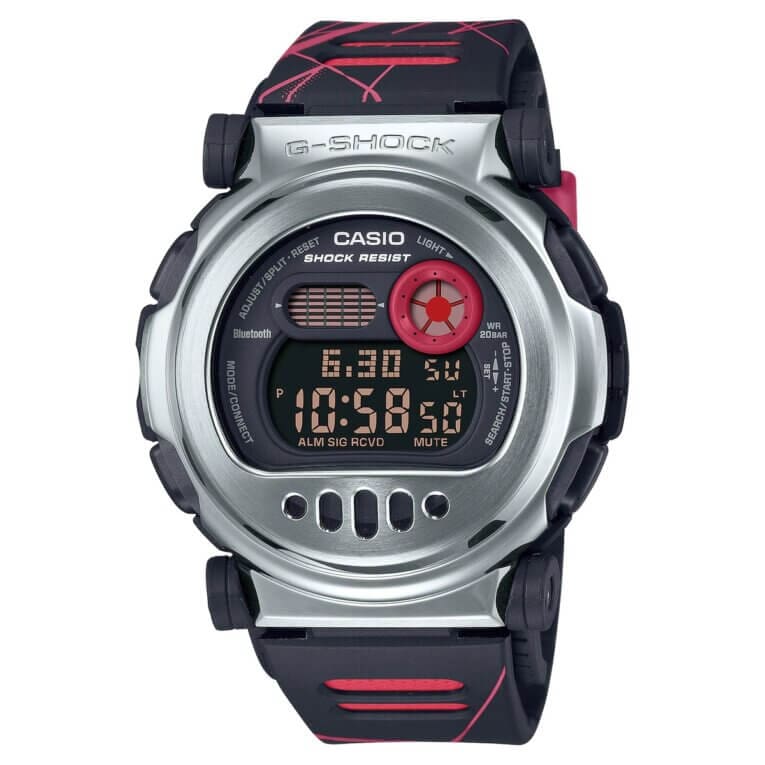 G-Shock G-B001MVB-8: (Japan: G-B001MVB-8JR, 33,000 yen, tax included)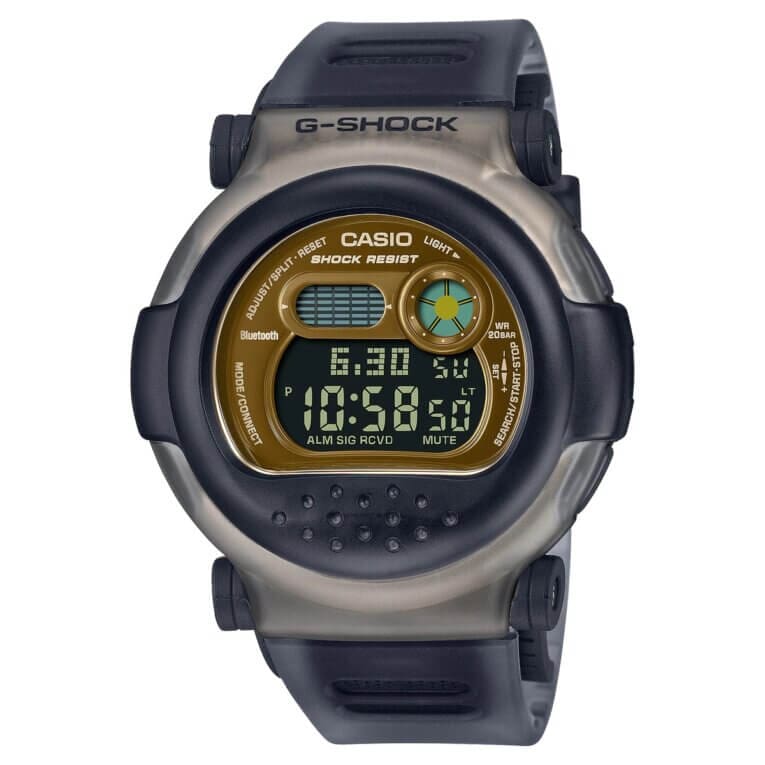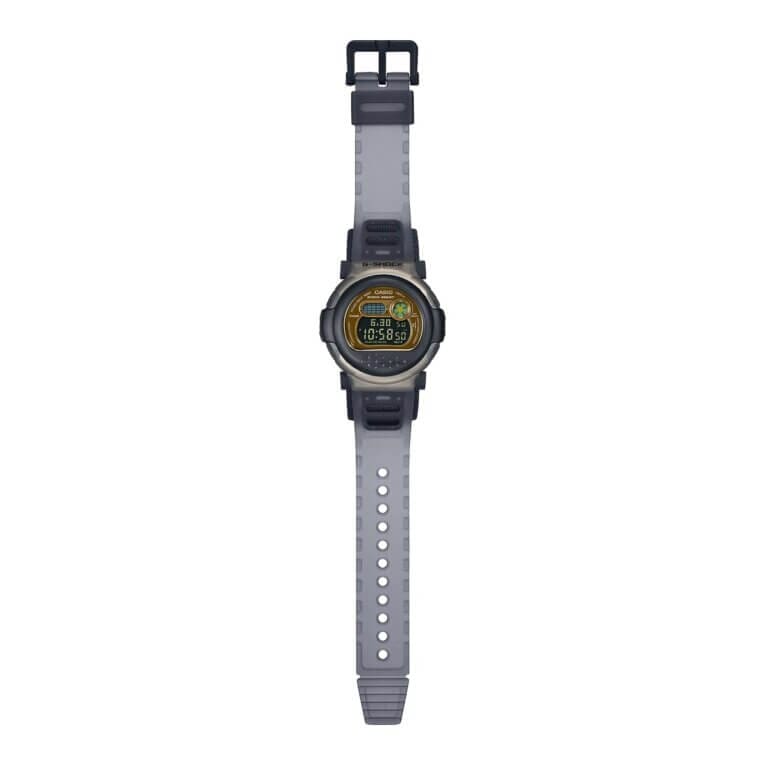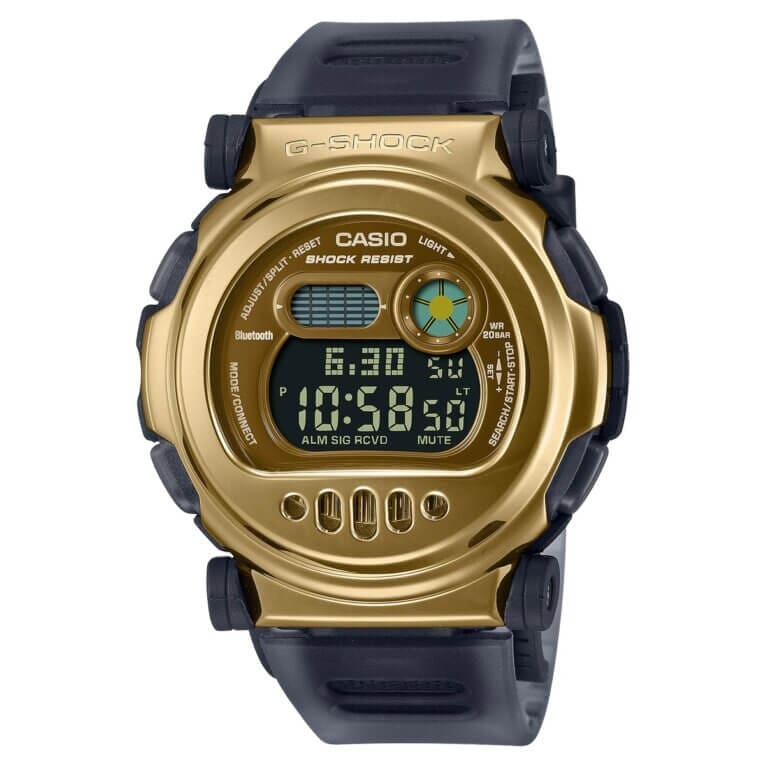 G-Shock G-B001 Specifications
Dimensions: 50.3 x 47.0 x 18.7 mm Weight: 75 grams
Module: 3519 (instruction manual at casio.com)
Battery Type (Lifespan): CR2016 (approx. 3 years)
Structure: Carbon Core Guard, carbon fiber-reinforced resin case, resin and stainless steel bezel, resin band
Protection: Shock Resistance, 200-Meter Water Resistance
Functions: Bluetooth Mobile Link, World Time (38 time zones, 38 cities + UTC, DST on/off, home time swap), Stopwatch (1/100-second first hour, 1-second after first hour, 23:59'59" max, elapsed time, split time, 1st-2nd place times), Countdown Timer (24 hours max, settable in seconds), 5 Daily Alarms, Hourly Time Signal, Adjustable Date Format (month/day display switch, 6 day-of-week languages), Button Tone On/Off, Auto LED (Super Illuminator) Backlight with 1.5 or 3 second afterglow
G-Shock G-B001 Promotional Video: