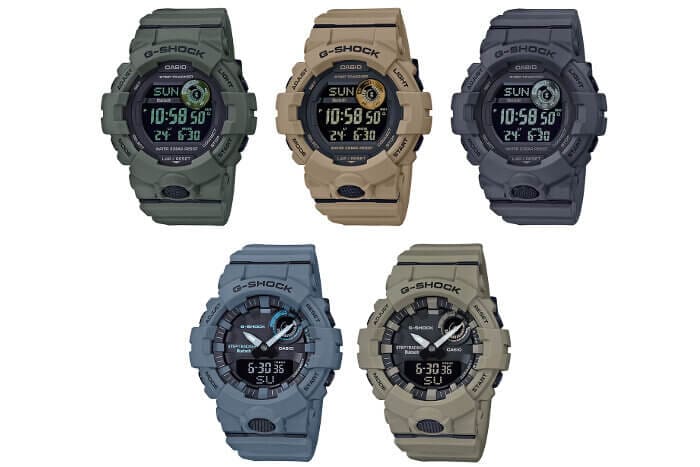 The military-inspired Utility Color Collection began with the extra-large analog-digital GA-700UC series.
Casio is now adding five mid-size G-SQUAD watches to the mix, including two analog-digital GBA-800 and three digital GBD-800 models with the Step Tracker and Bluetooth mobile link features. The matte utility colors of blue, green, brown, and gray are compatible with street fashion and military or service use.
These fitness-oriented models have the distinction of being the most affordable G-Shock watches with Bluetooth which along with step tracker data viewing includes automatic time adjustment, easy adjustment of the watch settings, and a phone finder function. Along with the pedometer, other unique fitness features include the interval timer that allows up to five individual timers to be set and repeated up to twenty times, a stopwatch with a target time notification, and 200-record lap memory. Other features include dual time, 5 alarms, and auto Super Illuminator LED light.
The new Utility Color series is a March 2019 release in Japan. The analog-digital GBA-800UC-2AJF and GBA-800UC-5AJF have a list price of ¥16,500 JPY each. The digital GBD-800UC-3JF, GBD-800UC-5JF, and GBD-800UC-8JF have a list price of ¥13,500 JPY each. All five models will also be released in other Asian markets.
Update: Casio America announced the GBA800UC-2A, GBA800UC-5A, GBD800UC-3, GBD800UC-5, and GBD800UC-8 for a an April 2019 release. The GBA800UC models have a list price of $120 USD each and the GBD800UC models have a list price of $99 USD each.
GBA-800UC-2A: Analog-digital, blue, blue-tinted reverse LCD display
GBA-800UC-5A: Analog digital, brown, brown-tinted reverse LCD display
GBD-800UC-3: Digital, green, green-tinted reverse LCD display
GBD-800UC-5: Digital, brown, brown-tinted reverse LCD display
GBD-800UC-8: Digital, gray, gray-tinted reverse LCD display