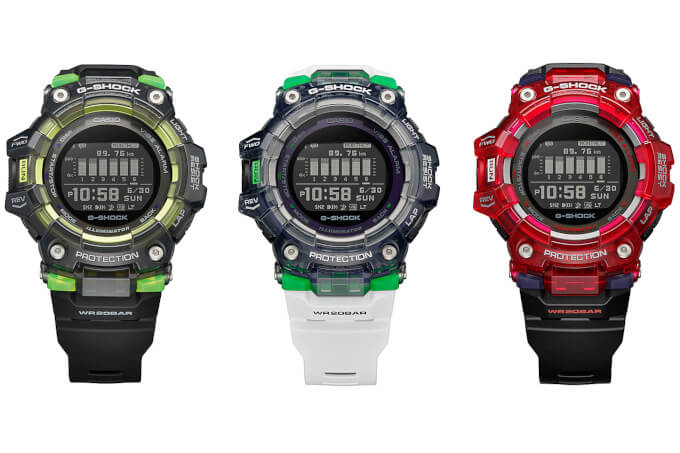 G-Shock Japan is adding three new GBD-100 models in January 2021: the black and lime green GBD-100SM-1JF, the white and green GBD-100SM-1A7JF, and the black and red GBD-100SM-4A1JF (20,000 JPY each plus tax). The GBD-100 is an affordable mid-range G-SQUAD (or MOVE in the U.S.) fitness model that includes an MIP LCD display, step counter, training features for running, vibration alerts, and Bluetooth smartphone link with messaging notifications. These new models feature a "skeleton" bezel and vivid colors for an athletic style that will match certain athletic wear, sneakers, and team colors.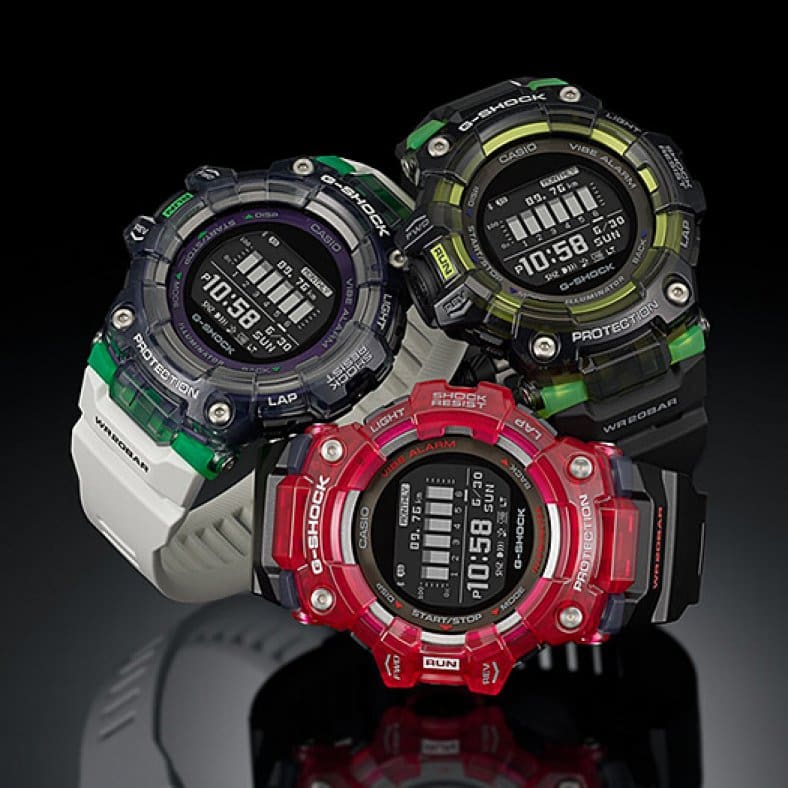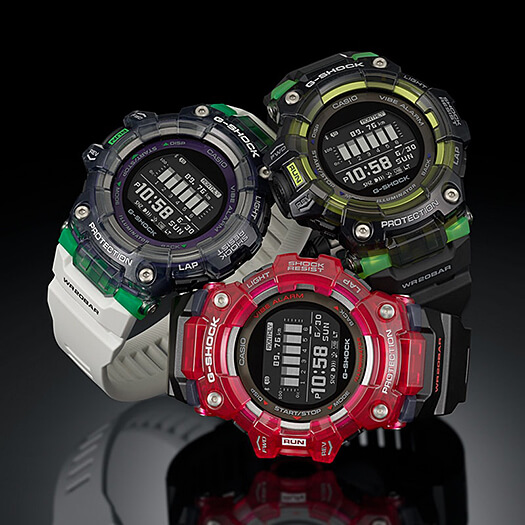 The step counter's distance measurement function can be corrected and calibrated with a Bluetooth-connected, GPS-equipped smartphone. This feature was first mentioned in a promotional video, but we did not see anything else about it when the GBD-100 series first launched. This feature is mentioned in the official listing for the GBD-100SM models, as well as in the the listings for the original GBD-100 launch models now. If the watch is connected to a GPS-equipped smartphone while using the step counter, the distance measurement will be automatically corrected and calibrated. It will then be more accurate the next time the step counter is used on its own, without a smartphone connection. (For those who want the most accuracy and more advanced training features, the GBD-H1000 has built-in GPS, a heart rate monitor, and VO2max measurement.)
In addition to measuring distance with the step counter, the GBD-100 also measures speed, pace, and calories burned, and can keep a data log for up to 100 runs and 140 laps. Other training features include adjustable interval timers and a training management smartphone app (with achievement level, history, and automatic training plan creation). Other features include shock resistance, 200-meter water resistance, world time, stopwatch (1-second, 100 hours, with split), auto Super Illuminator LED backlight with afterglow (1.5/3 seconds), and approximate 2-year battery life.
Update: The GBD-100SM-1, GBD-100SM-1A7, and GBD-100SM-4A1 were also announced for a January 2021 release in Asia.
G-Shock GBD-100SM-1: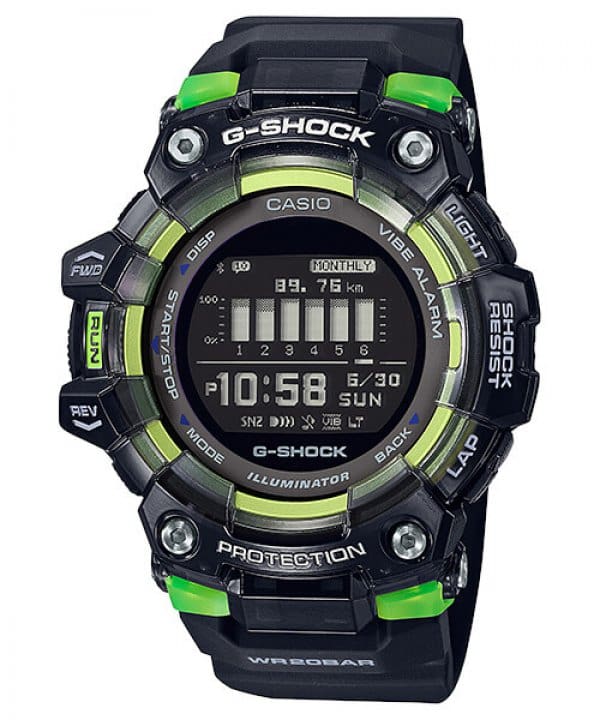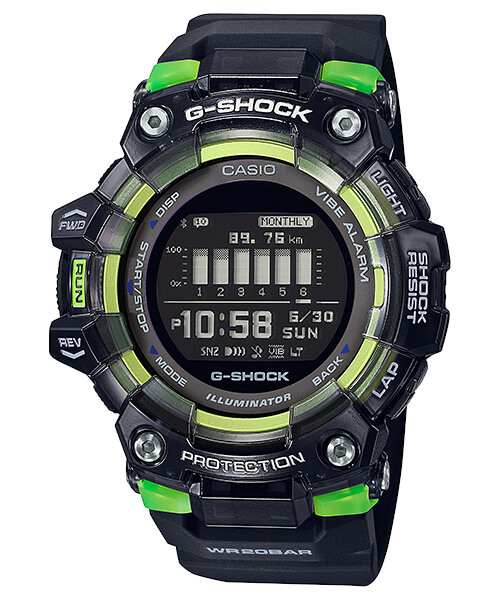 G-Shock GBD-100SM-1A7: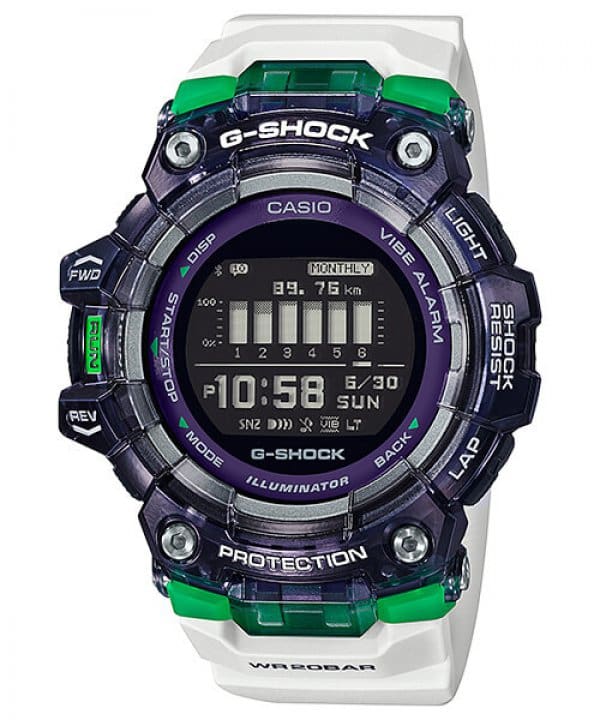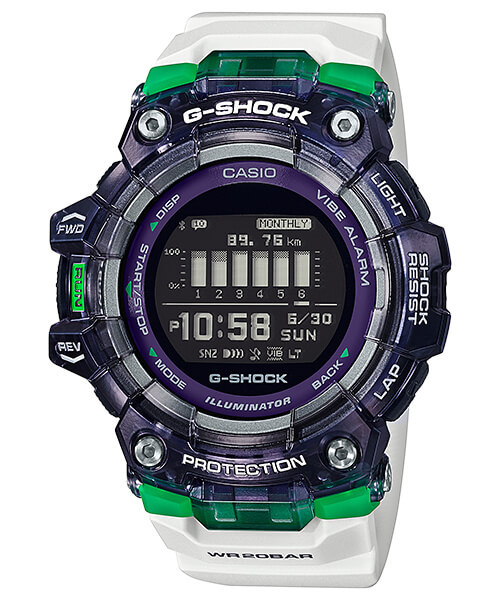 G-Shock GBD-100SM-4A1: