G-Shock is adding more colorways to the GBD-200 fitness series and the GLX-5600 surfing series.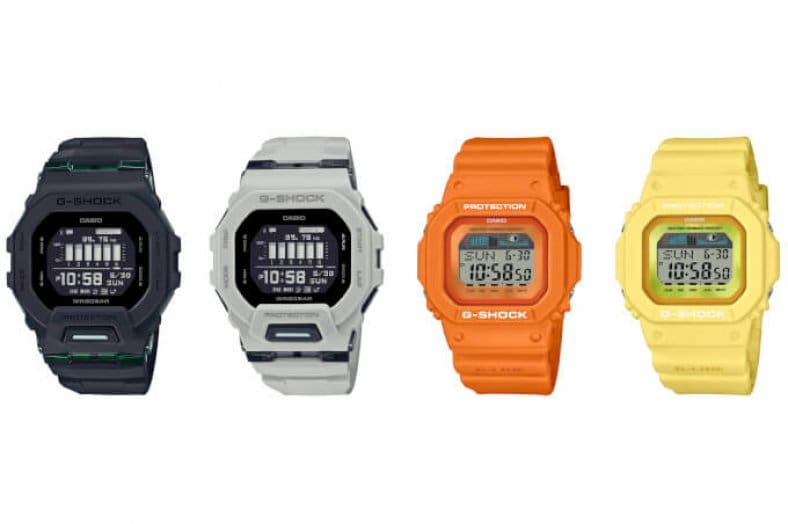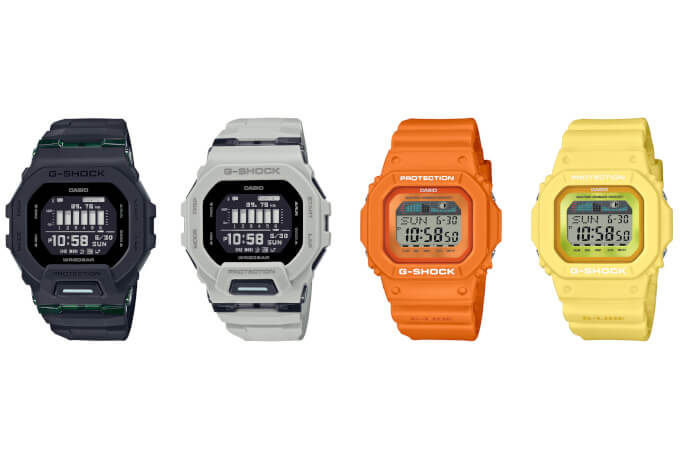 The GBD-200UU series features urban-themed colors with the black GBD-200UU-1 and white (or more of a dullish off-white) GBD-200UU-9 [sic]. These models have a very matte appearance that will match well with athletic wear and shoes. The GBD-200UU is an advanced G-SQUAD fitness model designed for runners with a high-contrast MIP LCD display, step counter, Bluetooth smartphone link, running training program, stopwatch, interval timers, and vibration.
The GLX-5600RT series features bright summer-themed colors and metallic faces with the orange GLX-5600RT-4 and yellow GLX-5600RT-9. The GLX-5600RT is a G-LIDE surfing model featuring a tide and moon graph and an approximate 7-year battery life. Other features include world time, 1/100-second stopwatch, 24-hour countdown timer, 3 multi-function alarms* with 1 snooze, flash (sound and EL light) alerts (for alarm, hourly time signal, timer, and stopwatch auto start), and EL backlight with adjustable afterglow.
In Japan, the GBD-200UU-1JF and GBD-200UU-9JF have a tax-included price of 22,000 yen and the GLX-5600RT-4JF and GLX-5600RT-9JF have a tax-included price of 13,750 yen. All four models are slated for a May release, with other regions expected to follow.
* The multi-function alarms on the GLX-5600 are like the one on the DW-5600 and include the following modes: daily, date (time at specific date), 1-month (time daily during the month set), monthly (time on specific numbered day every month).
Update: G-Shock U.S. is releasing the GBD200UU-9 for $150 and the GLX5600RT-4 and GLX5600RT-9 for $99 each.
G-Shock GBD-200UU-1: Black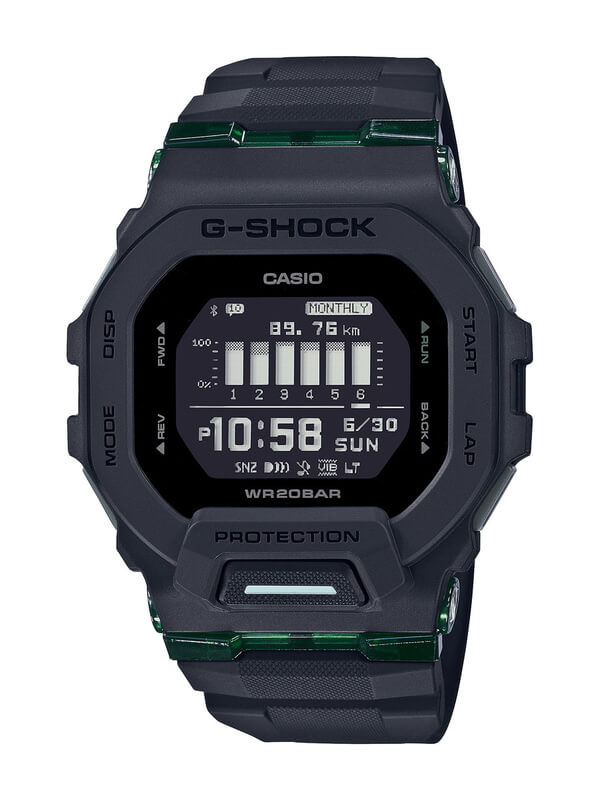 List Price: $150 Size: 49.4 × 45.9 × 15 mm Weight: 58 grams
Structure: resin case, bezel, and band, mineral glass
Protection: Shock Resistance, 200-meter Water Resistance Power: Battery (CR2032, approx. 2-year life)
Features: Step counter with training function and data, Bluetooth smartphone link, vibration alerts, world time (38 time zones, 38 cities +UTC, DST on/off, auto DST), 1-second stopwatch (99:59'59" max, elapsed time, split time), countdown timer (60 minutes, settable in seconds, 5 interval timers, auto-repeat 1-20 times), 4 daily alarms with snooze, auto LED light with 1.5 or 3-second afterglow, full auto-calendar, button tone on/off, power saving, 12/24-hour format, flight mode
G-Shock GBD-200UU-9: Off-white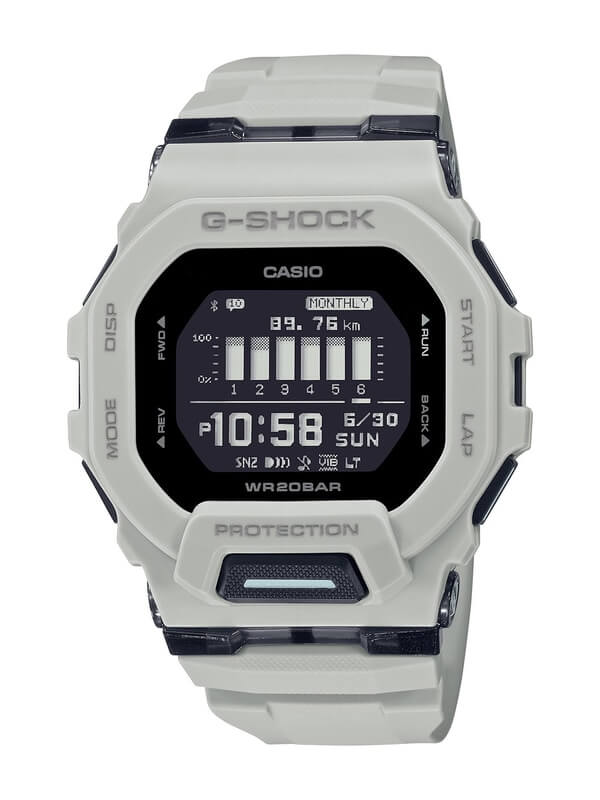 List Price: $150 Size: 49.4 × 45.9 × 15 mm Weight: 58 grams
Structure: resin case, bezel, and band, mineral glass
Protection: Shock Resistance, 200-meter Water Resistance Power: Battery (CR2032, approx. 2-year life)
Features: Step counter with training function and data, Bluetooth smartphone link, vibration alerts, world time (38 time zones, 38 cities +UTC, DST on/off, auto DST), 1-second stopwatch (99:59'59" max, elapsed time, split time), countdown timer (60 minutes, settable in seconds, 5 interval timers, auto-repeat 1-20 times), 4 daily alarms with snooze, auto LED light with 1.5 or 3-second afterglow, full auto-calendar, button tone on/off, power saving, 12/24-hour format, flight mode
G-Shock GLX-5600RT-4: Orange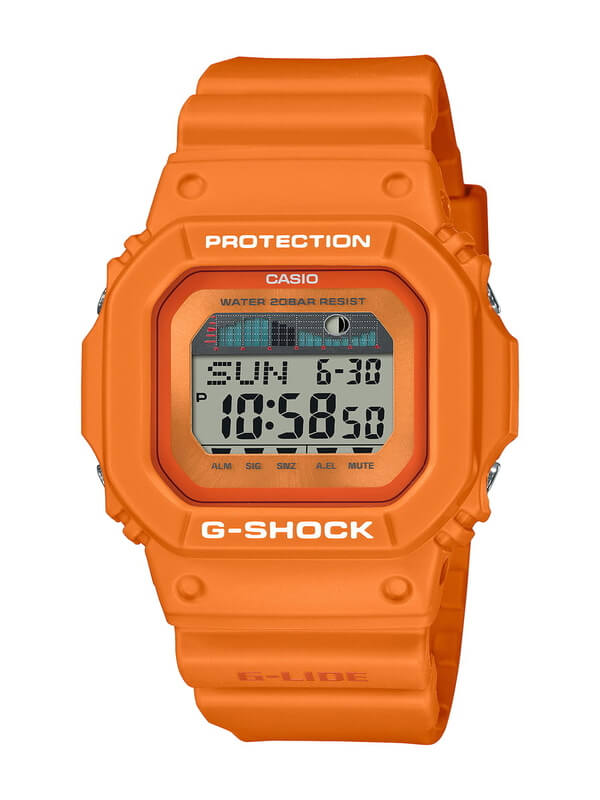 List Price: $99 Size: 46.7 × 43.2 × 12.7 mm Weight: 53 grams
Structure: Resin case, bezel, and band, mineral glass
Protection: Shock Resistance, 200-meter Water Resistance Power: Battery (CR2025, approx. 7-year life)
Features: World time (29 time zones, 48 cities, DST on/off), tide graph, moon data, stopwatch (23:59'59.99" max, elapsed time, split time, 1st-2nd place times, 5-second countdown auto start), countdown timer (24 hours, settable in minutes and hours, auto-repeat, progress beeper), 3 multi-function alarms (3 one-time and 1 snooze alarm), hourly time signal, flash alert, auto EL backlight with afterglow, full auto-calendar, 12/24-hour format
G-Shock GLX-5600RT-9: Yellow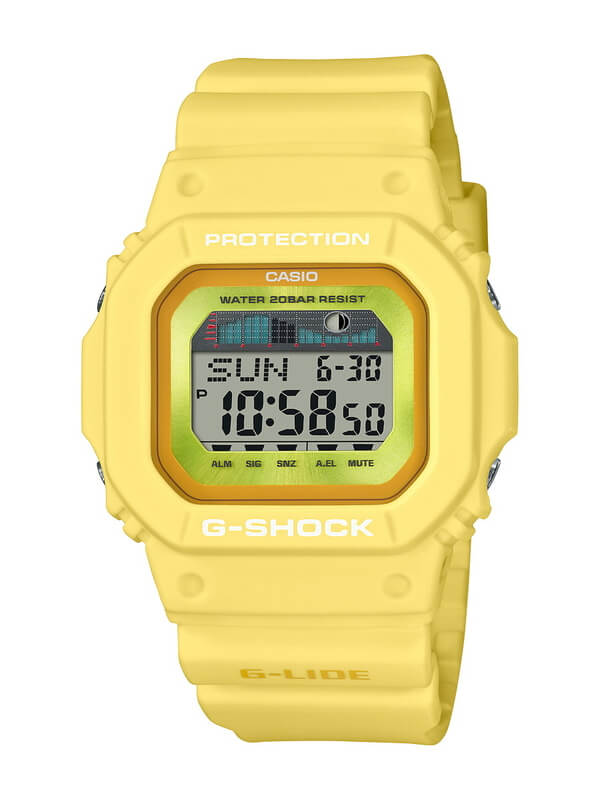 List Price: $99 Size: 46.7 × 43.2 × 12.7 mm Weight: 53 grams
Structure: Resin case, bezel, and band, mineral glass
Protection: Shock Resistance, 200-meter Water Resistance Power: Battery (CR2025, approx. 7-year life)
Features: World time (29 time zones, 48 cities, DST on/off), tide graph, moon data, stopwatch (23:59'59.99" max, elapsed time, split time, 1st-2nd place times, 5-second countdown auto start), countdown timer (24 hours, settable in minutes and hours, auto-repeat, progress beeper), 3 multi-function alarms (3 one-time and 1 snooze alarm), hourly time signal, flash alert, auto EL backlight with afterglow, full auto-calendar, 12/24-hour format