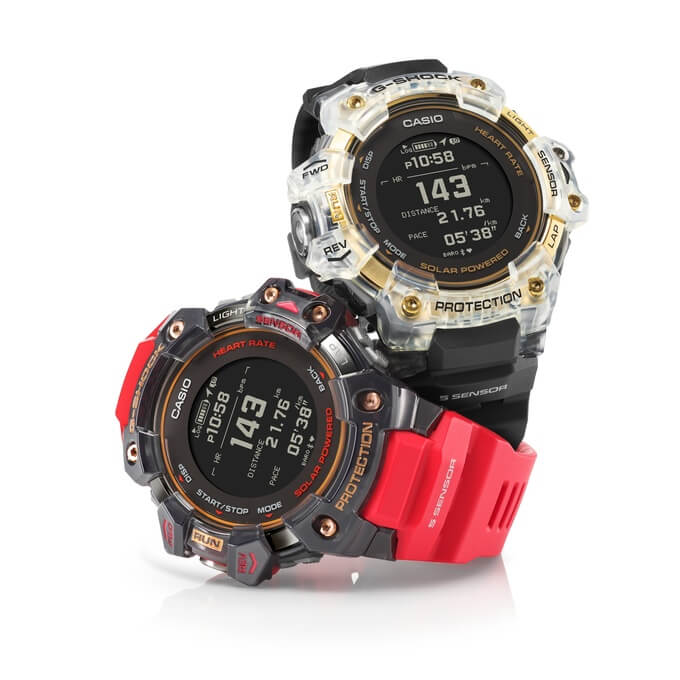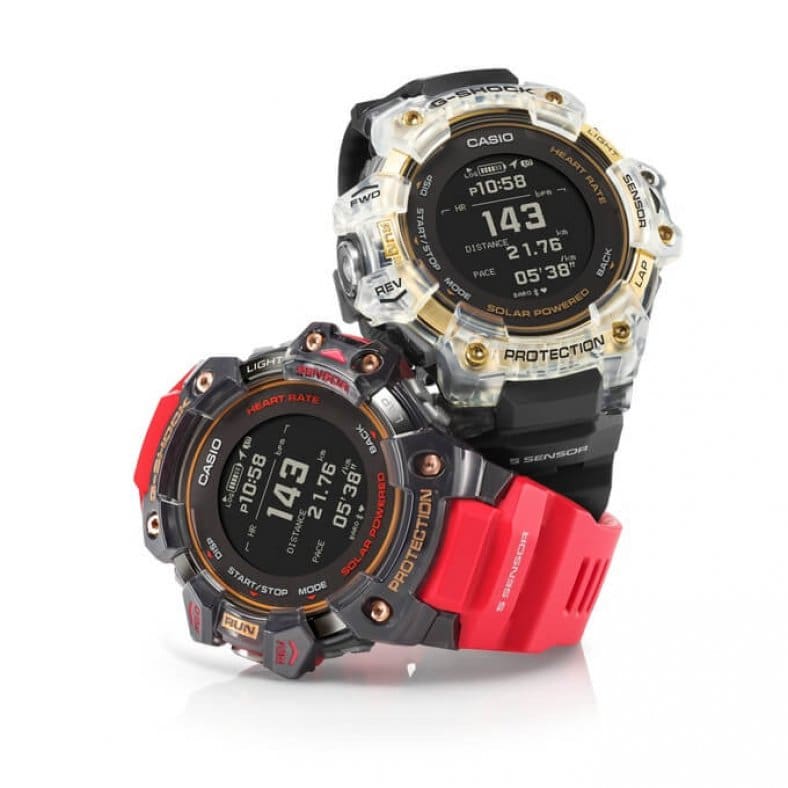 These two new GBD-H1000 colorways are inspired by classic G-Shock color combinations and feature skeleton-style bumper guards. The GBD-H1000-1A9 has a gold IP bezel, translucent white bumper guards, and a black band. The GBD-H1000-4A1 has a black IP bezel, translucent black bumper guards, and a red band.
The Bluetooth-connected GBD-H1000 is an advanced fitness tracking watch featuring a heart rate monitor, pressure sensor (altimeter-barometer), compass, thermometer, GPS, step counter, and USB and solar charging.
In Japan, the GBD-H1000-1A9JR and GBD-H1000-4A1JR are June 2021 releases with a tax-included price of 55,000 yen each. Both models are likely to be released worldwide. G-Shock U.S. is expected to release the GBDH1000-1A9 and GBDH1000-4A1 for $399 each, some time later.
Update: The GBD-H1000-1A9 and GBD-H1000-4A1 were also announced for a wider Asia release in June.
G-Shock GBD-H1000-1A9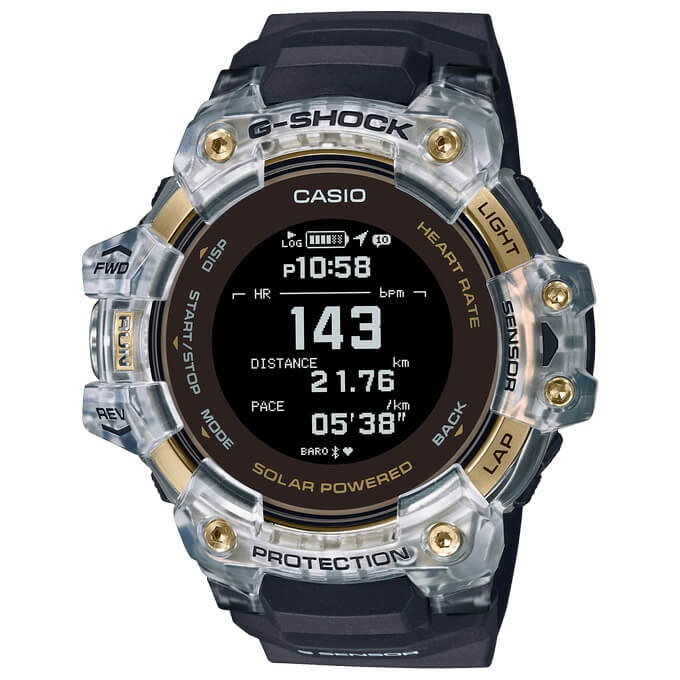 Size: 54.6 × 55 × 20.4 mm Weight: 101 grams
Structure: resin case and band, resin and stainless steel bezel, mineral glass
Protection: Shock Resistance, 200-meter Water Resistance Power: Rechargeable (dedicated cable with Type-A USB terminal), solar powered
Features: Heart rate monitor, step counter with training function and data, Bluetooth smartphone link, GPS (for distance, speed, and pace data, auto/manual timekeeping, position info), vibration alerts, world time (38 time zones, 38 cities +UTC, DST on/off, auto DST), 1-second stopwatch (99:59'59" max, elapsed time, split time), countdown timer (60 minutes, settable in seconds, 5 interval timers, auto-repeat 1-20 times), 4 daily alarms with snooze, full auto LED light with 1.5 or 3-second afterglow, full auto-calendar, button tone on/off, power saving, 12/24-hour format, flight mode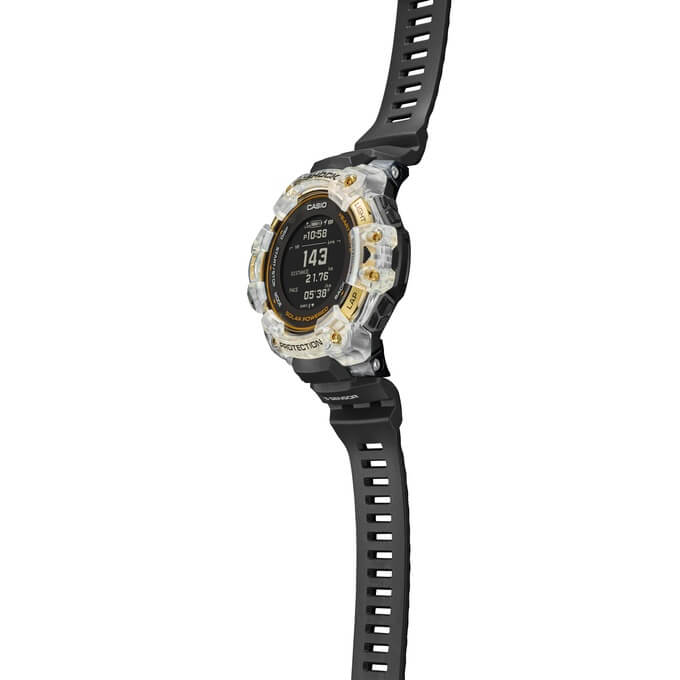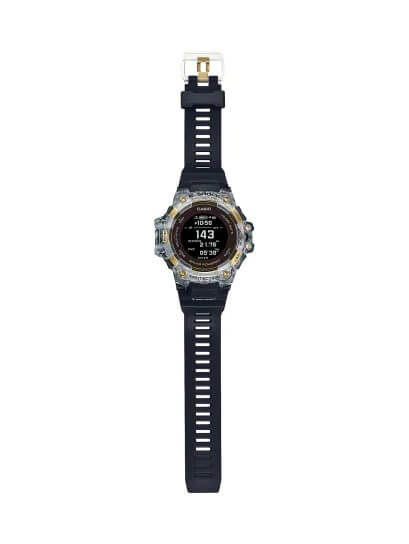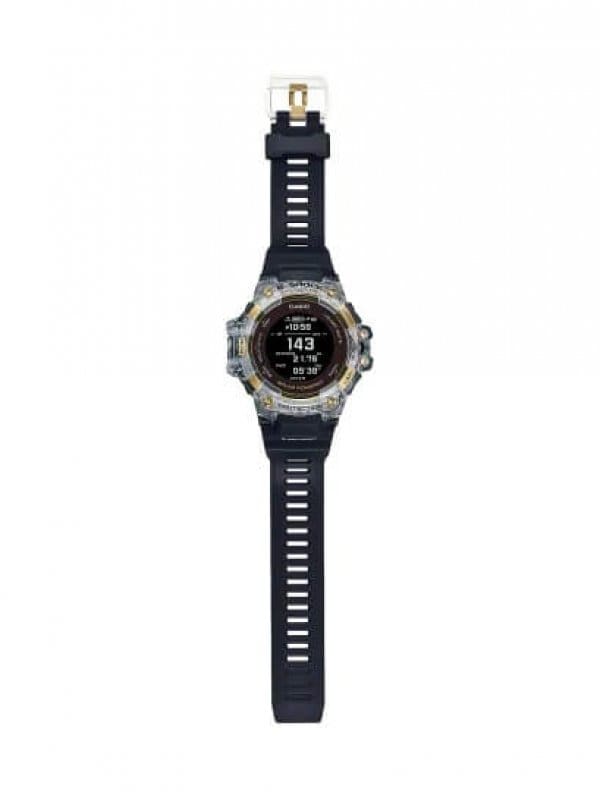 G-Shock GBD-H1000-4A1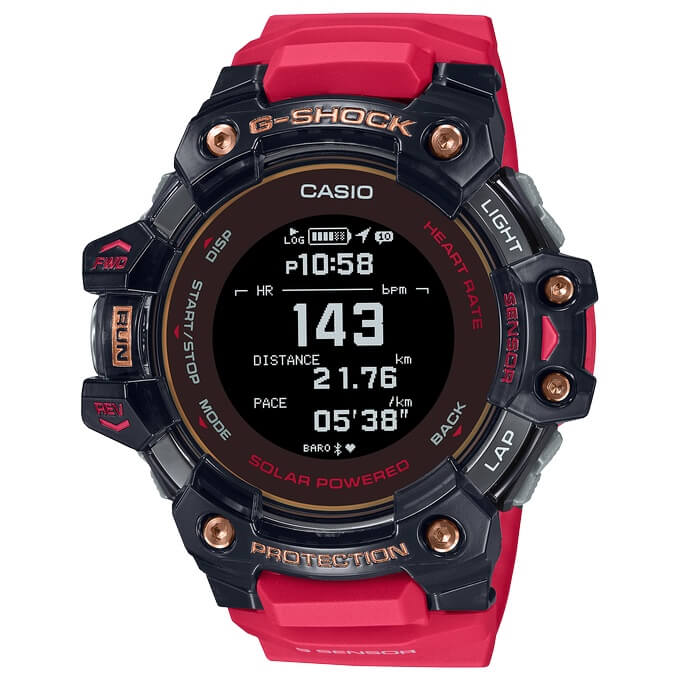 Size: 54.6 × 55 × 20.4 mm Weight: 101 grams
Structure: resin case and band, resin and stainless steel bezel, mineral glass
Protection: Shock Resistance, 200-meter Water Resistance Power: Rechargeable (dedicated cable with Type-A USB terminal), solar powered
Features: Heart rate monitor, step counter with training function and data, Bluetooth smartphone link, GPS (for distance, speed, and pace data, auto/manual timekeeping, position info), vibration alerts, world time (38 time zones, 38 cities +UTC, DST on/off, auto DST), 1-second stopwatch (99:59'59" max, elapsed time, split time), countdown timer (60 minutes, settable in seconds, 5 interval timers, auto-repeat 1-20 times), 4 daily alarms with snooze, full auto LED light with 1.5 or 3-second afterglow, full auto-calendar, button tone on/off, power saving, 12/24-hour format, flight mode