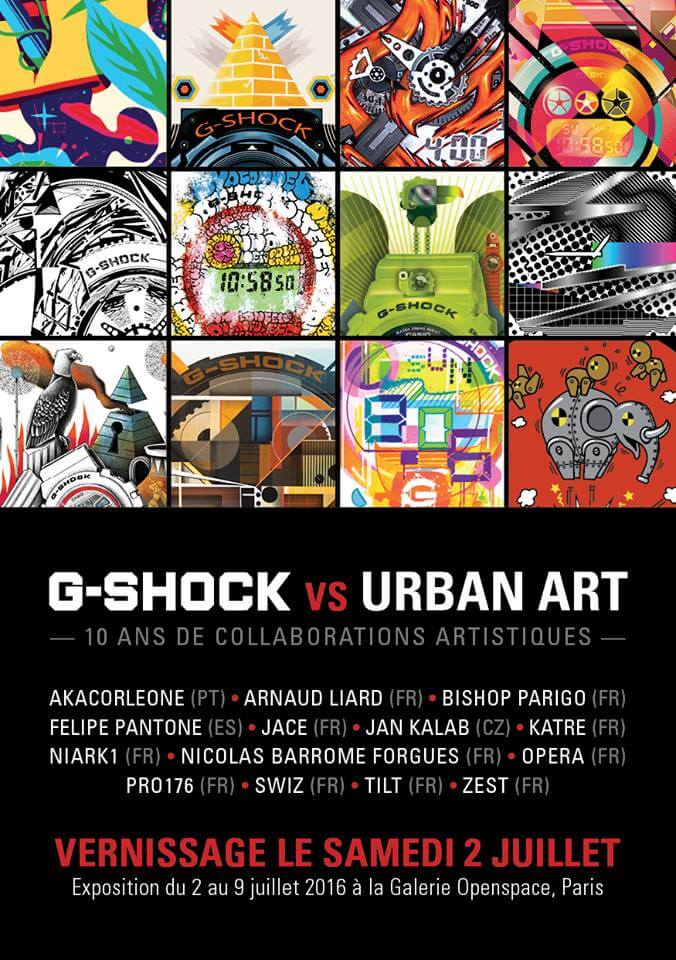 The Galerie Openspace art gallery in Paris, France will be hosting the G-Shock vs Urban Art exhibition from July 2-9. The exhibition celebrates ten years of G-Shock collaborations with visual artists and showcases the work of fourteen French and European artists. Each piece will be displayed on a printed canvas accompanied by a G-Shock model selected by the artist.
The featured artists inlcude Felipe Pantone (ES), Tilt (FR), Nicolas Barrome Forgues (FR), Opera (FR), Pro176 (FR), Jace (FR), Swiz (FR), Bishop Parigo (FR), Jan Kalab (CZ), Zest (FR), Akacorleone (PT), Katre (FR), Arnaud Liard (FR), and Niark1 (FR).
The exhibition will span four showrooms and also include displays featuring the history of G-Shock, past collaborations with artists Eric Haze and Parra, and the new GD-X6900FTR-1 collaboration watch with legendary New York street artist Futura.
The exhibition will be open from 6:00 pm to 9:00 pm starting July 2, 2016.
Galerie Openspace
Facebook: www.facebook.com/Openspaceparis
116, boulevard Richard Lenoir, Paris 11e