G-FEST Update: G-Shock Singapore has officially announced the G-FEST street culture festival taking place at Scape on 24-25 November 2018 from 12:00 to 22:00. The festival will feature musical performances by rapper ShiGGa Shay, DJ KiDG, DJ Gravity, R&B singer Sam Rui, and post-hardcore band Caracal. (Update: More musical acts including Tabitha Nauser, KIDG, and Fariz Jabba have been added, see the video above.) Graffiti artist ClogTwo will be hosting a graffiti painting workshop and there will also be an up-cycle crafting workshop hosted by Kult where you can transform an old skateboard into a stool.
A gallery showcase will chart the evolution of G-Shock over the past 35 years and will include historic models and limited editions. The first two Gorillaz x G-Shock limited edition watches will be revealed and available. Other recent and upcoming collaborations will also be on display. Independent vendors will be selling a variety of food and drinks. Other interactive activities include the augmented reality (AR) experience The Fragment Room and a 3-on-3 basketball tournament.
There will also be opportunities to win limited edition G-Shock watches. Admission is free.
CASIO G-SHOCK G-FEST
Date: 24 – 25 November 2018
Time: 12 noon – 10 pm
Venue: SCAPE Playspace | 2 Orchard Link, Singapore 237978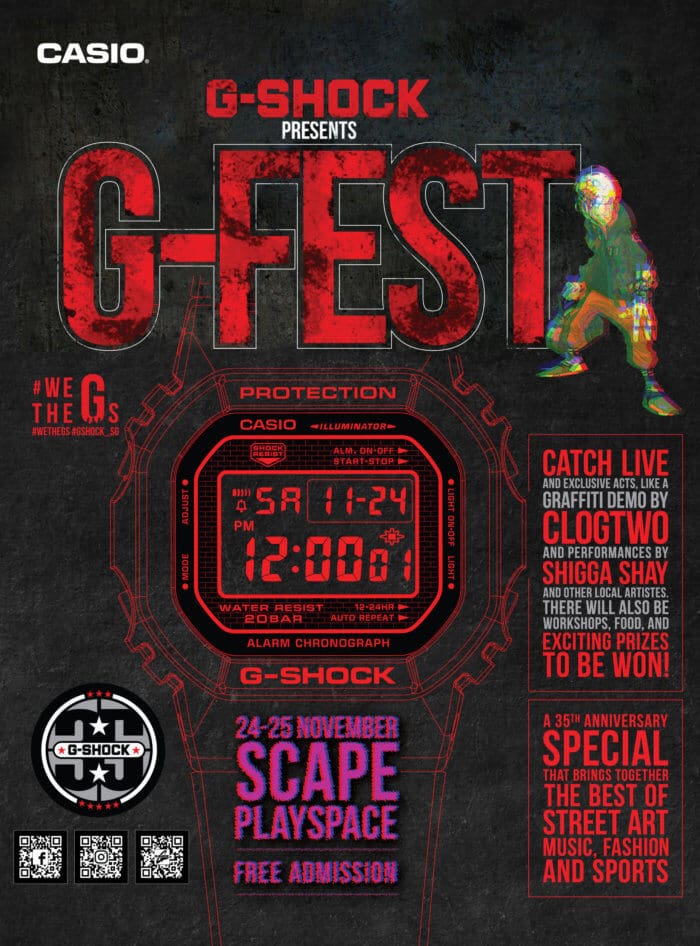 Original Post:
G-Shock Singapore released the second video of its We The Gs campaign and also announced that it will be hosting G-FEST at Scape on 24-25 November 2018. The G-FEST event is G-Shock Singapore's first-ever street culture festival. The festival will celebrate 35 years of G-Shock's heritage in sports, art, music, and fashion. It will feature music performances, fashion showcases, creative workshops, art installations, food vendors, and street culture experiences, including spaces for sports and limited edition G-Shock watches.
The new We The Gs video, Vol 2: Shock Your Style, features a female "G" and a G-Shock DW-6900BB. Singaporeans who correctly guess who that G is will have a chance to win a custom limited edition (35 pieces) G-Shock designed by that G.
For more information keep an eye on g-shock.sg and follow @gshock_sg on Instagram.
Scape is located at 2 Orchard Link, Singapore 237978.