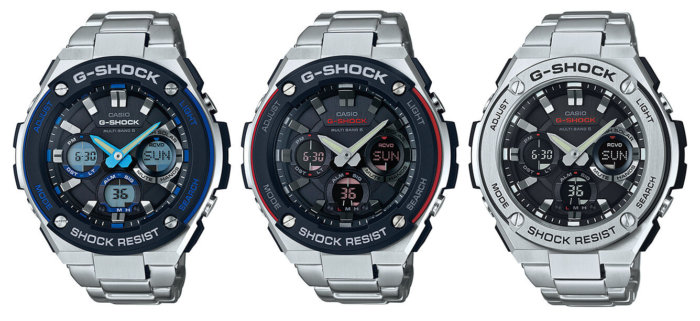 G-Shock Japan announced three G-Steel GST-W100D and GST-W110D models. These watches have the same G-Steel cases as the GST-S100 and GST-S110 models but are equipped with the Multi-Band 6 atomic timekeeping feature. Like the GST-S models they also have Tough Solar power.
The GST-W series is also available in resin strap versions including a gold model and a black IP metal model here.
GST-W100D-1A2 – left, metal band, black/blue resin bezel [ Amazon ] [ eBay ]
GST-W100D-1A4 – middle, metal band, black/red resin bezel [ Amazon ] [ eBay ]
GST-W110D-1A – right, metal band, stainless steel bezel [ Amazon ] [ eBay ]
The JDM model numbers are GST-W100D-1A2JF, GST-W100D-1A4JF, and GST-W110D-1AJF.
Source: G-Shock.jp
(
Disclosure: G-Central is reader-supported and earns a commission on purchases made from its links to Amazon and eBay. G-Central is an independent blog managed by fans and is not an official Casio G-Shock site.
)