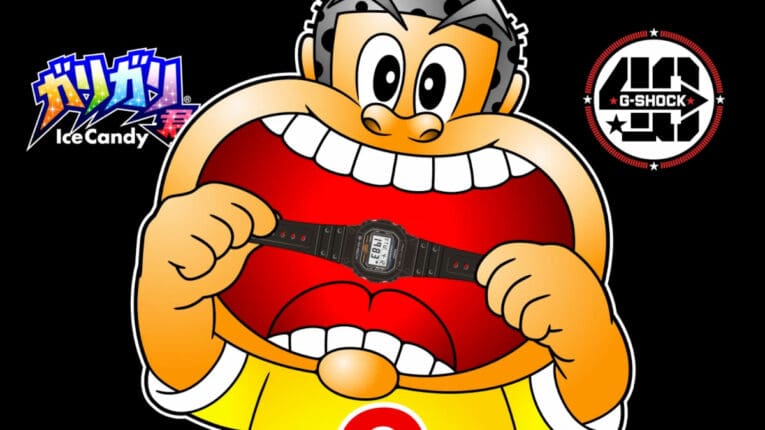 Japanese ice cream maker Akagi Dairy Co. and its mascot Garigari-kun have teamed up with G-Shock for a video and GA-2100 giveaway contest to promote its new "Adult Garigari-kun Rice Soda" dessert product and to celebrate the 40th Anniversary of G-Shock. The limited GA-2100 watch has a white GA-2100-7A base with an exclusive band featuring the mascot and a column of light blue ice cream treats, and an exclusive co-branded box is included. Only 40 of these watches will be given away, with details on how to enter the contest coming on April 10 at the Akagi Twitter account.
Both G-Shock and Garigari-kun originated in the 1980s, and the Akagi Dairy Co. (a.k.a. Akagi Nyugyo Co.) celebrated its own 40th anniversary in 2021. The Garigari-kun line of ice candy bars is hugely popular in Japan and sells over 400 million units annually. Garigari-kun products are also sold in Thailand and Myanmar.
The promotional video (below) features the mascot and Team G-Shock BMX athlete Rim Nakamura wearing DW-5600 watches while performing tricks, with Garigari-kun wearing an oversized one on his comically large wrist.
Garigari-kun x G-Shock GA-2100 "Gari-Shock"