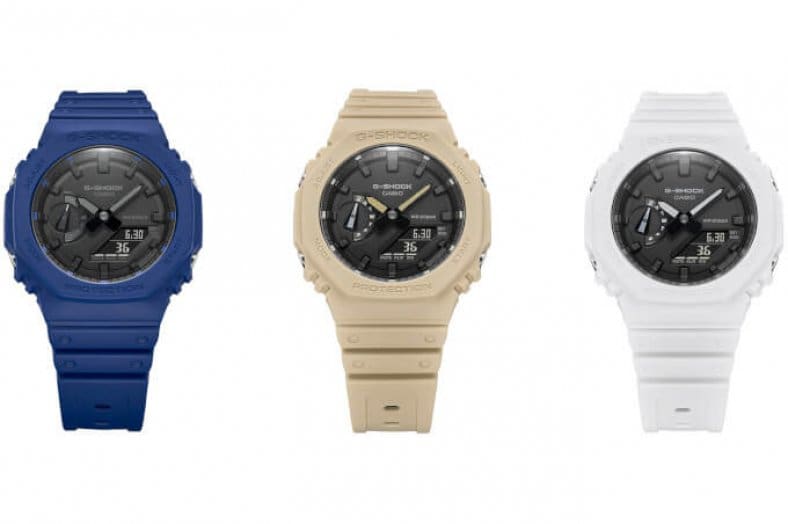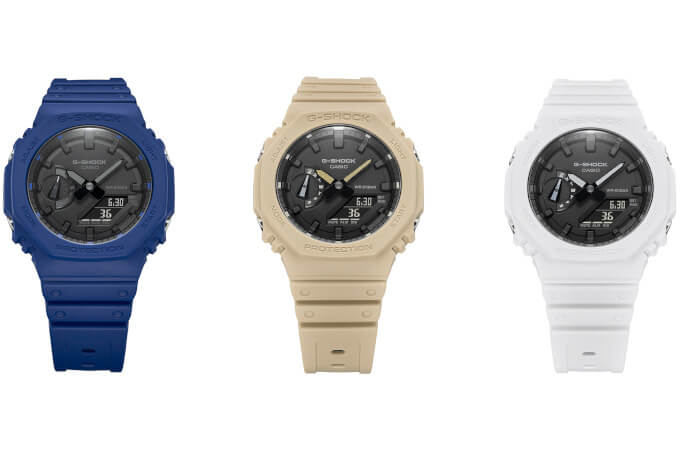 August will be a "CasiOak" bonanza, with ten new G-Shock 2100 series watches slated for release. We previously covered the all-new stainless steel metal-covered GM-2100 and GM-S2100 series, which make up seven models. The remaining three are basic colorways of the resin and carbon GA-2100 series, which is also known as the slimmest current G-Shock watch for men.
The similarity to the Royal Oak is the result of combining the octagonal bezel of the origin 5000/5600 series with a round analog display. Casio's intention was to embody the spirit and functionality of the classic 5000 series in a mid-sized analog-digital version, and they greatly succeeded with a watch that is lightweight, comfortable, and stylish.
The three new models include the blue GA-2100-2A, the beige GA-2100-5A, and the white GA-2100-7A. They will be released in Japan and most likely Asia and other regions. G-Shock U.K. has all three models listed as coming soon for £99 each.
Update: The white GA2100-7A ($99) is being released in the U.S. All three models are being released in Europe.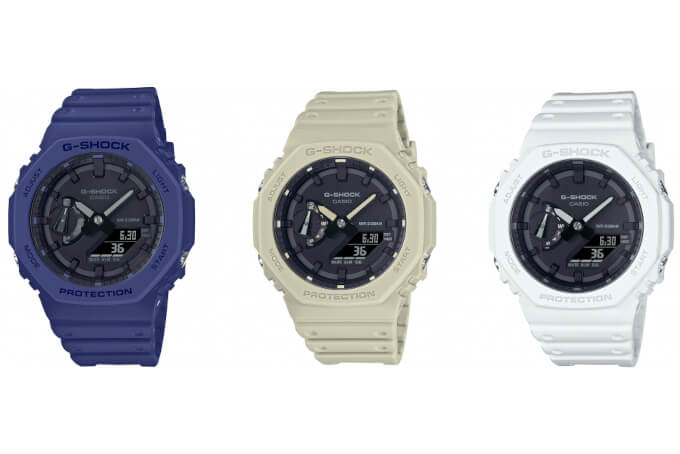 G-Shock GA-2100-2A: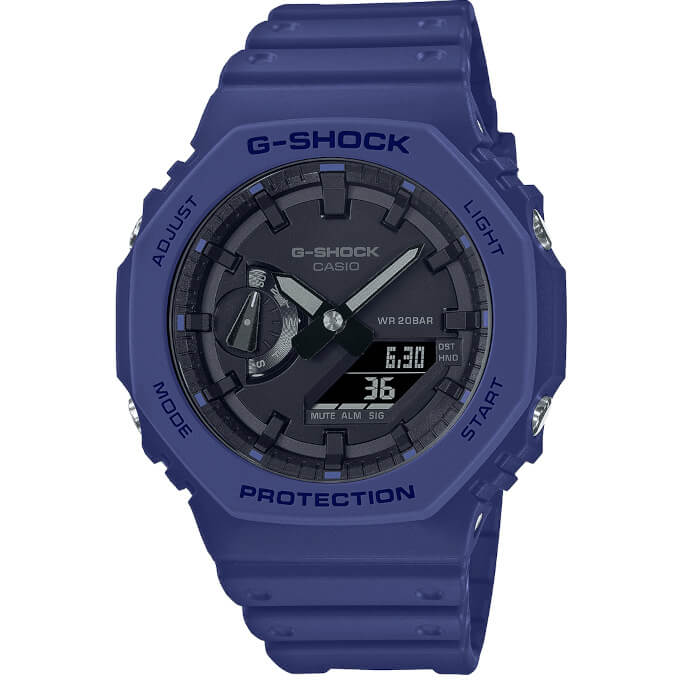 Size: 48.5 × 45.4 × 11.8 mm Weight: 51 grams
Structure: Carbon Core Guard, resin case, bezel, and band, mineral glass
Protection: Shock Resistance, 200-meter Water Resistance Power: Battery (SR726W x 2, approx. 3-year life)
Features: World time (31 time zones, 48 cities + UTC, DST on/off), stopwatch (23:59'59 max, 1/100-second first 60 minutes, 1-second after 60 minutes, elapsed time, split time, 1st-2nd place times), countdown timer (24 hours, settable in seconds, minutes, and hours), 5 daily alarms, hourly time signal, dual LED light with 1.5 or 3-second afterglow, full auto-calendar, button tone on/off, 12/24-hour format, hand shift
G-Shock GA-2100-5A: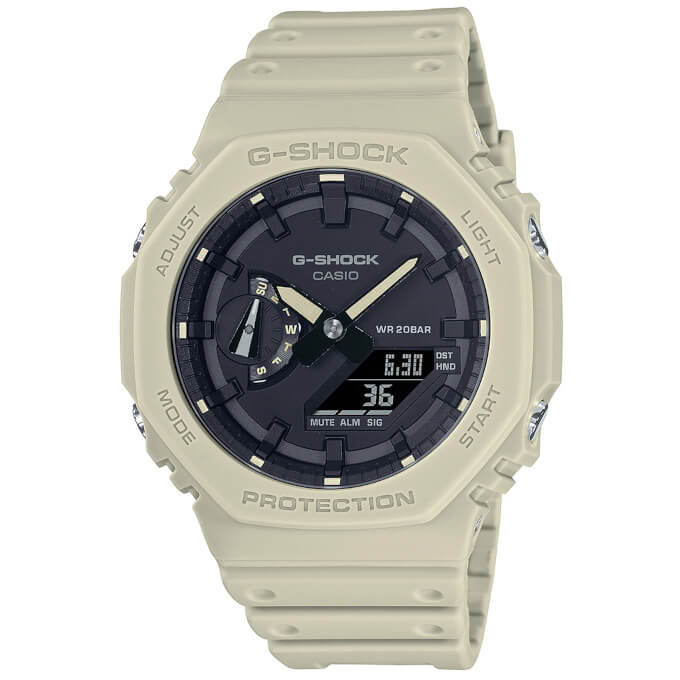 Size: 48.5 × 45.4 × 11.8 mm Weight: 51 grams
Structure: Carbon Core Guard, resin case, bezel, and band, mineral glass
Protection: Shock Resistance, 200-meter Water Resistance Power: Battery (SR726W x 2, approx. 3-year life)
Features: World time (31 time zones, 48 cities + UTC, DST on/off), stopwatch (23:59'59 max, 1/100-second first 60 minutes, 1-second after 60 minutes, elapsed time, split time, 1st-2nd place times), countdown timer (24 hours, settable in seconds, minutes, and hours), 5 daily alarms, hourly time signal, dual LED light with 1.5 or 3-second afterglow, full auto-calendar, button tone on/off, 12/24-hour format, hand shift
G-Shock GA-2100-7A: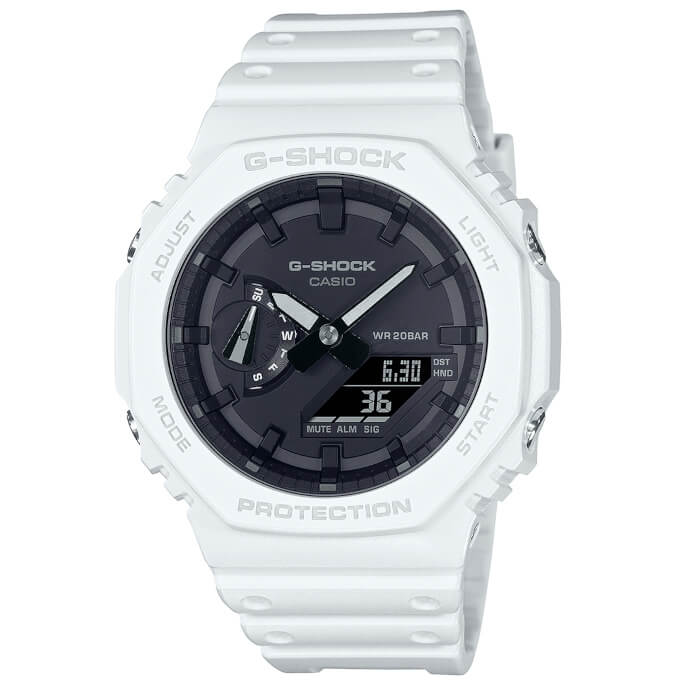 Size: 48.5 × 45.4 × 11.8 mm Weight: 51 grams
Structure: Carbon Core Guard, resin case, bezel, and band, mineral glass
Protection: Shock Resistance, 200-meter Water Resistance Power: Battery (SR726W x 2, approx. 3-year life)
Features: World time (31 time zones, 48 cities + UTC, DST on/off), stopwatch (23:59'59 max, 1/100-second first 60 minutes, 1-second after 60 minutes, elapsed time, split time, 1st-2nd place times), countdown timer (24 hours, settable in seconds, minutes, and hours), 5 daily alarms, hourly time signal, dual LED light with 1.5 or 3-second afterglow, full auto-calendar, button tone on/off, 12/24-hour format, hand shift