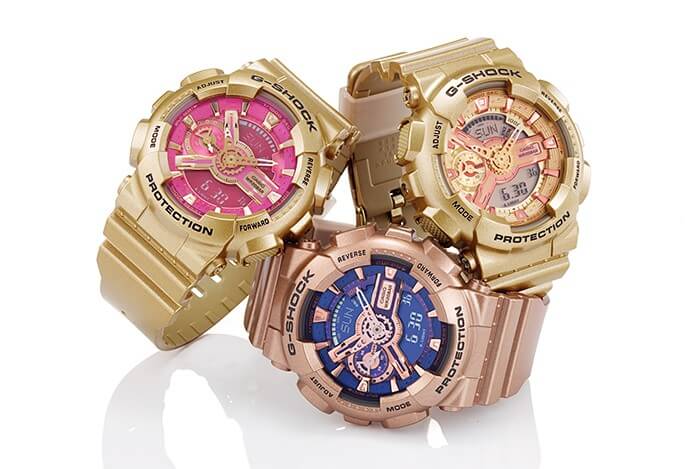 G-Shock Asia announced nine new models for March 2015. Two of those are an international release of the Men in Camouflage Frogman (GF-8250CM-2) and Rangeman (GW-9400CMJ-3). For this release these models are known as "Limited Color 39." The other seven releases are new colors for the GMA-S110 womens S series.
The GMA-S110GD models (above) are the "Gold G-Shock" featuring gold cases with colored faces and accents. The GMA-S110GD-2A is rose gold with a blue face with rose gold accents, GMA-S110GD-4A1 is gold with a purple face with gold accents, and GMA-S110GD-4A2 is gold with a gold face with pink accents.
GMA-S110F models (below) are the "Rose G-Shock" featuring a band with a printed rose motif available in the black GMA-S110F-1A, light blue with pink accents GMA-S110F-2A, red GMA-S110F-4A, and white GMA-S110F-7A.