The new Frogman will be the second MR-G Frogman after the MRG-1100 (left) from 1999 and the second analog Frogman after the GWF-A1000 (right) from 2020.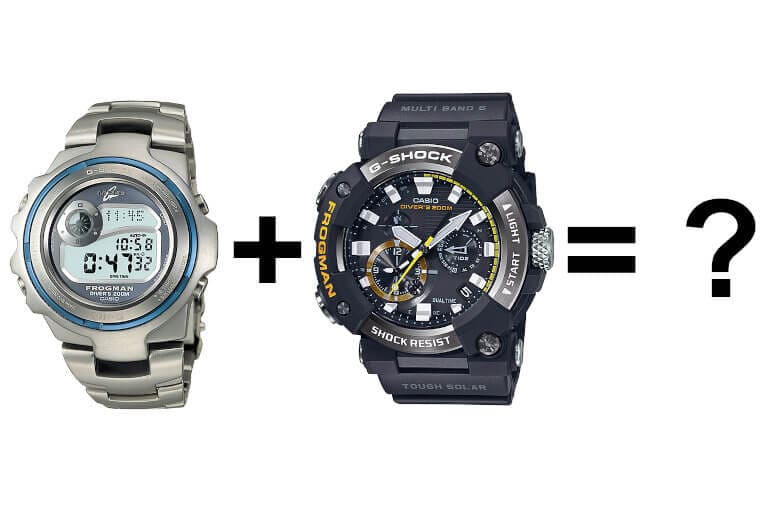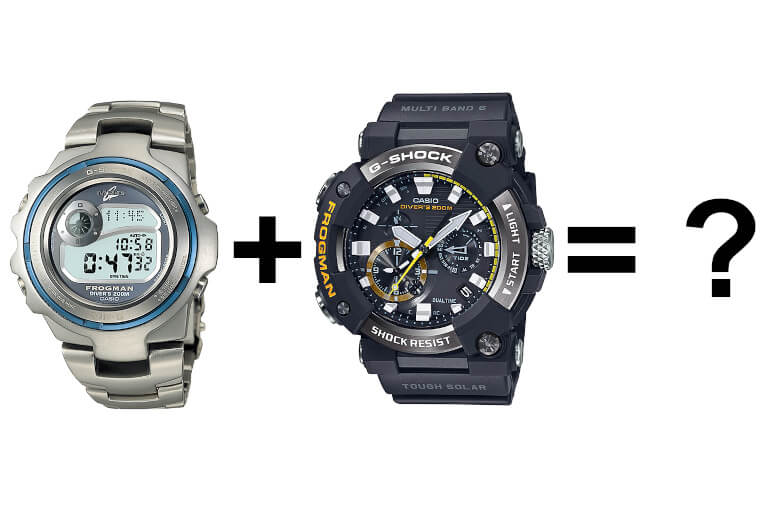 Japanese fan site Great G-Shock World reported that an all-new G-Shock MR-G Frogman is coming in 2023. This will reportedly be an analog model like the Frogman GWF-A1000, and as an MR-G model, it is expected to be made of titanium. According to GGW, the new MR-G Frogman will be released sometime in 2023 with a price of around 400,000 to 500,000 yen (approximately $2,880 – $3,600) in Japan.
A very small low-res image was also leaked on a forum, which shows a similar design as the GWF-A1000, but with the left side buttons appearing to be more pronounced than the GWF-A1000 (and more like the shape of digital Frogman buttons). The dial appears to be similar to the GWF-A1000, with what appears to be the dual time dial on the lower left and the tide graph/day of week/function indicator on the right side. The watch likely has the same functions as the GWF-A1000, such as Tough Solar, Multi-Band 6, Bluetooth, and the unique way of measuring dive and interval times using the three analog hands. The leaked watch image appears to have a black or dark color which is probably a diamond-like carbon (DLC) coating. It's not known how many variations will be available at launch.
With the new Frogman being made of titanium and based on the GWF-A1000, one question that arises is whether or not it will be a screw-back (a.k.a. "screw lock back") case like previous Frogman series before the GWF-A1000, or if it will be a monocoque (single shell) case like the GWF-A1000 which has a carbon monocoque case. There are watches from other brands with a metal monocoque case, but we have only seen carbon monocoque cases from Casio and G-Shock so far.
The MR-G line is the pinnacle of G-Shock. MR-G watches use advanced materials and finishing techniques and are made in Japan at the Premium Production Line at the Yamagata Casio mother factory. The MR-G line is usually known for its analog models, but the recent MRG-B5000 gave the original G-Shock DW-5000 the luxury treatment. The Frogman is G-Shock's line of professional diving watches featuring ISO Diver's 200M water resistance and dive time and interval time measurement. The Frogman line celebrates its 30th Anniversary in 2023.