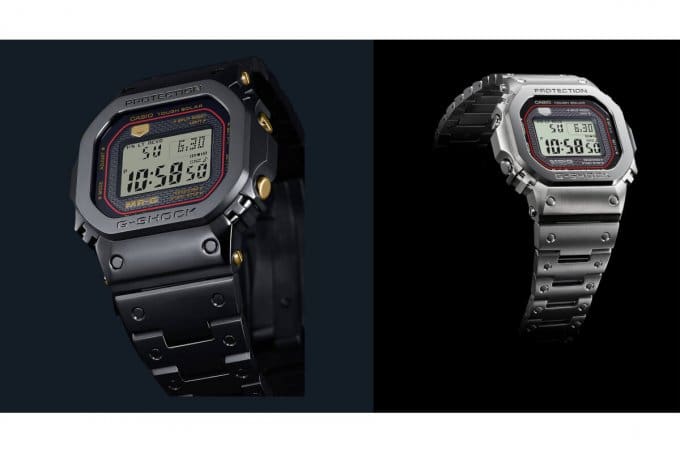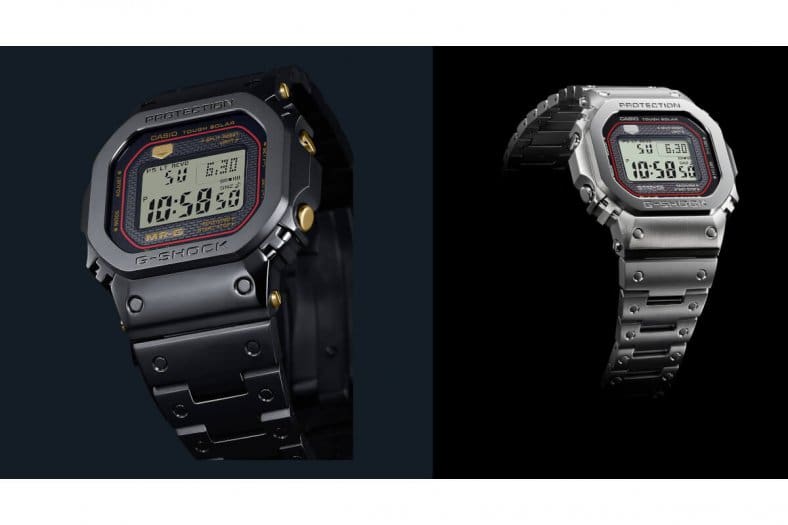 The MRG-B5000 is the first MR-G watch based on the original G-Shock DW-5000C.
The G-Shock MRG-B5000 series was officially announced by Casio for a March 12 release in Japan. The black MRG-B5000B-1JR with a scratch-resistant diamond-like carbon (DLC) coating is 462,000 yen, and the silver MRG-B5000D-1JR with a protective titanium carbide coating is 396,000 yen (both prices include tax). The MRG-B5000B-1 and MRG-B5000D-1 were also announced for other Asian countries in March and are expected to be released worldwide later. The MRGB5000B-1 and MRGB5000D-1 are expected to be released in the U.S. for $4,000 and $3,500, respectively. The MRG-B5000B-1DR and MRG-B5000D-1DR are also currently listed at Casio Europe.
Update: G-Shock U.S. now has a dedicated page for the MRGB5000 series at gshock.com, where the series is titled "MR-G Kiwami MRGB5000."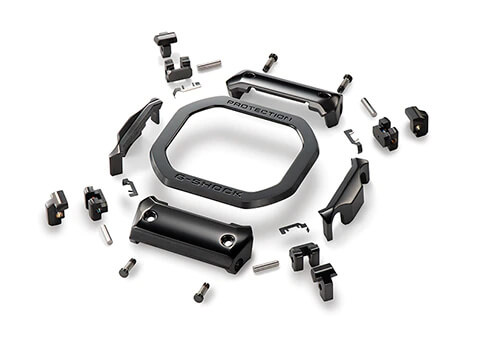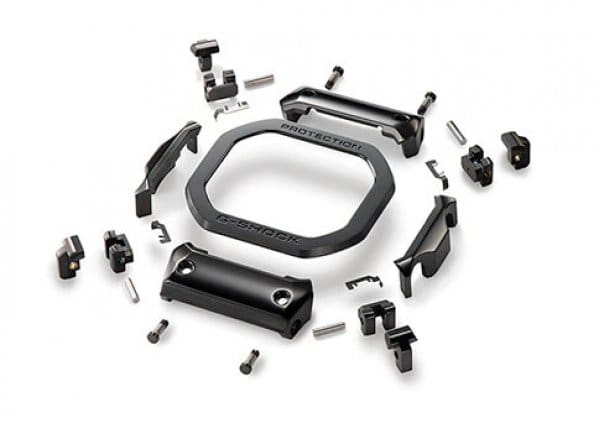 The bezel assembly is a newly developed Multi-guard Structure made of 25 parts, which is a first for a 5000-series model and unique for G-Shock watches in general. These include suspension parts at the four corners that combine a T-shaped bar, leaf springs, and silicone cushioning to absorb shock. The dimple-like areas of the band are also made with separate parts with link pins embedded in the round holes. The use of multiple parts allows for the application of sophisticated polished finishes to all areas of the watch, including the hard-to-access recessed parts. Advanced Sallaz polishing is applied to each part prior to assembly, resulting in a distortion-free finish.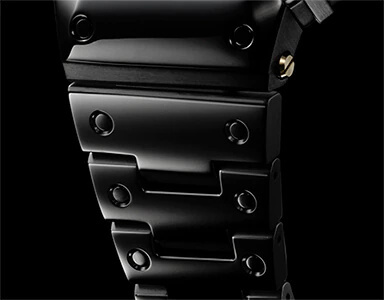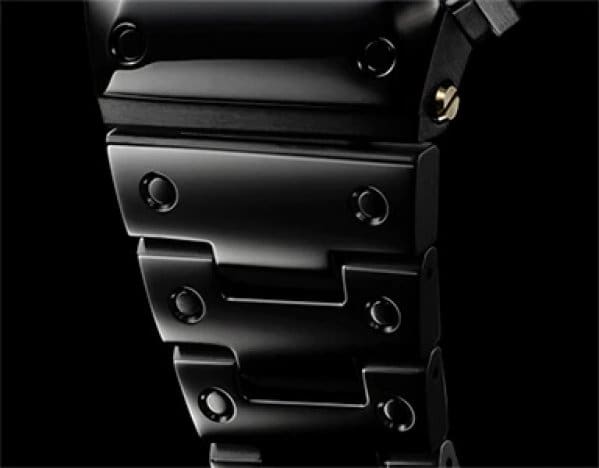 The glass is sapphire with an anti-reflective coating, and the watch is fully shock-resistant and water-resistant to 200 meters (20 bar). It measures 49.4 x 43.2 x 12.9 millimeters and weighs approximately 114 grams.
The case, case back cover, and buttons of the MRG-B5000 are made of the lightweight and strong Ti64 titanium alloy. The band is made of DAT55G titanium, which is about three times harder than pure titanium. The bezel top is made of Cobarion, a cobalt-chromium alloy with a hardness about four times that of pure titanium and a shine that is comparable to platinum. The Cobarion and DAT55G materials are made in Japan. ("Cobarion" is exclusively manufactured by Eiwa Co., Ltd. and is a registered trademark of the Iwate Industrial Promotion Center. "DAT" is a registered trademark of Daido Steel Co., Ltd.) Like other MR-G models, the MRG-B5000 is made exclusively at the Premium Production Line at the Yamagata Casio factory in Japan.
The MR-G series is regarded as G-Shock's most prestigious luxury line and began in 1996 as a titanium and resin hybrid with a digital display. Subsequent models adopted full metal structures, and recent models are known for their premium titanium builds and analog displays. (The MRG-B5000 is the first full digital-display MR-G model since the MRG-1100-2 Frogman in 1999.) The MRG-B5000 is the first-ever MR-G watch based on the G-Shock DW-5000C origin model from 1983, whose design is often referred to as the classic "square" case. Along with the shape, other origin characteristics include the layout of the face, which includes the brick background pattern and the red line border. G-Shock launched the popular full-metal GMW-B5000 series during the 35th Anniversary in 2018, which includes stainless steel and titanium models with single-piece bezels. The MRG-B5000 takes the full-metal square concept to the next level with its complex structure, premium materials, and expert craftsmanship.
The internal functions are the same as the GMW-B5000 and include Tough Solar power, Multi-Band 6 automatic radio time calibration, and Bluetooth smartphone link. Other features include 5 world time settings (39 times zones and 39 cities with city name display, home and world time swapping, auto DST switching), 1/100-second stopwatch (up to 59'59″99, 1-second from 1:00'00" to 23:59'59", with elapsed, split, 1st and 2nd place times), countdown timer (24 hours with 1-second set units), 5 daily alarms with 1 snooze, hourly time signal, full auto-calendar, 12/24 hour format, button tone on/off, power save function, low battery alert, and full auto Super Illuminator LED backlight with 2 or 4 second afterglow. The Bluetooth features include approximately 300 world time cities plus user-added point, auto time adjustment, easy watch setting, Time & Place Log, Reminder, Phone Finder, Self Check, Premium Production Line Certificate, date/month display swapping, and day display in five language settings (English, Spanish, French, German, Italian, or Russian).
G-Shock MRG-B5000B-1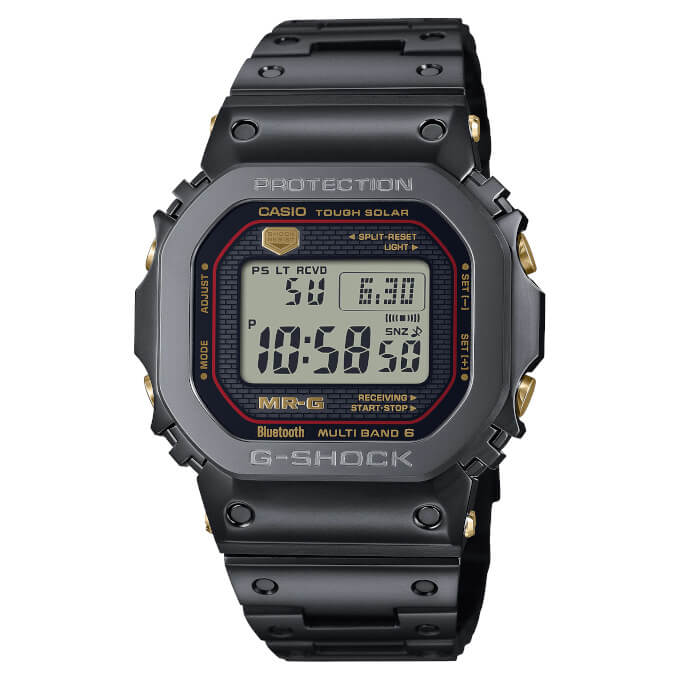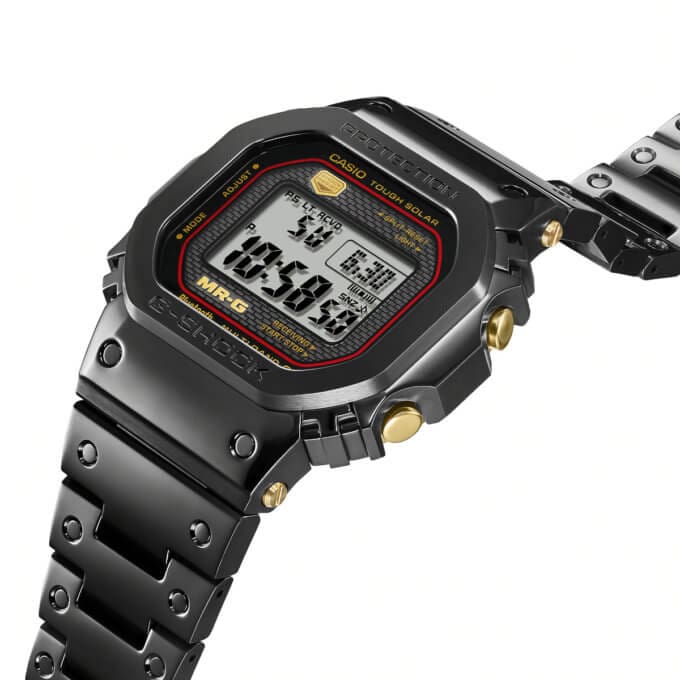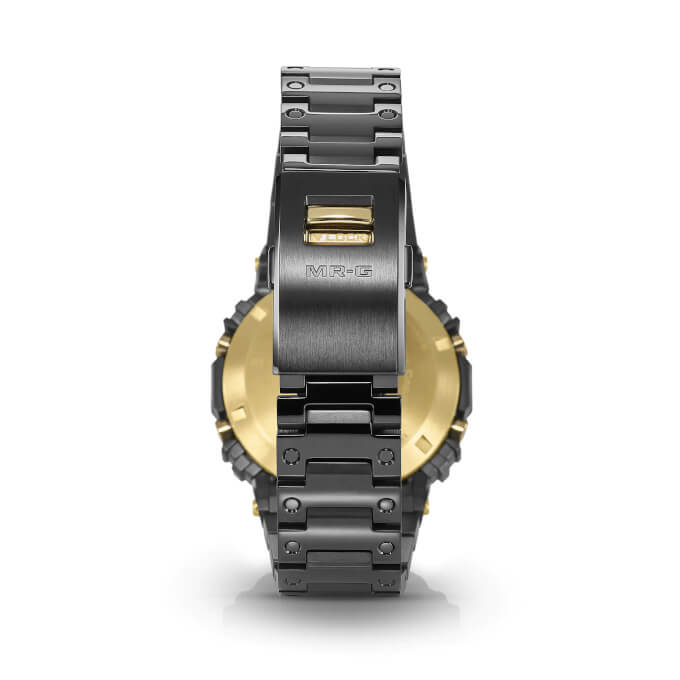 G-Shock MRG-B5000D-1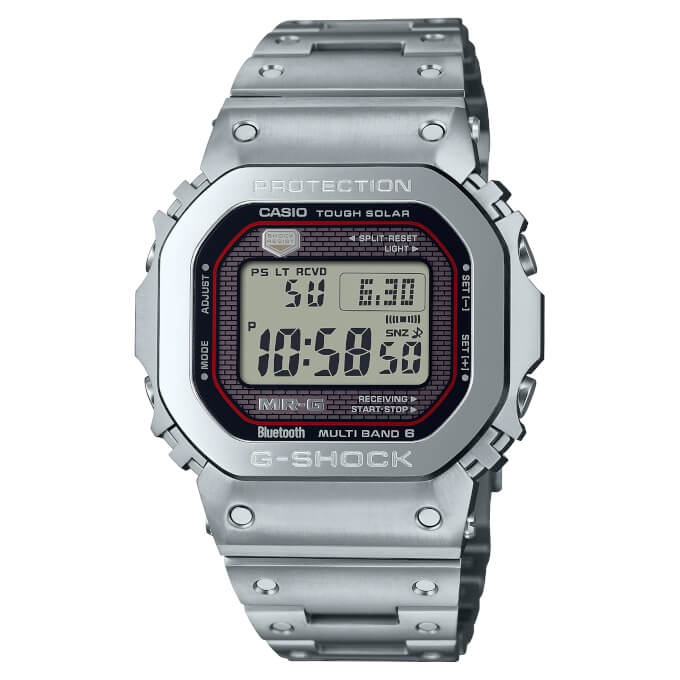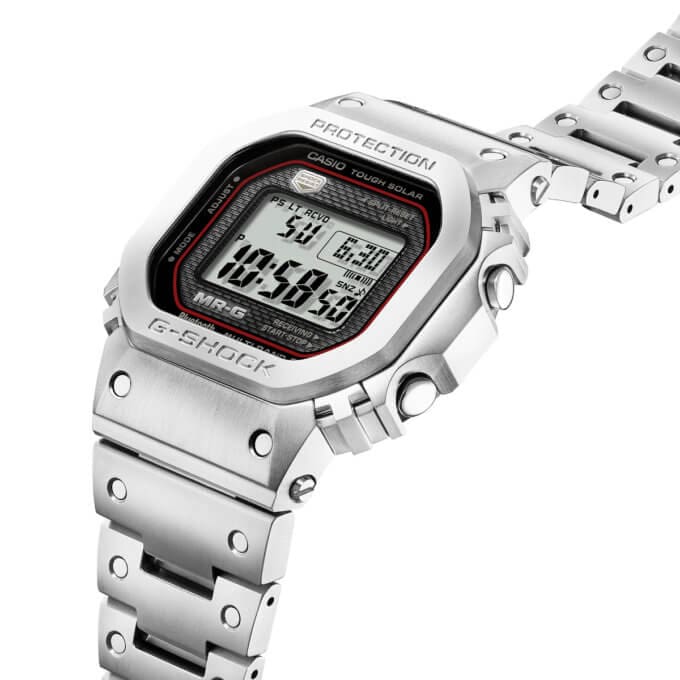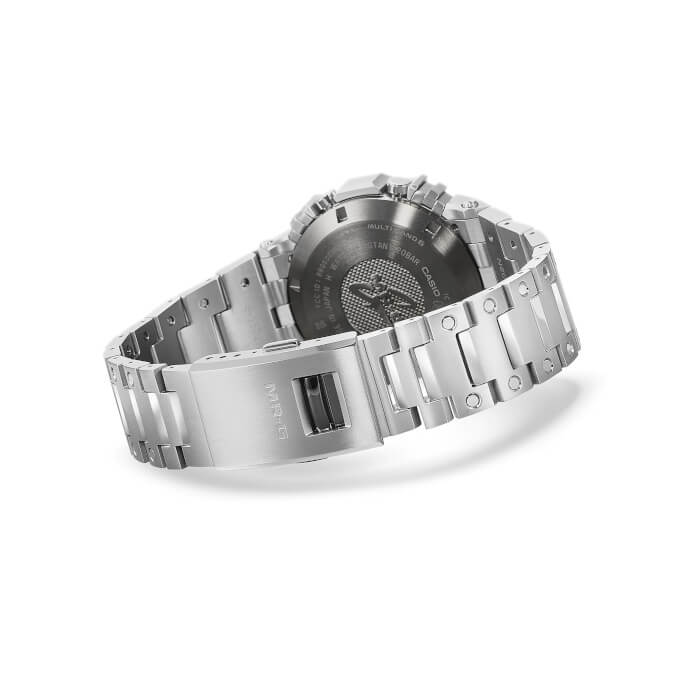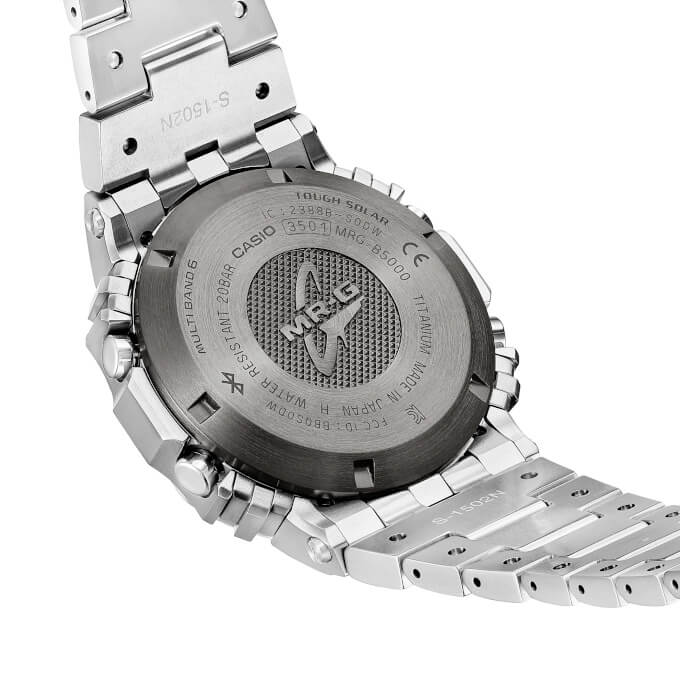 G-Shock MRG-B5000 Promotion Video: