Update: The G-Shock GSW-H1000 smartwatch with Wear OS and a color touchscreen was officially revealed. (Follow link for more information.)
Update: Two sources reported on an upcoming G-Shock smartwatch. Japanese site Impress Watch published an article stating that a G-Shock smartwatch will be launched in fiscal 2020. The article states (translated by Google), "Casio Computer Co., Ltd. announced its mid-term business plan together with its fiscal 2018 results on the 15th. The G-SHOCK smart watch will be launched in fiscal 2020, and the watch business aims to achieve sales of ¥ 200 billion in fiscal 2021 … In addition, the G-SHOCK brand smart watch (G-smart) will also be launched in 2020. We are expecting sales of around 10 billion yen by genre development taking advantage of G-SHOCK brand, toughness, and strength in the outdoor field." Another Japanese media outlet, ITmedia News, also published an article about an upcoming G-Shock smartwatch. The article states (translated by Google), "Casio Computer will introduce "G-SHOCK" brand smart watch, commonly known as "G-SHOCK smart" in 2020. It was revealed at the briefing session on May 14th." So, it looks the G-Shock smartwatch is really happening. The "fiscal 2020" release time could mean sometime in 2020 or early 2021. In Japan, the fiscal year is from April 1 to March 31.
Update 2: News.mynavi.jp also published an article confirming that G-Shock is planning to release a smartwatch in fiscal 2020.
Original Article (in which we weren't sure if the G-Shock smartwatch was confirmed):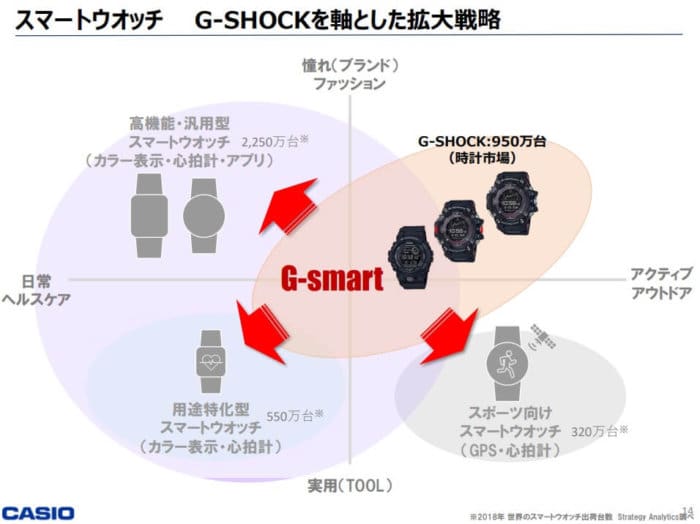 Casio recently released its year-end financial results for fiscal 2018 and also released a document titled "Medium-term management plan" (PDF link) that appears to outline the company's strategies for the coming years.
The Japanese fan blog Great G-Shock World wrote a post with the translated title, "G smart! ? Boldly forecast G-SHOCK smart watch scheduled for 2021!" and goes on to say (translated by Google), "As for G Smart, it is possible that it will be a complete smart watch that makes the same feature as Apple Watch, such as linking with a call function or SNS, by taking over the frame function of the watch function. size, secure the size of LCD screen like GPR-B1000 to ensure high visibility, and enhance operability with large buttons. Such a model is expected."
We scanned through the document and found this intriguing graphic (shown above). If Casio is not in fact planning to release a G-Shock smartwatch, it appears as if it is at least exploring the possibility. This graphic implies that, along with a full-fledged smartwatch like the Pro Trek Smart WSD-F30, Casio is also looking into developing other types of G-Shock devices such as heart rate monitoring fitness watches and GPS running watches. Unfortunately, we do not have a Japanese translator on hand for these documents. Again, we're not sure if the document states that a smartwatch and other new devices are in fact coming, or if they are just ideas that are being researched at this point. (There is also an English version of the document but the G-smart products are not mentioned in it like the Japanese version.)
Given that Casio and G-Shock seem to be running in overdrive lately, it's not surprising that a G-Shock smartwatch is in the works. We'd be surprised if such a watch wasn't being developed. G-Shock has carved out a great niche for itself over its 35-year history and has continued to explore new markets, but there are other lucrative product categories that other manufacturers (such as Garmin and Fitbit) dominate. We've seen recent G-Shock models such as the step tracking GBA-800 and GDA-800 from the G-SQUAD line come closer to competing with such companies, and we've seen G-Shock watches getting smarter with features like Bluetooth Mobile Link and GPS Tracking, but there are still many categories that G-Shock does not directly compete in. G-Shock's reputation, along with its R&D and manufacturing abilities, should give it a fighting chance in these markets. If or when such a foray takes place, the world is sure to take notice.
Update: In a June 2019 interview with DigitalTrends, Casio's head of watch design Ryusuke Moriai confirmed that a G-Shock smartwatch is in development, but he did not reveal much about it. He called 200-meter water resistance a "G-Shock rule" and wants this to apply to the smartwatch. Also, Casio Watch Division Chief Yuichi Masuda suggested in a June 2019 interview that the G-Shock smartwatch will be "a smartwatch for athletes." It's possible that the G-Shock smartwatch will be more focused on fitness and training which would differentiate it from the Pro Trek WSD-F30 smartwatch, which is aimed at outdoor recreational activities.