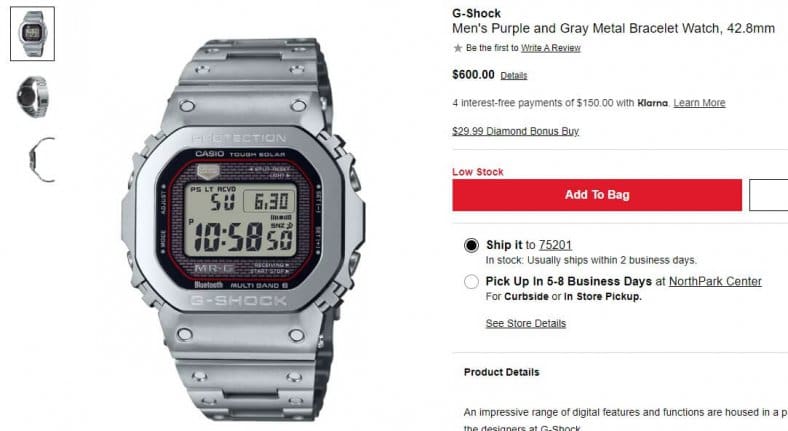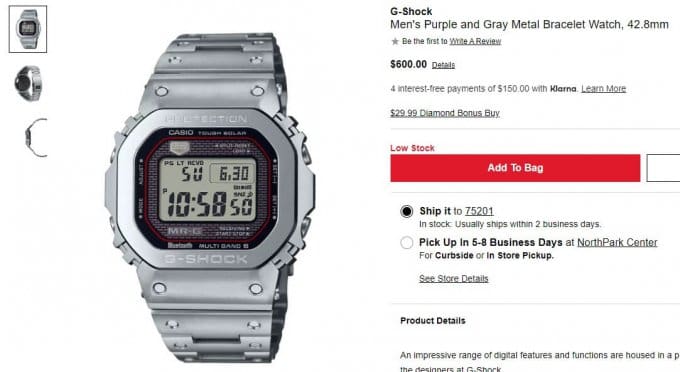 A Macys.com listing for the "G-Shock G-Shock Men's Purple and Gray Metal Bracelet Watch, 42.8mm" shows an image of the upcoming G-Shock MRGB5000D-1. The actual watch being sold is probably the GMWB5000PB-6 Tokyo Twilight edition, based on the "purple" description and the $600 price. We highly doubt that Macy's will send you a MRGB5000D-1, which is expected to have a price of $3,500, if you order this watch.
The MRG-B5000D-1 (US: MRGB5000D-1) has not been released yet. It was rumored to be released in November 2021, along with the MRG-B5000B-1, but the release date has been postponed, and a new rumor says that it may be released in March 2022.
The erroneous Macy's listing provides new photos of the front view, case back, and side view. Based on the case back, the watch uses Module 3501 and is water-resistant to 200 meters (20 bar). Casio recently released the module manual online, but then removed it. The Macy's listing also states that the width is "42.8mm," which is different than the 43.2-mm width of the GMW-B5000, but 42.8-mm is the width of a DW-5600 and probably not the MRG-B5000.
Update: The item is no longer available and two of the images were removed.
See Also: G-Shock MR-G "The Origin" Series: What we know so far