If there's one person who can rock a G-Shock with a suit, it's Benicio del Toro. Del Toro is no stranger to Casio G-Shock. He frequently wore a 5600 model during the release of the first Sicario movie and was spotted wearing a DW-6900 last year. Recently he's been seen wearing a G-Shock GX-56BB-1 on talk show appearances and at the Marine Corps Air Station Miramar in San Diego. The solar-powered G-Shock GX-56 line was given the nickname the "King" by G-Shock fans due to its superior size (55.5 x 53.6 x 17.5mm). It is one of the largest digital-display G-Shock watches (along with the Frogman) and resembles a DW-5600 on steroids. The watch doesn't look particularly oversized on the 6'2″ actor, although its thickness is apparent from certain angles.
Benicio del Toro wearing G-Shock GX56BB-1 on Late Night with Seth Meyers: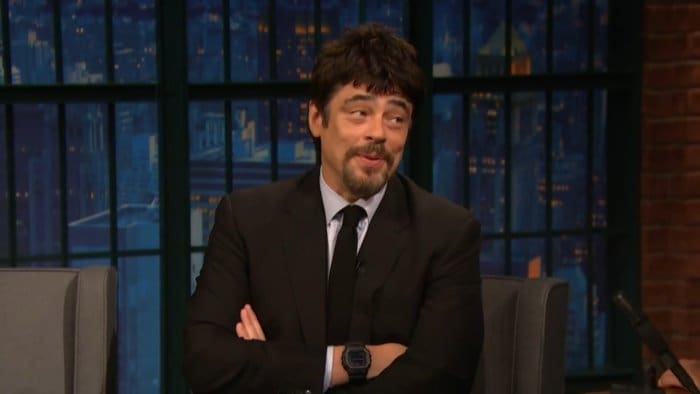 Benicio del Toro also wears a G-Shock DW-9052 in Sicario: Day of the Soldado, opening June 29.